Who would have thought that sexy actress Aubrey Miles, the "pantasya ng bayan," used to weigh 185 pounds?
She gained all that poundage after giving birth to her first child.
But now, this mother of two can say she's in her best shape at 39 years old.
Aubrey flaunts her 23-inch waistline and toned body in two-piece bikini.
She admitted struggling over a year to get back in shape, and cosmetic surgery was out of the question.
"That time, I was working for myself. I was a breadwinner.
"I didn't have money to do such, sabi ko, 'You know what, I can do this.'
"But I didn't wanna rush because emotionally I was ready.
"I wanna learn and see my body, how it works."
At the press launch of her newest project, KiX' R U Tough Enough challenge, held at the Buffalo Wild N' Things in Makati City yesterday, August 15, Aubrey generously shared her seemingly unrestrained eating habits.
Typically, she loves pairing her lutong bahay with brown rice.
"Wala akong cheat days kasi I eat everything every day."
Also, "I work harder than I eat."
She further explained, "I don't believe in that because if you have 365 days in a year, and you cheat every weekend, that's like three and a half months in a year.
"So if you're cheating, how many months are you given in a year?
"That's a lot. You're like wasting all your workout."
Instead, "I believe if you work out enough, and you eat just enough...
"You don't have to be strict, especially if you know your body is like this and this.
"You don't need to cheat because you can eat everything not just every day."
She said finding your happy food is equally important.
"For me, you can like eat a cake, but just a slice. At least you got to taste it, di ba?"
"It's balance talaga and smart eating."
Also in the photo is Aubrey's co-ambassador, celebrity fitness coach Arnold Aninion.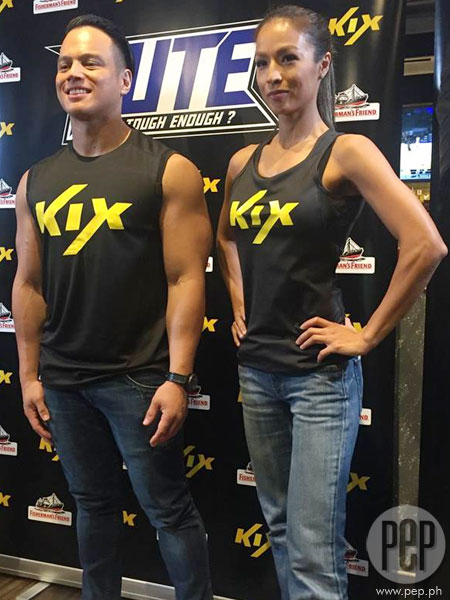 BAD DAYS. Going to the gym is, for Aubrey, her stress-reliever.
"When I get to the gym, I'm actually whining, [then] really, I get relaxed."
And, "When I don't work out say two days in a row, I'd be like, 'Arrrr.'"
Browsing through her feed, it seems she's always in "beast mode" during her workouts.
And it appears to get more intense at times, "The more bad days, the more I need to go to feel better.
"It's just probably me, but if you see my social media, I'm always, like, 'the more you are in a bad mood, the more you need to go.'
"Kasi the more you sit there and just think about it, it becomes depressing."
Her advice: "If you put in your mind, 'Hey, what's wrong, there's nothing wrong,' it's really psychological.
"You can do this. Why are you stopping yourself.
"I know it's kinda hard to do that, but before you get to that passion, you have to consistently do it.
"Then when you enjoy it, you love it, and you see results, then you go, like, 'Hey, this is my thing.'
"You can't go on one day na 'this is my passion, e.' Hindi ganoon.
"Talagang putting your mind and heart to it."