Consider her lucky, but Pia Wurtzbach goes to the gym only when she has "time during the day," and stays there for a maximum of an hour.
Her reason: she avoids "going overboard during workouts."
The former Miss Universe titleholder prefers doing her exercises in a comfortable pace, so she won't "dread coming back the next day."
With this in mind, how does she maintain her 36-23-35 body measurements?
In an exchange of emails with Pia's team, PEP.ph (Philippine Entertainment Portal) learned that her secret to keeping in shape is "eating every thing in moderation."
Asked if she believes in "cheat days," the Filipina beauty exclaimed, "Yes! Without it, we would go crazy!
"And my waistline changes depending on how much I've eaten that day. Haha."
But she stressed, "I prefer a cheat meal than a cheat day.
"I wouldn't want to indulge too much in one whole day."
Pia Wurtzbach with her fellow Miss Universe title holders and Magnolia Chicken endorsers Gloria Diaz (leftmost) and Margie Moran (rightmost)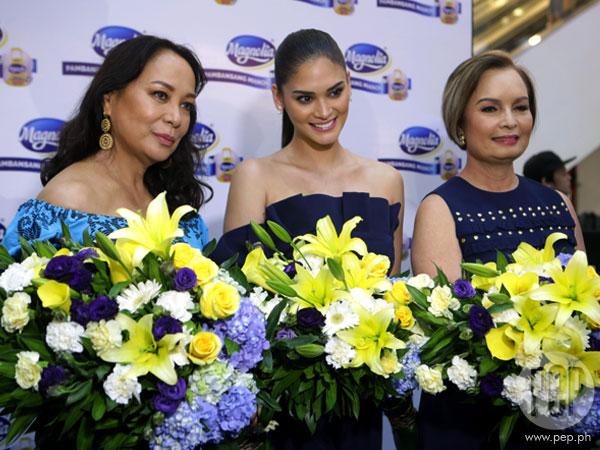 Does she have a "secret diet food"?
Pia's answer was "Chicken."
She elaborated, "Trust me. It's a good source of protein...a staple in almost every beauty queen's diet."
A self-confessed foodie, she enjoys "both cooking at home and going on food trips."
This lady has what it takes to become a queen in her own kitchen
"It's almost therapeutic to prepare a meal at home, and it feels even better if you're preparing it for other people.
"But the foodie in me also looks to discover new flavors, and that's why I also like eating out and trying something new."