Thanks to her fiancé Troy Woolfolk, Michelle Madrigal easily found the motivation to work out after her pregnancy.
Four weeks since she gave birth to Anika Austin last October 20, 2017, she has started her postpartum workout that includes crunches, push-ups, squats, and running.
In an Instagram post dated November 19, she wrote, addressing Troy, "Thanks for the push and helping me snap back to my pre MOM bod."
Now weighing 130 pounds, her goal is to lose ten more pounds with "lean & toned muscles with bigger [booty] and flat abs."
The first-time mom emphasized though that she's "not in a rush to lose the weight."
She just feels "lucky enough to be able to exercise as early as now."
And to the netizens who say it's too soon, she said, "Some women like to shop, go to the salon or spa… this is How I do my 'ME TIME' so I hope y'all respect that.
"Of course, I wouldn't push myself if I feel tired or weak.
"I don't work out everyday because mommyhood comes first."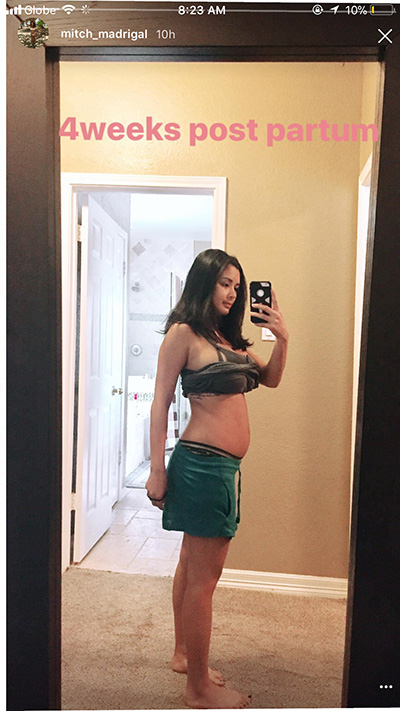 Two weeks later, Michelle said that she was "still at 130 lbs. feeling soft all over my waist, but, "I feel great after I sweat my a** off at the gym."
She underlined, "I still look 2 months preggo but I am a work in progress.
"I am in no rush to lose it right away because it took 9 months to gain all these baby fats!
"I am taking it one day at a time."
Some of her followers expressed concern about possibly having "binat," which happens after a person does strenuous activities before her/she fully recovers.
But the former actress debunked the whole idea, saying that "binat is a myth."
She added, "it really depends on your body.
"Listen to it and of course stop and rest whenever your body tells you to.
"We are all different, enjoy the journey."
In another comment, she wrote, "Although it seems like I am lifting weights, I am only doing the light ones because my body is starting all over again.
"I am squishy around the belly and have 'bra fat' whenever I wear tight clothes…
"I don't push myself hard yet, just enough to start my muscle memory going."
Aside from working out, Michelle also breastfeeds Baby Anika.
But if there's an advice she could give to fellow mommas, Michelle wrote in one of her comments on Instagram, "exercise plus proper diet (not starving yourself) is key."