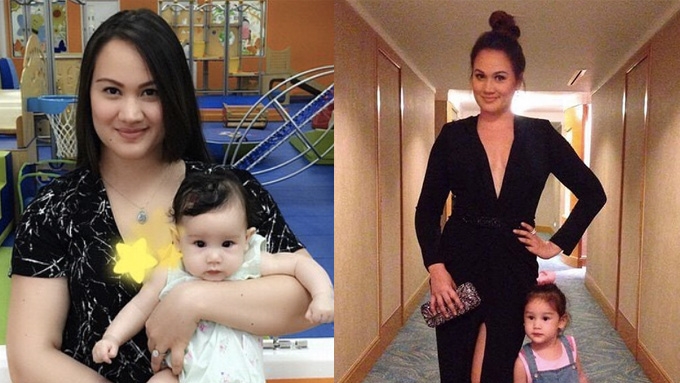 IMAGE @mellyricks09 on Instagram
---
Melissa Ricks has been deliberately stalling her showbiz comeback, and her reason isn't just because of her weight.
"More than yung pagpapapayat kasi, yung self-confidence din, kelangan i-improve," she said.
"I mean, when was my last regular project? Tagal na. Mga 2013 pa yata. Kelan ba yung Honesto?
"Then, I gave birth January 2015. I  got even bigger."
Postpartum was a "terrible" period for her.
In an Instagram post, she related how her weight affected her self-esteem.
"I was made to believe that there was something wrong with that, that it made me less of an actress, less of a role model, even less of a person.
"I was told to lose weight or nothing was there for me.
"I kept trying and trying, going on all kinds of diets, workouts, everything you can think of.
"There were days I would drown myself in tears because I felt so disappointed in myself, nothing worked."
In October 2017, she lost ten pounds.
On the last week of November, she was 35 pounds lighter.
What did she do?
As mentioned in the same post, she first worked on her motivation.
She continued: "...when I was finally ready, started again.
"That was when I felt better about myself, I started to feel stronger, healthier, I felt more confident, and I slowly started shedding the pounds little by little because I was finally doing it for myself.
"Don't give up. It all begins with self love."
FITNESS ROUTINE. At the launch of Phillips MOM app late last year, she told PEP.ph (Philippine Entertainment Portal), "2018 hopefully, maabot ko yung quota ko for a brand new Melissa, and then I'll go back to showbiz."
ADVERTISEMENT - CONTINUE READING BELOW
What was her weight before?
"I was 190 pounds. And even if I'm tall, if tatabi naman ako sa friends ko dati, they're so much smaller."
Melissa is 5 feet 7 inches tall.
Before, she would "exercise every day for four hours," which, according to fitness experts, may cause physical stress on the body. Besides, it is advisable to have a recovery period after an intense workout.
The actress decided to lessen the duration, and stop obsessing about timelines.
She continued, "I'm taking it slower para yung metabolism ko mag-build up. Ngayon, one hour na lang siya every other day."
She's also into Ketogenic diet—which is high in fat, adequate in protein, low in carbohydrates.
"Medyo matagal, mabagal, but I have been seeing results. I'm mas payat. I'm getting there."