Even pregnant woman Saab Magalona was not spared from the insensitive "chubby ka na" comment.
But instead of snapping at the person who made such comment, the 29-year-old singer/blogger did her best to calm down.
On Instagram, she related, "...After 5 minutes, I told her, 'You know, you really shouldn't tell people—especially pregnant women—that they've gotten fat. It's very mean.'"
Saab also took the time to point out why gaining weight is necessary for pregnant women.
"I explained to her that we have no choice but to gain weight (recommended 35-45 pounds for twin moms like me) for the safety of our babies, and we're already feeling self-conscious about."
The person "apologized profusely."
And because of the way Saab confronted the person, "[she] even sent me a text message hours later thanking me for educating her about being more sensitive."
For her part, the daughter of the late Francis Magalona was thankful her reaction to the comment was mature and cordial.
"I'm glad I controlled myself even with the hormones because I trust that most people don't intend to be mean.
"They're just pretty dense and that's their version of chikahan or bonding…
"I hope God can give me more patience not to bite people's heads off, hehe!"
PREGGY MOMS REACT. A lot could relate to Saab's experience, and seconded the celebrity's story.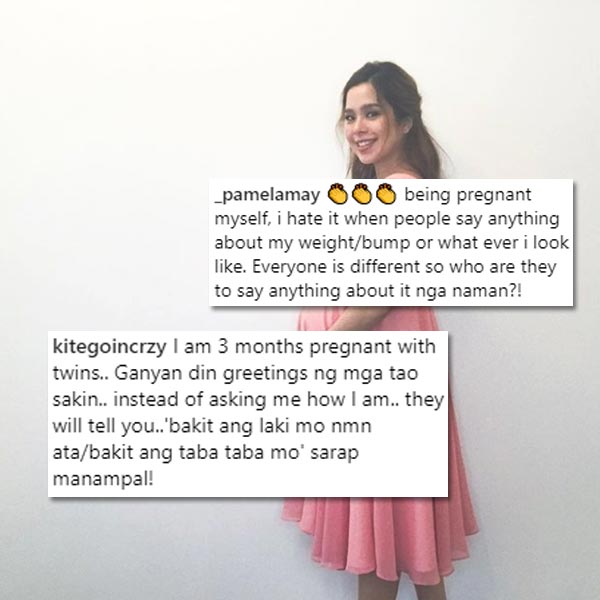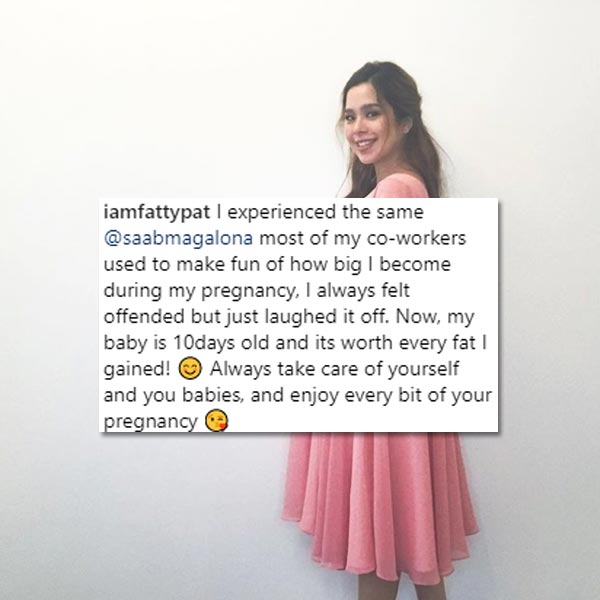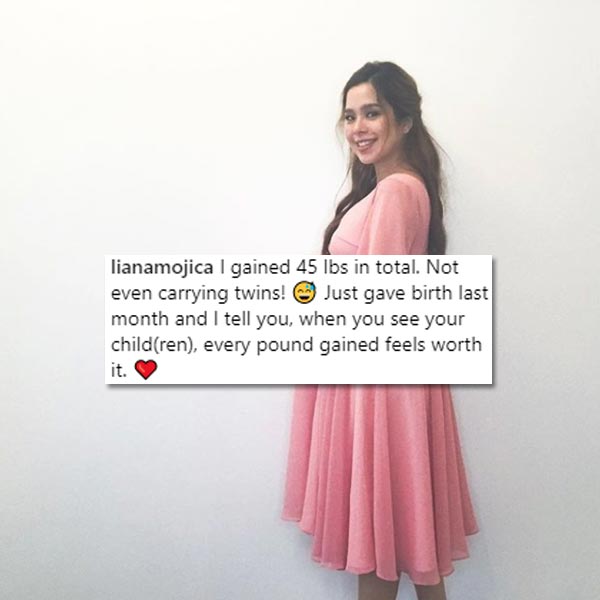 Even pregnant women who have a "small baby bump" get their share of mean remarks.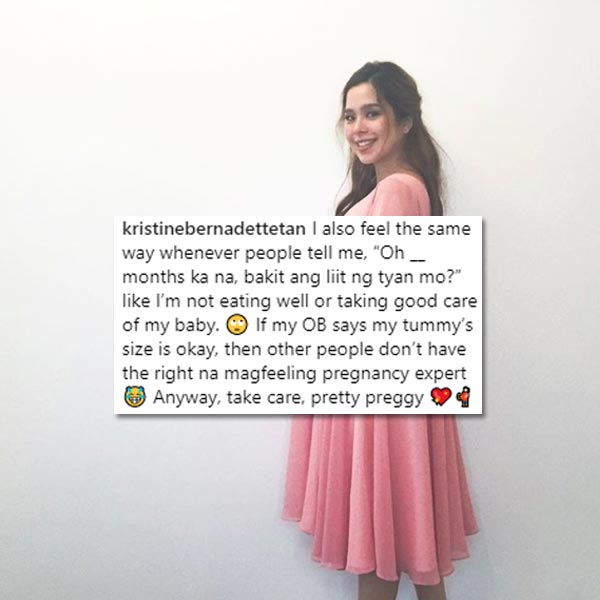 And the comments go beyond the weight.
Some moms shared that their "maiitim na leeg," "big nose," "black underarms," among others, did not go unnoticed.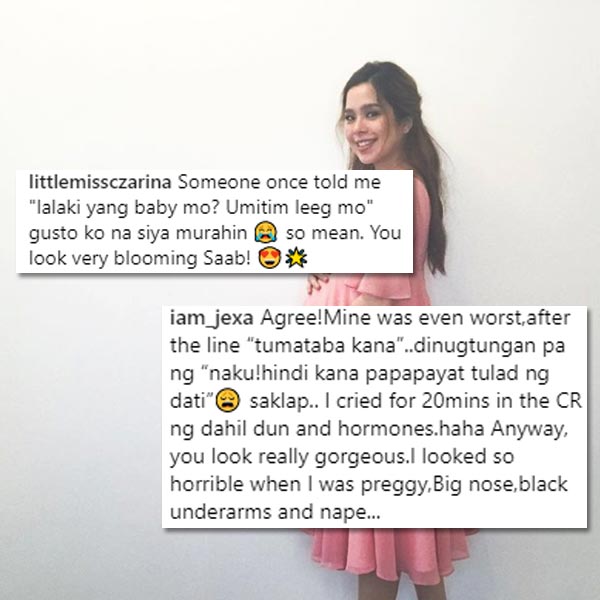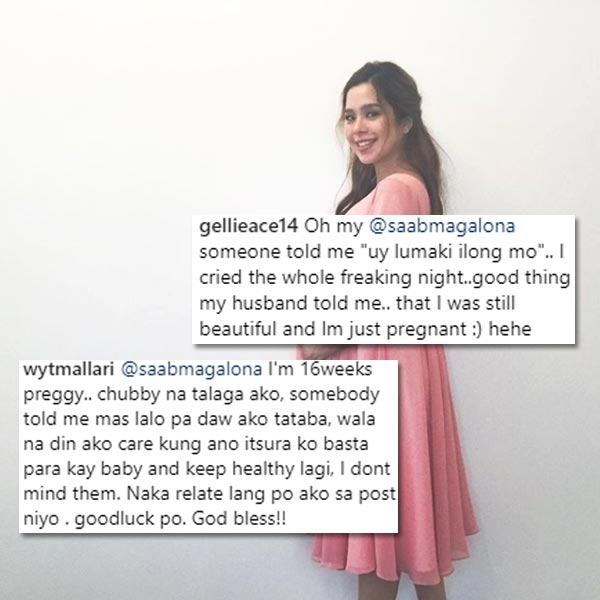 Celebrity moms Cai Cortez and Iya Villania also reacted to Saab's post.
Cai retorted, "Punyetang babae yan! Iharap mo siya sa kin please."
Iya simply said "thank you."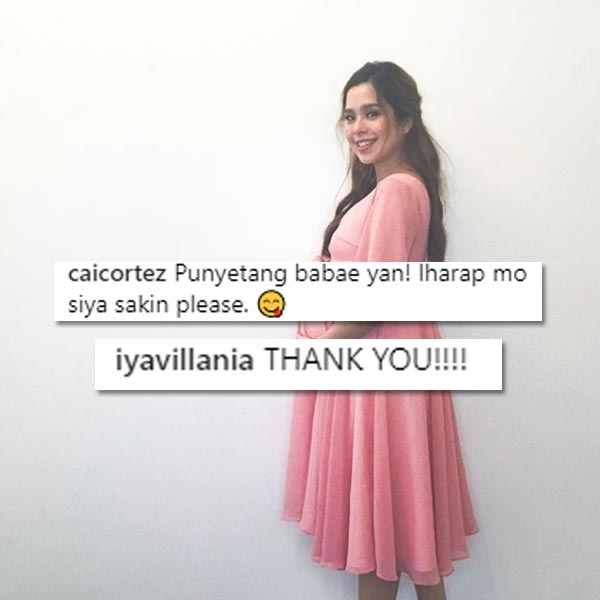 Pregnant or not, nobody would want to be told about her weight gain.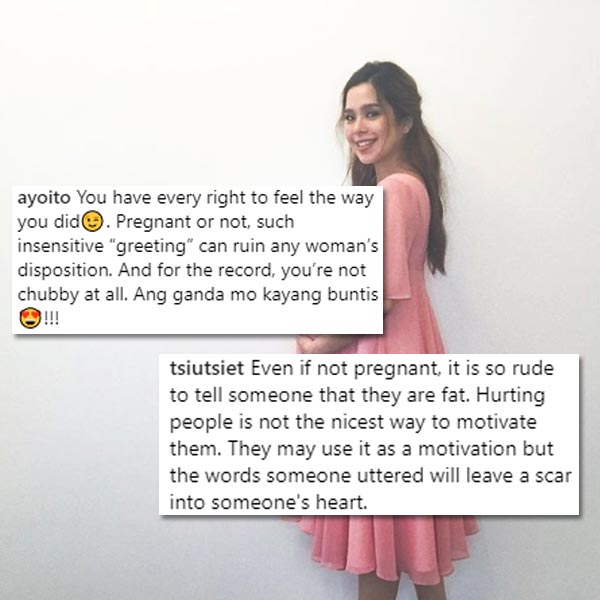 Bottom line: this culture of body shaming needs to stop.