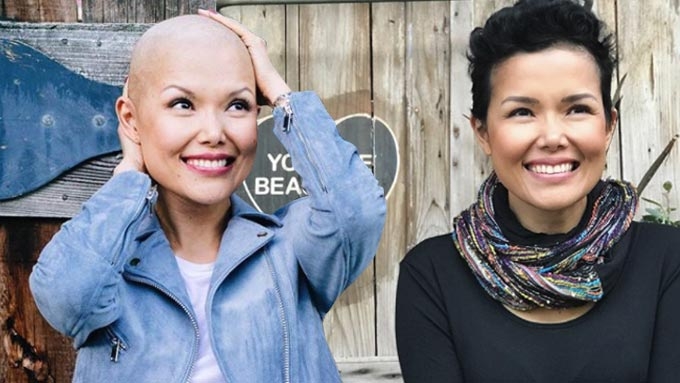 IMAGE jaymee_wins on Instagram
---
In 2017, showbiz fans got reacquainted with former Kapamilya host-actress Jaymee Joaquin when she opened up about her ongoing battle with breast cancer.
On her YouTube channel, Jaymee Wins, she documented her "non-conventional life as a performing artist, a commercial talent, a curious traveler, a conversations mentor, a carefree woman, and now a breast cancer victor."
HER JOURNEY SO FAR. Jaymee was diagnosed with Stage 2A breast cancer in October 2016.
Her chemotherapy treatment began in January 2017 and continued until May 2017, a month before her lumpectomy.
According to breastcancer.org, lumpectomy surgery is "the removal of the breast tumor and some of the normal tissue that surrounds it."
Jaymee underwent surgery on June 28, 2017, at the UC San Diego Moores Cancer Center in San Diego, California.
After her surgery, Jaymee went through radiation treatment.
Jaymee officially became cancer-free on September 27, 2017.
SECOND LIFE. For the past few months, Jaymee has been feeling a lot of pressure about "finding a purpose" after getting a "second lease" on life.
She mused in one of the YouTube videos she released in November 2017, "The issue about life after cancer is real because, you know, you just start from the beginning.
"You're just a whole new person with a new perspective, a new way of thinking, and then you're just attacking life from square one.
"You're right where you started.
"Nagkaroon ako ng second chance on my life, so parang, pini-pressure ko yung sarili ko to have a purpose.
"I have to live life with so much meaning now…"
But she acknowledged that this pressure might be self-imposed, "I think it's really me, giving this much pressure to myself when I should just take it easy and let the chips fall where they may as they say. Pero minsan ang hirap.
"My personality is very driven. I like achieving things and I like going for my dreams, and right now, I'm just in this limbo of uncertainty and it's really hard to stay still.
ADVERTISEMENT - CONTINUE READING BELOW
"But at the same time, I have to stay still. Life happens as it should and so, I've been praying a lot… We can only do what we can."
FROM PATIENT TO PERSON AGAIN. In December 2017, Jaymee found new work as a concierge for a luxury spa. She rejoiced in one of her December vlogs, "It's so good to be back in the normal world, feeling like a person again and not a patient!"
But in her latest vlog posted on January 22, Jaymee mused further on her ongoing transition from "patient to person."
While her work has given her the sense of structure and normalcy, she said jumping back to the "real world" has been an overwhelming experience so far.
The 38-year-old former celebrity host related, "To be honest, I'm a little insecure going back to the real world because parang lahat bago.
"I feel like I'm a kid who came from so much pampering and attention from my treatment, and now I'm back in the real world.
"It's not as easy as it seems because I felt like, when I come back to the real world, that's it, 'Oh! Back to normal! Everything's just the same.'
"But no, you have your inner struggles and it feels… overwhelming!
"I guess that's the word, because you get to know the world again in the eyes of a reborn person and a lot of people don't know what's really going on inside me…
"I had to tell one of my managers about it just because one day I really felt overwhelmed with the job, and I was doubting myself.
"I think she felt that, 'Oh, is something wrong with her? Why is she being so anxious?' And I had to confess to her that I just came from a really difficult time, which is my treatment.
ADVERTISEMENT - CONTINUE READING BELOW
"So, it's affecting how I'm adjusting to my new job.
"But you know what, after having said that, it made things a lot easier…
"Life after cancer! I mean, it's not the easiest thing, but there is hope! Look at me, I have a job.
"I'm starting to look normal—I have my hair back! But there's still so many unanswered questions, but that's what it is."
While the struggle of rebuilding a new life was real, Jaymee was determined to keep on moving forward.
Apart from her concierge job, Jaymee found a way back to her true love: media.
She briefly announced, "On the lighter side of things, I'm actually auditioning for some camera work here in San Diego!
"This is something I really enjoy. This is something I'm doing on the side while I'm doing my luxury spa concierge job… It's something I'm really passionate about."
---
Stories We Are Tracking
---