No matter how many times we've seen Ina Raymundo, Alice Dixson, and Sunshine Cruz on Instagram, we're still in awe of their seemingly ageless beauty.
Believe it or not, these showbiz veterans are already in their 40s, with Alice Dixson almost a year shy from turning 50.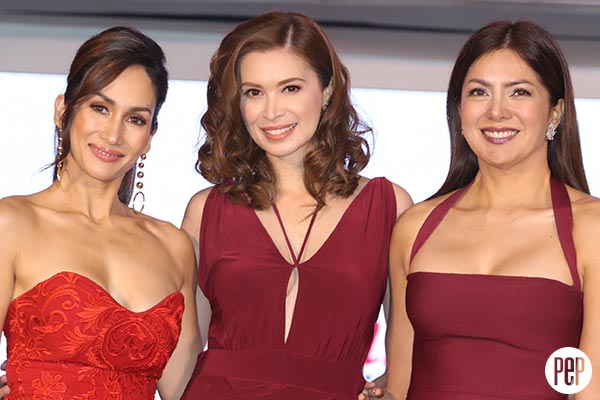 While the million-dollar question has always been about their secret to youthful beauty, the press decided to ask a different question during the Century Tuna Superbods Ageless launch last February 7, at EDSA Shangri-La Hotel.
Are there times when they actually feel old?
Alice was the first to answer.
As a volleyball enthusiast, the soon-to-be 49-year-old actress quickly acknowledged that her body often aches after a game.
She said, "There are some things my body can't do that it can do before.
"There are times when I'm playing volleyball or I'm working out na sumasakit yung katawan ko the following day. So, yun ang totoo."
But the former beauty queen believed age is all a matter of perception.
She explained, "I really don't think about [age] too much kasi parang, you are what your thoughts are, right?
"So if you're thinking, 'Aw, I can't do this, I can't do that.' Your body will follow and that's just a negative way to do so.
"Sabi nga ng friend ko, si Rufa Mae [Quinto], 'Go lang nang go! Go go go!'"
For Sunshine, she admitted that taping for a prime time series has been a challenge for her.
The Wildflower actress said, "Kapag sunud-sunod yung taping—like right now, almost every day nagte-taping kami for Wildflower, 'tapos medyo out of town.
"So medyo nabubugbog yung katawan.
"And parang, pansin ko lang din, it's harder to wake up early in the morning."
But much like Alice, she also said "it's all in the mind."
Sunshine continued, "Nilalabanan ko siya through exercising.
"As much as I can, I exercise and eat healthy."
Meanwhile, Ina was straightforward about her response.
The mother of five told the press, "To be really honest, I don't feel old.
"I really don't!
"You know why?
"Because going out to the gym, working out, and eating healthy makes you feel young.
"Hindi po ako nagyayabang, promise!
"I'm just saying what I feel."
But she did point out, "I have arthritis!
"Sometimes I think it's because of age, but no.
"I know some people who are 20 years old and they have knee problems also, right?
"So really, I have the energy of a 21-year-old… I feel good, I really do."
GAME FOR ADVENTURE. Despite the little reminders of their age, Ina, Alice, and Sunshine still aspire to pursue different kinds of sports and fitness activities.
Ina would love to try crossfit, but…
"I can't leave my kids!" she laughed. "I know, I'm so attached to my kids!
"But someday,I want to try crossfit.
"Gusto ko mag-hiking, mountain climbing, ang dami! Ang dami ko pang gusto i-try."
For Alice, she wants to try kiteboarding and paragliding.
She said, "I've always had a thing about flying.
"I've tried wind surfing before, so [kiteboarding] is one thing I'd like to do.
"I also like paragliding."
Sunshine wants to explore her athletic side more, "I want to try hiking, triathlon… but same as Ina, meron din ako sa knees."
Ina, Alice, and Sunshine headlined this year's Century Tuna Superbods Ageless campaign alongside Paulo Avelino, Gerald Anderson (not in photo), and Matteo Guidicelli (not in photo).