The grand coronation for Binibining Pilipinas 2018 is slated for March 18, 2018 at the Smart Araneta Coliseum, but as early as now, may nanalo na, mga bes!
Rosantonette Mendoza, candidate number 18, shared on Facebook her inspiring journey to self-love, and how she lost almost 200 pounds.
The lengthy post, which she put out on March 8, has so far generated 32,000 likes, 5,000 comments, and 10,000 shares as of 11:30 a.m. today, March 10.
The Caviteña started joining beauty pageants at the age of 15, and was hailed Mutya ng Bacoor in 2007.
After finishing her degree in BS International Relations, major in International Trade at the Lyceum of the Philippines University in 2012, she joined another provincial pageant the following year.
The experience "almost ruined" her and made her stop "aiming for these crowns."
She wrote, "I was bashed in social media because I was too 'FAT' to be a beauty queen.
"Comments like, 'Hala, parang nanay na,' 'ano ba 'yan,' ba't may naligaw jan,' and the likes."
Rosantonette went on with her life, got a job at a retail company, and started her own business.
She fell in love with....FOOD.
"You have no idea. Desserts, I love chocolates! I ate whatever I wanted. As in no control at all," she unabashedly admitted.
In December 2016, she became overweight. Her unhealthy lifestyle began taking its toll on her.
She continued, "I was almost 90 kgs [200 lbs.]. I knew I lost it.
"I got tired easily, my sugar level was high, had a hard time breathing, lahat lahat na. I was very unhealthy."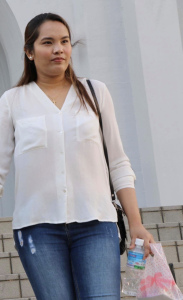 When the Miss Universe 2016 pageant was held here in the Philippines, Miss Universe Canada 2016 Siera Bearchell caught Rosantonette's attention.
The Canadian beauty was size large, and "confidently beautiful with her body."
She put out a series of posts on social media calling out body shamers and promoting self-worth regardless of the body size and shape.
Siera inspired Rosantonette.
"That's when I realized, it's not over. Not yet."
She decided to give Binibining Pilipinas a shot, and worked hard to get her beauty-queen bod back.
On December 23, 2016, her 25th birthday, she started her fitness journey.
She shared, "It has always been my dream to become a Binibini. I knew I had to work extra hard for that goal, my last hoorah to join.
"I got myself a gym membership, hired a great trainer, prepped meals, diet. etc...lahat ng workout na-try ko na ata, bes."
Her efforts certainly paid off.
And whether or not she wins one of the crowns on March 18, she has already won against the bashing and self-doubt.
Look, her fitspiration Siera was among those who gave her a shout-out!
Miss Canada Universe 2016's post on March 8 read, "AMAZING! Rosantonette Mendoza messaged me when she decided to compete at Bb. Pilipinas (Official) NOW LOOK AT HER!!!
"She was body shamed in her younger pageant days and gave up pageantry and lost her self-esteem and self-confidence.
"She saw me at Miss Universe in the Philippines and was encouraged to give a pageant one last shot!!
"THIS MAKES ME SO HAPPY! I am emotional because this is an example of how women encouraging women is SO POWERFUL!!!"
One important thing Rosantonette learned, you achieve nothing for easily giving up.
She proudly declared, "I've learned that it's good to have dreams. But it's better to have goals. Work hard and do whatever you can to achieve them!
"Thank you Binibining Pilipinas for giving me this opportunity to inspire other people with my transformation."
Lastly, she told her Facebook fans, "You are beautiful."
Her parting shot: "So para sa mga matataba, dating mataba, feeling mataba, dun sa gustong tumaba, at sa malapit nang tumaba—you are beautiful. Just be yourself. At the end of the day, it is still what's in your heart that matters."
Here's Rosantonette's Facebook post.