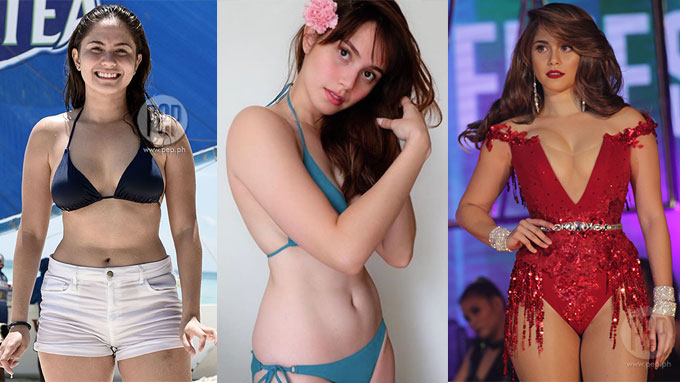 IMAGE @senorita_jessy, Melo Balingit, Noel Orsal
---
Remember Jessy Mendiola's bikini photo that made headlines in May 2016?
Taken in Boracay, it flaunted her curves.
But after her then-screen partner JC De Vera posted another photo taken from a different angle, the netizens accused Jessy of editing her photos, and was told, "Taba siya" and "Hindi siya pang-FHM."
Jessy put out a strong message about body shaming.
Part of it read: "...I know how it feels like to be called 'FAT' or 'TUMABA.' Well, just to inform some of you 'PERFECT' people. We all come in different sizes and shapes but that shouldn't stop us from being happy with our own bodies."
Interestingly, the mestiza actress was hailed FHM's Sexiest Woman that year. 
The actress thought, people appreciated her body, but instead, she was "bullied" and called "pata, baboy, taba, etc." by bashers.
On Instagram, she recounted what she felt: "I didn't deserve to win the title cos I'm waaaaaay bigger than the other girls who they thought should've won."
So for a time, she got depressed, stopped working out, and started gaining more weight.
Here's her entire post:
Then she bounced back, became more serious about achieving her fitness goals, and got Kat Geronimo-Garcia, aka Mama Kat, as her trainer.
Today, April 12, Kat mentioned in an Instagram post that Jessy has so far lost 21 pounds.
She is also "leaner, stronger, tighter."
How did she do it?
Kat revealed, "no fad diets and death defying non sense training was involved."
But for more than year now, the 25-year-old star has been into "good nutrition" (thanks to planned meals), boxing, and circuit training—a workout involving eight to ten prescribed exercises targeting different muscle groups.
ADVERTISEMENT - CONTINUE READING BELOW
Her fitness journey was slowly but surely.
And Jessy's big secret? "Consistency and discipline."
The trainer stressed that those two are "the most essential aspects of getting fit and strong."