Facebook user Cyril Morales now serves as #fitspiration to a lot of netizens after sharing his weight-loss journey on social media.
The 19-year-old Ateneo de Manila University student used to weigh 440 pounds and is now 215 pounds lighter.
His waistline shrank by half to 35 inches from 60 inches.
His shirt size changed massively to Large or Extra Large from 6XL.
In a Facebook post last April 21, Cyril revealed that the reason he made a 180-degree lifestyle change was to fit in—not in society, but in chairs.
He wrote, "This transformation was really hard for me. It was very difficult. Nothing comes easy really and I sacrificed so much.
"But even though, everything was all worth it. I'd do everything all over again to be honest.
"l've experienced and learned so so much in a year and I'm happy.
"My main reason to lose weight was really just to fit in chairs for college and now, I can do so much more.
"I really really really never thought of getting this far. I've always been obese, and I thought I'd die obese.
"I've really learned so much not just in losing weight, but also in approaching life.
"I've grown. I've experienced. I've gotten stronger."
OBESITY AND BULLYING. Cyril further discussed what inspired him to live a healthier lifestyle in an essay he submitted to Ateneo de Manila University when he was still applying for college.
Bullying definitely played a major role.
He wrote, "My obesity became a hindrance to the things a growing child or teenager of my age can do especially in school.
"Back in grade school was where I started to experience those consequences.
"From grades 4 to 7, my seats were specially acquired for me since the normal seats were too small or as I would want to say, too 'normal' for me.
"When we had sportsfests or intramurals, there were a ton of instances where I couldn't participate because I often got injured.
"When we had to perform small plays for our classes, I wasn't fit enough to get lead roles."
It got worse in high school when kids made him the subject of ridicule.
He narrated, "In high school, I still got bigger and bigger, and all the memories of the consequences are still so fresh.
"When I was in first year, I broke a chair in the cafeteria, and I felt so embarrassed being looked at by everyone.
"In my classes, I still had to get special chairs. In our fieldtrips, I had to take rests because I got tired easily.
"When I was in second year, I fell down the stairs and I had to use a wheelchair for a week because I couldn't walk. I even broke the wheelchair.
"When we had to visit orphans every week for our outreach classes, I cried because kids were teasing me non-stop.
"Again, these are just some of the consequences I faced in school, and they are so much different from the consequences outside of school."
Cyril also felt a lot inferior because all that people noticed about him was his weight.
"The consequences outside of school were the worst. People kept looking at me. People kept pointing at me.
"People kept whispering and talking about me. People kept noticing me wherever I go.
"I became a really sensitive person and that's why every time someone tries to even just look at me, I get angry and I explode inside.
"I even cry myself to sleep sometimes.
"My obesity has affected me so much and I didn't know what to do until my teachers, friends, family encouraged me to focus on what my body weight can do, and so I did."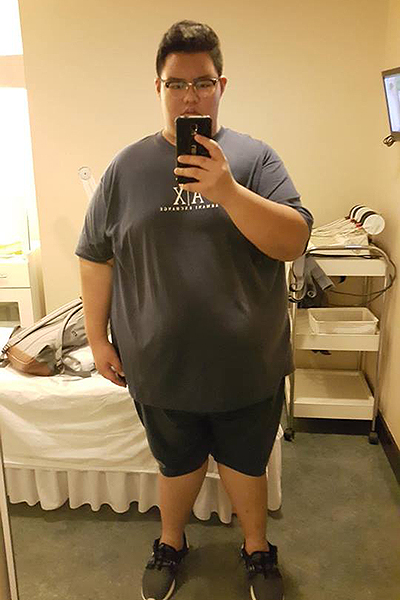 WORKOUT. Through an interview via Facebook Messenger, PEP.ph (Philippine Entertainment Portal) learned more about his workout routine, which helped him lose more than 200 pounds.
It all started in 2016, when he finally decided to start his weight loss journey through diet alone.
In summer of 2017, Cyril finally decided to get a fitness coach.
He scheduled his workout in the morning.
"Before my classes started, which was during summer, I worked out Monday to Saturday, 7 am onwards.
"Right now, I go to the gym at least twice a week, 7 am onwards also."
He stays up to three hours in the gym, and does exercises focusing mainly on four major body parts.
"My typical workout routine starts with a warm up. I then proceed to work on a major body part.
"My coach and I divided the body into 4 parts, mainly chest, back, legs, and shoulders.
"After a major body part, we then proceed to do arms, both biceps and triceps. We then move on to core or abs.
"My typical session in the gym lasts for about 3 hours, since I need time for recuperating also.
"I really had to sacrifice my time to go the gym, but it was manageable because I really wanted change so bad."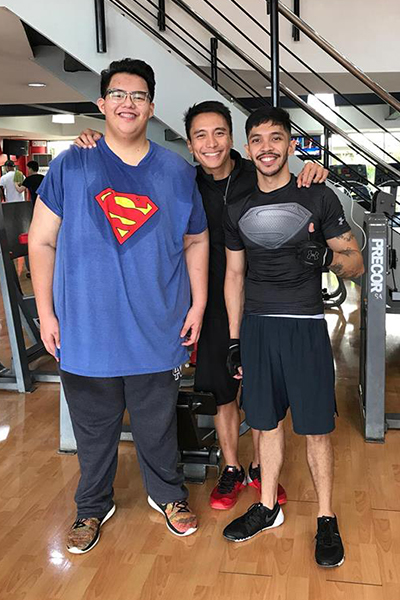 His first few days in the gym was definitely a challenge.
Cyril's coach Ken Rioveros advised him to start off with body weight exercises before moving to weight lifting and functional movement training.
"When I was starting out pa lang though, since I was obese, my coach and I focused on body weight exercises first such as trying to do a push up, trying to squat, trying to plank and more.
"As I lost weight, we then proceeded to do harder exercises. I started lifting more weights and focused on functional movement/training.
"As I lost weight and as I got stronger, the intensity of the workout increased, and I got to do so much more."
He continued, "Until now, my coach and I keep changing our workouts to continue improving and learning new exercises.
"Again, I lifted weights and focused on functional movement/training."
Cyril admits that he doesn't really like cardio exercises but his fitness coach found a way to work around it.
He told PEP.ph, "In talking about cardio, I avoided cardio. From the start pa lang, I knew I didn't like cardio AHAHAH so my coach had to adjust my program.
"If ever I did cardio, it would be in the form of circuit training."
Cyril is now a few pounds away from his target weight.
He revealed, "My target right now is mga 205-210 pounds siguro. 'Cause I have loose skin which may be about 10 pounds.
"When I get rid of my loose skin, I want to be about 195-200 pounds.
"Still heavy siya, but muscular sana. I'm currently 225 pounds minus 7 pounds from the weight I put in my Facebook post."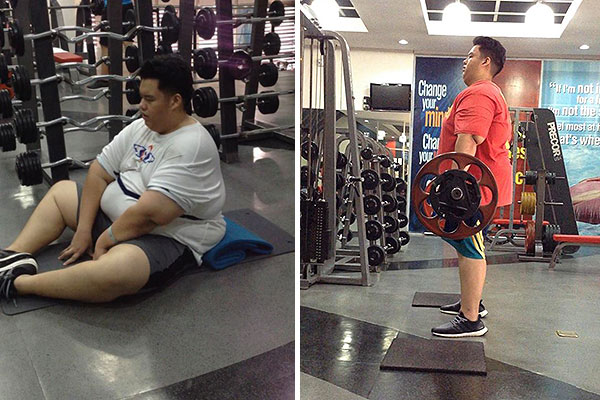 DIET. Cyril also emphasized the importance of diet in weight loss.
He revealed he didn't really cut down on calories, but he's been eating the right food.
He said, "I just really avoided sugar in all forms as much as possible. I avoided rice, pasta, bread, and other food that are inflammatory.
"What I usually ate was protein, good fat, and lots and lots of veggies. I also really really really didn't count calories.
"I just kept eating and eating until I was full, and as long as I was eating the 'right' stuff for me, and as long as I was eating real food (not processed), I just kept losing and losing fat."
He continued, "Some examples of the food I ate are:
"For protein: Liempo, pork belly, letson, beef, eggs
"For fat: cashew nuts, almonds, fish oil, pork fat, pork skin, pork belly
"Veggies: kangkong, lettuce, carrots, tomatoes, onions, peppers, cauliflowers, broccoli
"I ate all of these as much as I wanted, but in eating, I made sure there are always a lot of vegetables."
Cyril didn't name a specific diet program, but most of his meals are quite similar to Ketogenic diet, which is high in fat, moderate in protein, and low in carbs.
He managed his carbohydrate intake and used fat as his fuel to lose weight.
The Ateneo student reiterated, "This is what I really want to focus on. Diet is as equally or even more important than exercise.
"And a lot of people are unaware of what is harmful and beneficial for them.
"I avoided carbs as much as possible and this is what worked for me. I used fat as fuel.
"I ate pork fat, egg yolks, and lots more that people deem as 'nakakataba.'
"I kept experimenting on myself and again, this is what truly worked for me based on all the research I've done and based on all the knowledge my coach has passed to me."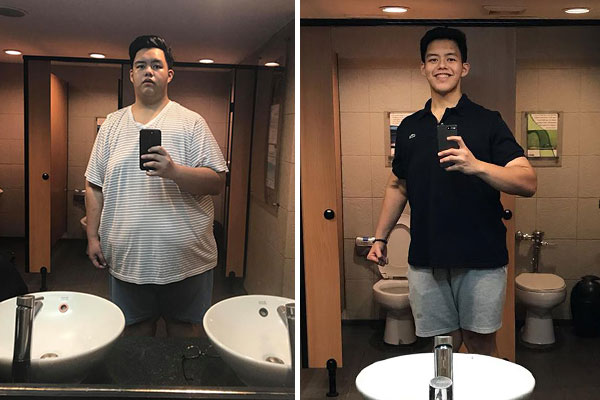 NEW AND IMPROVED. His physical appearance aside, Cyril added that a lot has changed, especially his outlook in life.
Through this journey, he's also learned a lot of new things about himself.
"Losing weight has helped in a way that it gave me a second chance in life.
"I could do so much more now, even the simplest of things one could think of. I could now buy clothes in the malls.
"I could now reach the stuff under my bed. I could now travel. I could now climb stairs and not get tired.
"I could now roam around and not see people look at me. I can now be unafraid."
He added, "I really learned a lot. Ang dami kong natutunan not just about myself, but also about life.
"I learned to be patient. I learned to trust. I learned that hard work pays off.
"I learned so much that I just really wanna improve myself in all aspects, and hoping to inspire and bring others up with me.
"I now look at life very positively. I could now see life as something we should always be thankful for since there's always hope."
PEP.ph asked Cyril about the positive reactions to his story on Facebook, some even noting that he's a lot more "guwapo."
His reaction, "Nakakataba ng puso and nakakahumble po I guess, but to be honest, I really don't know what to feel HAHAA.
"I don't think it helped me gain confidence? Or maybe it did, kahit kaunti. The reason is that, I think I'm still the same person.
"I guess I'm just more positive and that I really wanna help make a change in others.
"If ever I have more confidence, I guess I'm confident na what i did to lose weight can really impact others.
"I'm proud of what I did, and I really wanna help and inspire others who are in the same situation as I am.
"Thank you na lang po sa mga nagsasabi noon."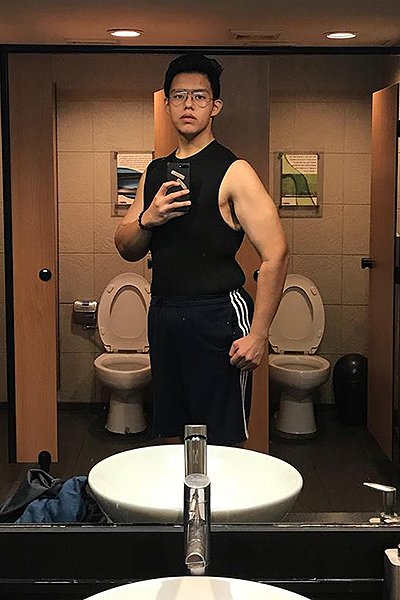 GRATEFUL. Cyril expressed his gratitude to his fitness coach, emphasizing their good and trusting relationship.
He told PEP.ph, "It's very very very very important. Without my coach, I wouldn't be the person I am now.
"He's the one who taught me everything I know regarding health.
"He's the one who guided me and believed in me as I went to the gym 7 am every morning.
"He's the one who taught me that there's more to losing weight.
"He's the one who helped me have a lifestyle change and he's really behind me in everything.
"This is to make sure I won't ever go back to being morbidly obese, and to just make a change that will benefit me in the long run.
"He taught me that it's possible to enjoy despite all the sacrifices I made and the hardships I faced.
"From wanting to just fit in chairs for college to wanting to improve the quality of my life in all aspects. This is his impact on me."
In his Facebook post, Cyril also thanked every one who joined and supported him in his fitness journey.
"I'd like to thank everyone who has been there to support me. I'm really so thankful.
"Thank you to my friends, classmates, and teachers who didn't give me a hard time in school.
"Thank you to my family for being there for me always. Thank you so much to my coach/trainer Ken Rioveros who taught me and guided me as I went through everything.
"Thank you for shaping me to be the person I am now. And lastly, thank you to those who kept noticing me. You guys really helped me to just keep on going. I love you all.
"Everything won't stop here though. As I said in my previous post, 'The journey doesn't stop here and it won't stop in 2018 either. There is no end in trying to be healthier and stronger.'
"There is no end. I can't wait to just keep on working to become a better version of myself, and hopefully inspire and help others in the future.
"If anyone is struggling, whether it be in weight loss or in life, palaging may pag-asa. There's always hope. Message me if you need help, let's work together."