The deaths of fashion designer-entrepreneur Kate Spade and author/TV host/chef Anthony Bourdain have once again brought into focus the reality that suicide is a public health issue and should be addressed.
According to a 2017 World Health Organization (WHO) report, close to 800,000 people die of suicide every year and 78 percent of global suicides occur in low- and middle-income countries.
WHO also calls for effective national responses with a comprehensive multisectoral suicide prevention strategy.
Contrary to long-held notion, the decision to die by suicide is not always triggered by one single event or reason, but by a combination of health, environmental, and historical factors.
According to the National Institute of Mental Health (NIMH), there are varying risk factors depending on age, gender, and ethnic group.
But these are believed to increase a person's risk for suicidal thoughts and behaviors.
Note that they may change over time.
Depression, anxiety, and other mental disorders
Substance abuse disorder
Chronic pain
Prior suicide attempt (the strongest risk factor)
Family history of suicide
Family violence, including physical or sexual abuse
Firearms in the home
Having recently been released from jail or prison
Exposure to suicidal behavior of others, such as family members or peers
WHO adds that people who are in extreme emotional distress, like those who lost a loved one or went through a painful relationship breakup, and those who experience discrimination are also at risk of suicide.
NIMH also notes that although many people have these risk factors, not all of them are suicidal.
With all of this information, suicide is preventable and avoidable.
Most people who die by suicide exhibit warning signs. Knowing what to look out for will hopefully help equip all of us to extend a helping hand to those in need.
The American Foundation for Suicide Prevention lists the warning signs of someone contemplating suicide:
CHANGES IN THE WAY THEY TALK. If a person talks about killing himself, hopelessness, having no reason for living, feeling like a burden to others, unbearable pain, and feeling trapped or empty.
CHANGES IN THEIR BEHAVIOR. Behavioral changes in a person experiencing a painful event, loss, or a big change, may signal risk.
Watch out for increased use of alcohol or drugs, withdrawal from activities previously enjoyed, isolation from family and friends.
Other warning signs: sleeping too little or too much, saying goodbye to loved ones and ensuring affairs are in order, looking for ways to end their life like online searches about suicide, fatigue, and aggression.
CHANGES IN THEIR MOOD. People contemplating suicide may display one or more of the following moods: depressed, anxious, disinterested, irritable, agitated, reckless, angry, ashamed, and humiliated.
Displaying extreme mood swings is also a cause for concern. Look out for people who appear fine and happy after a period of depression and go back to seclusion the next.
Another important thing to note: Most people in a mental state such as depression find it a burden to reach out and ask for help.
The emptiness they feel pushes them to isolation, shunning help, treatment, and medication.
So it is up to those who surround them, most commonly their family and friends, to stand their ground and take over. But WHO informs ways to do so without causing further harm.
Here's what you can do when a person exhibits suicidal behavior.
Find an appropriate time and a quiet place to talk about suicide with the person you are worried about. Let them know that you are there to listen.
Encourage the person to seek help from a professional, such as a doctor, mental health professional, counselor or social worker. Offer to accompany them to an appointment.
Do not leave him or her alone. Seek professional help from the emergency services, a crisis line, or a health-care professional, or turn to family members.
If the person you are worried about lives with you, ensure that he or she does not have access to means of self-harm (for example pesticides, firearms or medication) in the home.
Check on the person and stay in touch.
What can you do if you see someone posting suicidal content on social media?
There are ways to report suicidal content on many social media sites. These include not just posts from people who are considering suicide, but also those that promote suicide and self-harm.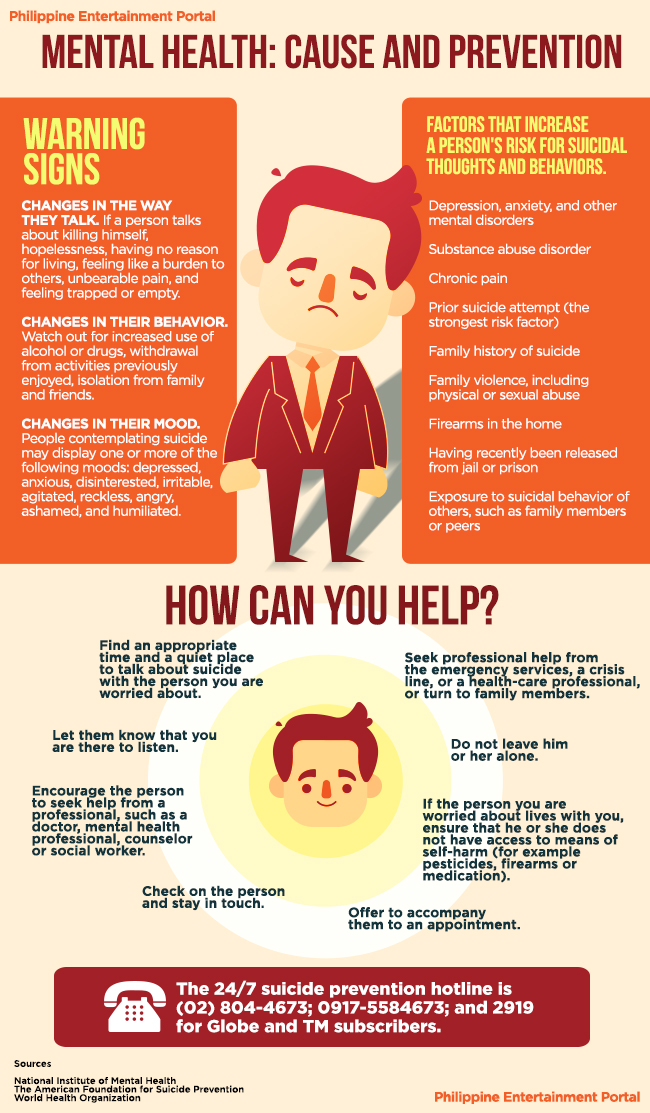 These sites also use their analytic functions to identify and help report suicidal posts.
For Facebook, you can report suicidal content here.
To report a post for suicide or self-injury on Instagram, tap the three dots on the upper right corner of the post, tap report, select It's Inappropriate, and choose Self injury.
To report alarming Snaps on Snapchat, press and hold on the Snap, tap the flag icon that appears on the bottom left corner, choose More options, select I'm worried this Snapchatter might hurt themselves.
For Twitter, you may report threats of suicide or any form of self-harm here.

On YouTube, report a video by clicking on the three dots on the rightmost side of the video's title, click report, choose Harmful dangerous acts, click the drop down menu, and choose Suicide or self injury.
These sites have their own process of reaching out and extending help to their users. They also provide resources on their Help and Support pages, if you search for the terms "suicide," "suicide prevention," and "self-harm."
NIMH warns one must not promise anyone of keeping their suicidal thoughts a secret. Get help as soon as possible. Tell a trusted friend or a family member, or if you are younger, tell an adult with whom you are comfortable.
In the Philippines, the 24/7 suicide prevention hotline is (02) 804-4673; 0917-5584673; and 2919 for Globe and TM subscribers.
Remember, when someone you know is thinking of taking their own life, talk to them about it and offer your support. Listen with an open mind.