Seven-year-old Filipino-Italian swimmer Gaia Trimarchi died from a jellyfish sting on Caramoan Island.
According to ABS-CBN News, it happened last July 26, during the last stop of an island-hopping tour with her family.
She was collecting seashells in the shallow waters of Sabitang Laya island, when she suddenly screamed, "Ouchie."
Gaia's mother Manette Trimarchi saw barbs stuck on her daughter's legs and hands, which already turned purple.
It took about 40 minutes before Gaia was brought to the nearest hospital, but by then, her vital signs were gone.
DEADLY JELLYFISH
It was a box jellyfish, the most deadly jellyfish in the world, that stung Gaia.
It was the same kind of jellyfish that stung Anne Curtis in April 2014, while shooting Dyesebel in Batangas.
On Instagram, the It's Showtime host wrote at the time, "I am very thankful that I got stung by only half a tentacle. So, even if I experienced all the symptoms—vomiting in a span of one minute, extreme pain, and delirium—the venom was not enough to put me into cardiac arrest and turn into [a] fatal sting."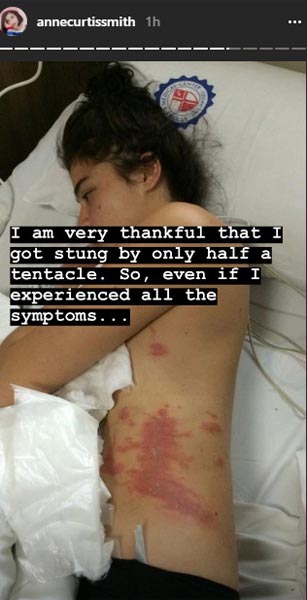 A box jellyfish has 60 tentacles, and each one of them has half a million darts.
According to ConservationInstitute.org, "These microscopic darts are full of venom. Each one could theoretically kill up to 60 people. It is fast-acting, and may cause cardiovascular arrest within a matter of minutes. The pain from the sting itself is incredibly intense, and may cause death even before the venom does, as it can lead to shock."
HOW TO TREAT THE STING
Anyone who gets stung should be given medical help right away.
But the most handy first-aid treatment is vinegar's acetic acid, which can help remove the tentacles.
A study published in The Medical Journal of Australia stated that dousing the stung body part with vinegar can lessen the pain and "rapidly and completely" prevent the release of more venom.
A tweezer is also helpful when pulling the barbs.
Rinse it with sea water.
So next time you head to the beach, do not forget to bring a bottle of vinegar and a tweezer.
According to WebMD.com, hydrocortisone cream or oral antihistamine can also relieve itching and swelling.