Anne Curtis and Heart Evangelista are multi-hyphenate artists who always look good on and off the camera.
Even with their busy schedules and grueling work hours, with a little help from their glam team, they manage to stay beautiful and lively once the spotlight comes on.
But these two achievers prove that when it comes to health and fitness, there are no shortcuts.
Both female stars are hard at work to get in better shape with discipline, sweat, and motivation from their fitness coaches.
Anne, who went on a one-month honeymoon trip to Africa with husband Erwan and also squeezed a quick food trip to Korea before 2018 ended, admitted that she had to lose the weight she gained from these trips.
Heart, meanwhile, started getting back to exercising regularly again late last year.
Anne has been focused on high intensity workouts and weight training with fitness coach Arnold Aninion…
… while Heart wakes up as early as 4 a.m. to run, and has a separate workout session with her own trainer.
And even when the Kapuso star is presently in China for a yet-unannounced project, she remains motivated in keeping up with her workouts.
Aside from exercising, Anne also follows a ketovegetarian diet, a combination of ketogenic and vegetarian disciplines.

On the other hand, Heart drinks shakes and also practices portion control, but allows herself cheat days to indulge in her favorite food.
THEIR OWN FITSPIRATIONS
Last week, both Anne and Heart posted throwback photos from their past photo shoots, featuring their leaner figures.
On her Instagram stories, Anne posted a black and white photo of herself in ab-baring lingerie from 2011, and captioned it with, "12 lbs to go! But I'll get you back!!!!!"
Heart turned to her Instagram feed and posted her 2013 Esquire Philippines cover, where she wore a white tank top and black bikini bottom.
Part of her caption read, "Throwback to 2013! For the past few weeks now, I have been training my butt off for a special project — waking up early in the morning to workout, and adapting a healthy diet."
Heart also posted a behind-the-scene photo from the said shoot on her Instagram stories, and captioned, "2013 - gotta go back!" referring to her old figure.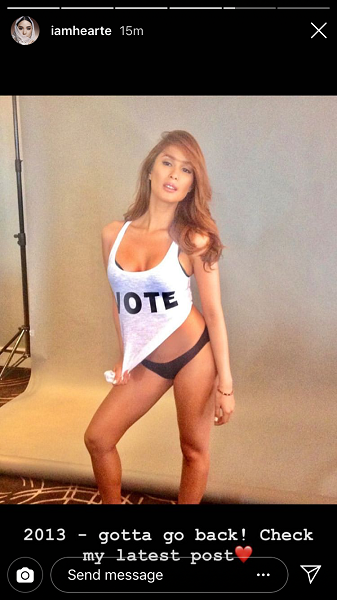 Anne and Heart have been seeing positive results from their hard work.
"ABS slowly making a guest appearance again," wrote Anne in her Instagram stories. "As of today 130-124 lbs."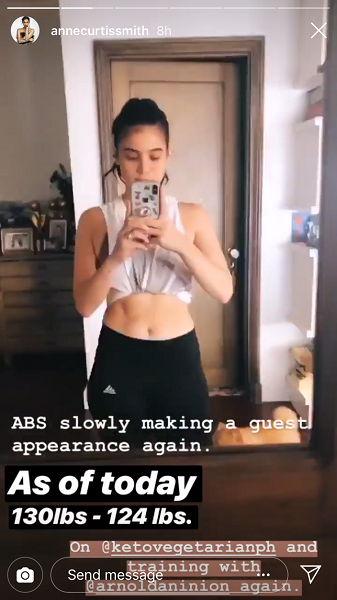 As for Heart, trading her high-heeled Louboutins for rubber shoes has shown its upside.
Her Instagram post read, "It hasn't been easy, but the results have definitely been worth it. I now feel healthier than ever!"
While it's important for Anne and Heart to look good for their jobs, becoming fit and healthy takes on another meaning for them. It allows them to have more energy to spend time with their loved ones, and achieve more of their goals.
In Heart's words as she ended her Instagram post, "Your health is the most important thing, so you should never neglect it! Besides, it's our bodies that lets us accomplish everything we have to do - so we must nurture it, tend to it, and love it dearly."