Anne Curtis is trying to lose weight?
Yup, after having "a year of YOLO [You Only Live Once] in 2018," the Kapamilya actress has achieved her ideal weight.
She has gone down to 130 pounds, which, according to Livestrong.com, is within the normal weight range for her height of five feet and six inches.
Still, she could not risk looking bigger on television. Hence, she started her balik alindog program last month to slim down further.
First, her diet—Keto vegetarian, which, according to Shape.com, prioritizes fats and proteins while restricting carbohydrates.
Anne's calorie count was lowered to 1,200.
For her workout, she has been training with Arnold Aninion, the fitness coach who helped Isabelle Daza and Georgina Wilson get back in shape.
Here's a sampler of Anne's routine.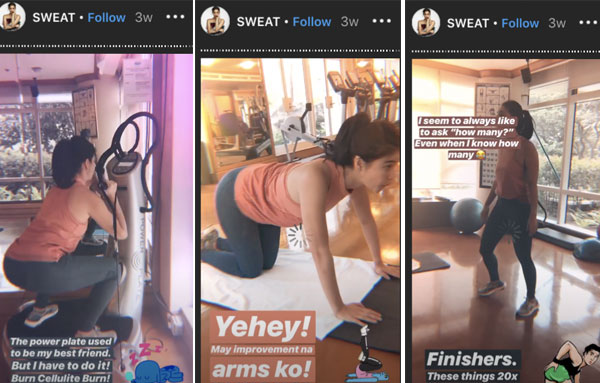 Anne was initially disheartened as she did not see improvements until the third week.
Now, the actress-host weighs 121 pounds.
Here's her fitness journey in a nutshell:
"Going on my 3rd week on @ketovegetarianph and working with my coach @arnoldaninion. FINALLY there is progress. First week was a struggle specially when we had to lower my calorie count to 1200.
"Second week I kinda felt like, 'Ano ba to? Pamatay na workouts ko pero parang konti lang ang difference.
"I was at 130 lbs after a year of YOLO in 2018. Pero now, on my 3rd week it's coming through!
"As of today, I'm at 121 lbs losing excess fat but not losing my muscle mass."
Her cheat days are usually on Saturdays and Sundays.
The It's Showtime! host continues, "Although on weekends, I let myself indulge in food I love to eat!!!! Pero Hindi OA ha. Can't wait to reach my goal that is my normal and average weight for my height! FIGHTING!
"Standing with everyone that is working hard to reach their fitness goals this 2019! #strong"
In 2018, she top-billed three films (Sid and Aya, Buy Bust, and Aurora), staged #ANNEkulit! Promise! Last na 'to concert in August 2018, got busy with her cosmetics brand BLK, joined the London Marathon, and travelled to eight countries that included her month-long African trip with husband Erwan Heussaff.