Maine Mendoza, actress, comedienne, and all-around awesome gal, is one busy bee. When she's not posing in front of the camera, she's hosting Eat Bulaga's "Juan for All, All for Juan" segment, which sends her to various far-flung places and barangays.
As she's always swarmed by crowds and exposed to the elements, it's a wonder how this young lady manages to keep herself in near-perfect condition. Below, Maine shares her tips for staying healthy.
1. GET SOME REST.
A typical day for Maine starts 9 a.m. and can end as late as midnight, so giving herself time to recharge is important. "Sometimes I only have Eat Bulaga so I get home early and just spend the rest of the day in bed," she shares.
2. GET THE RIGHT NUTRIENTS.
Maine reveals that she doesn't "eat a well-balanced diet-yet!" So she makes up for it in other ways. "Being in remote areas every day-exposed to sun, rain, heat, dirt, and lots of people, [among others]-I need to be sure that my immune system would always function properly. I take vitamins every day to get the daily nutrients I need."
3. REMEMBER WHAT YOUR MAMA TOLD YOU.
Always be prepared for whatever the weather brings, especially if you know you'll be exposed to the elements. Maine believes in the age-old advice that it's best to avoid walking in the rain to keep yourself from getting sick and to always bring an umbrella.
4. STAY HYDRATED.
As an adult, one thing Maine learned about staying healthy is "to drink water as much as I can. Hydrate, hydrate, hydrate!"
5. REMEMBER: AN OUNCE OF PREVENTION IS BETTER THAN A POUND OF CURE.
Since her work requires her to travel and meet numerous people, she's more likely to come into contact with those who have a cough or cold. To lessen the chances of her getting infected, Maine gets flu vaccines every year. "I also practice the 'DIY vaccine'-which is washing my hands with antibacterial soap all the time and avoiding close contact with such people." She also counts mosquito repellent and alcohol as must-haves, especially when out in public. She adds, "I believe all of us were taught to keep our hands clean all the time, especially when handling food. So washing our hands at all times is a must!"
You too can stay as fresh and healthy as Maine by using Hygienix Germicidal Soap, which helps protect you from disease-causing bacteria and leave your skin feeling moisturized and energized with its non-drying formula and refreshing scent. And just like Maine, if you're always on-the-go, the pocket-sized Hygienix alcohol and gel sanitizer will be your partners-in-crime when facing your everyday battle against germs.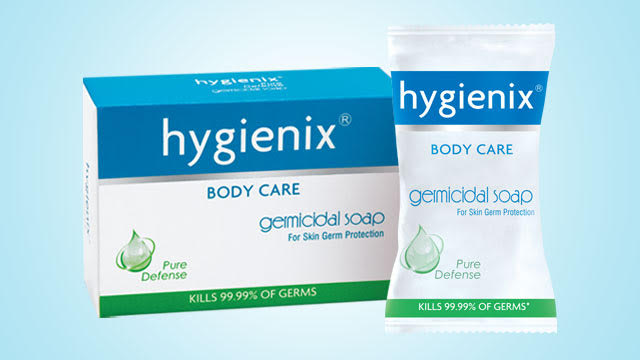 Hygienix Germicidal Soap, Alcohol, and Gel Sanitizer are available in stores nationwide. Follow Hygienix on Facebook for more updates.
Follow Hygienix
Website
http://www.splash.com.ph/index.php/brands/hygienix/
Read the story? Tell us what you think!
How and where can I get this?