Doug Kramer and Cheska Garcia's mansion is nearly finished.
Their family targets moving in this March, the 18th month of the house's construction.
Since January 2018, the cager has been giving updates, the latest of which shows their pool area.
The cager writes, "Our open lanai to the city view! Bbq pit will be at the edge! With an outdoor table under the shade to enjoy the view and breeze, while watching over the kids swim! Soon!!!"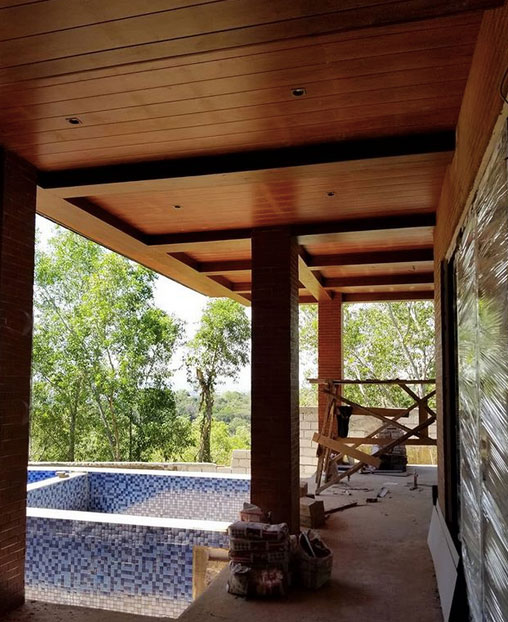 He also gives a quick tour of the kids' classroom, which has three cubicles, a shelf for a huge television set, and shelves for the books.
"It's almost ready," says Doug in the video.
His caption details: "Here's the designated classroom/study in the new house! Kendra and Scarlett super excited since they are home schooled!
"It'll have all 3 kids small cubicles, shelves, art corner, etc! Everything they'll need to make homeschooling fun and interactive!
"Moving in real soon!!"
Their living room gives away the house's theme: Rustic modern.
It also has interesting details on its high ceiling, which is adorned with wood chandeliers.
Doug captions, "I decided to play around with different kinds of wood for our ceiling. Kamagong, Mahogany and Narra were used.
"So we had to properly blend everything and hopefully the end product will look good. The drop ceiling was done so we can have strip lights reflect to the upper wood ceiling.
"I thought a lot on so much details, it gave me 'nice headaches.' Frames of the lights were spray painted black.
"Actually even my door handles and door hinges were powder coated black, just so we can keep with the theme of the house, rustic modern. Just the colors brown, gray and black! Wood chandeliers were locally made. Even the small square wood art on the wall.
"Out of it, Chesca and I decided for the small squares to form a cross. It's a reflection of our faith and love of a resurrected Jesus Christ! He's the reason for everything for us."