Team Kramer has finally moved in to their dream family home.
Cheska Garcia's latest post on Instagram exclaimed, "This is it! After almost 2 years of building we are finally gonna start a new chapter in our new home."
And what was their first order of business? "Deep cleaning."
One of Cheska's closest friends Antoinette Taus "can't wait to hang out" at the Team Kramer's newly built home.
Antoinette added, "Waaahhhhhhso so happy for you guys, sis!!!!"
Ogie Alcasid commented, "Praise God!! Congrats!!"
Aiko Melendez, Vanessa Matsunaga, Janeena Chan, Liz Uy, Kelly Misa, among other celebrities, also congratulated the celebrity mom and her husband, Doug Kramer.
WHAT TEAM KRAMER IS MOST EXCITED ABOUT THEIR DREAM FAMILY HOME
1. The master bedroom, which looks like this.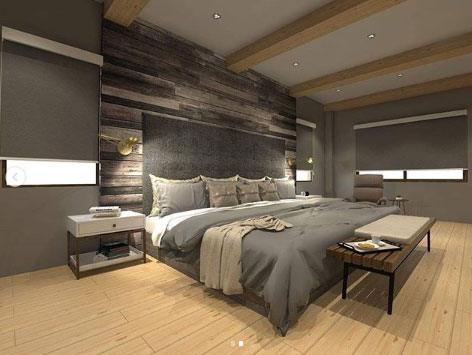 2. Cheska's walk-in closet, which is bigger than the master bedroom, according to Doug.
The cager added, "...behind her in the small room is actually another walk in just for shoes!"
3. The huge customized bed at the master bedroom.
The couple made it "extra, extra big so that our growing kids will have more space in between mom and dad" because Kendra, Scarlett, and Gavin "love to siksik and place their arms and feet under us..."
Although the kids are equally excited sleeping in their own bedrooms, Cheska remarked, "Doug and I will have all this space to ourselves."
4. Doug's man cave at the basement.
5. The kids' study room since all three of them will be home schooled.
It has three small cubicles, shelves, art corner, and entertainment TV.
6. The stunning views
The infinity pool, which will be made of black stone, will be facing the city.
Cheska wrote, "I cannot wait to move and enjoy the fresh air! This is our open lanai beside the pool and the beautiful view!
"Eventually, we'll have a hanging sofa near the edge of the lanai and a tall outdoor wooden table for us all to enjoy breakfast and maybe a little sip of wine at night with my hubby!"

Cheska is also looking forward to the view that she will be waking up to every morning.
Add to these are the tree house, gym, Doug and Cheska's offices, and home cinema, which can accommodate 20 people.
It took Team Kramer 10 years to achieve their dream family home.
When Doug and Cheska got married in October 2008, they rented a house.
When Kendra was born in 2009, they moved to a small condo unit "for a family of 3."
When Scarlett was born in 2011, they rented a townhouse.
They purchased their first house shortly after Gavin was born on January 15, 2013.