Cindy Kurleto gives her Instagram followers a tour inside her family apartment in Vienna, Austria.
The former actress' family home has a mix of vintage pieces, modern furniture, and "bespoke solutions."
Most of the unique furniture pieces seen in their apartment are custom designs done by an uncle of Cindy with her husband Daniel.
COMMON ROOM
The common room occupies the largest space in their apartment.
Upon entry, guests step into the open kitchen, which Cindy says is her "favorite room in the house."
"I especially love the baker's table," the former model-host says.
The baker's table is among the first things that catches a guest's eye.
Cindy, who was born in Vienna, continues, "It's a vintage, real baker's table. It has this metal plate on it, which is perfect for baking and cooking."
She also talks about the marble countertops, the butler sink, and the sage green cabinets, which she hand-painted with her uncle and her husband.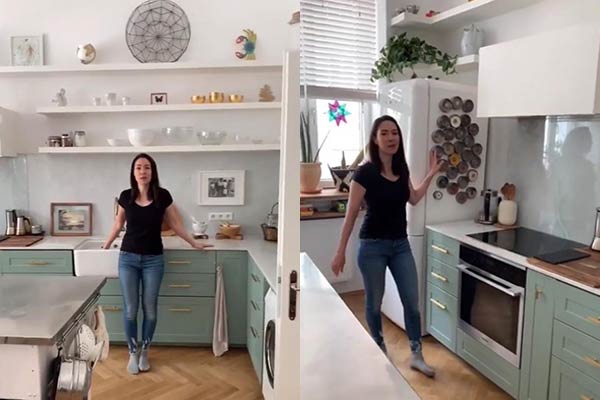 The former Encantadia actress also loves her herb collection, which is attached to their vintage-looking Smeg refrigerator.
Cindy's husband and an uncle collaborated to install custom deep window sills along the window.
Cindy says she enjoys this spot the most as she often makes it her little breakfast nook and people-watching spot.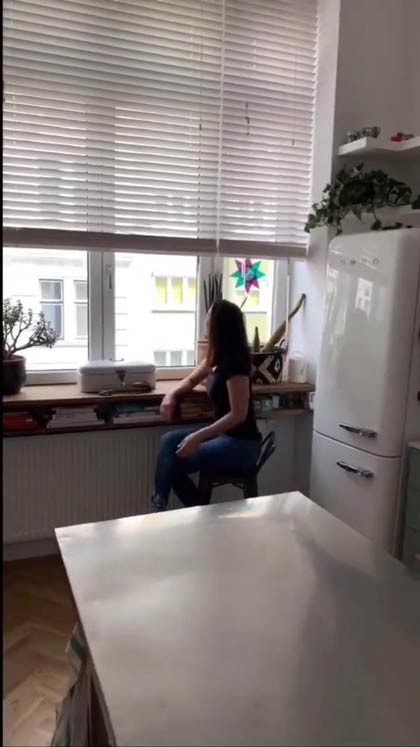 The other half of the common room houses the living and dining areas.
Cindy makes special mention of the apartment's high ceiling, which, she says, is "something that most old Viennese buildings have in common."
The mother of two then leans on the room's centerpiece: the dining table.
She says, "I love, love, love this black table. It's a little bit bigger than most tables. It fits easily ten people, I would say.
"We have lots of fun having dinners here. Christmas and birthdays and so on."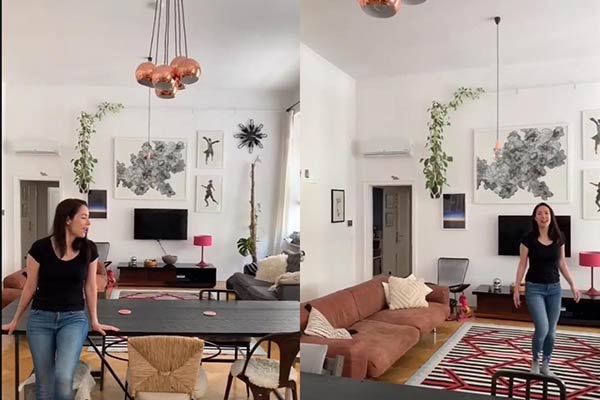 In the living room, Cindy shows off the area's conversational pieces: its art decor.
She makes special mention of the recycled art made out of bin bags.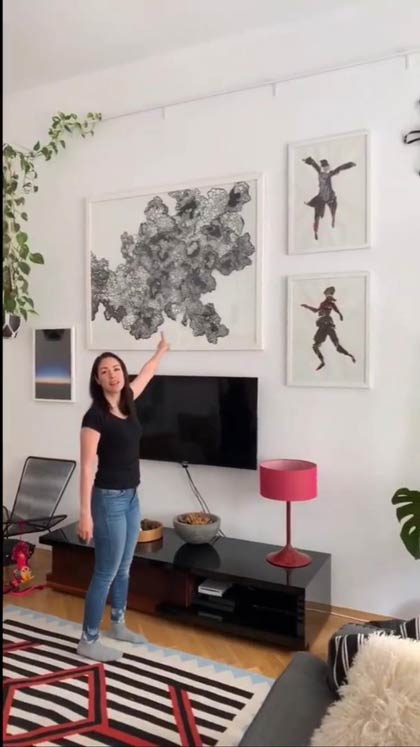 WALK-IN CLOSET
Moving toward the master bedroom, Cindy shows their walk-in closet.
Cindy and husband Daniel designed the room themselves, dividing the space into his and hers areas.
She says, "We decided so that it fits specifically to each person's needs."
Their walk-in closet doubles as a guest room as well.
The sofa in the corner converts into a queen-size bed.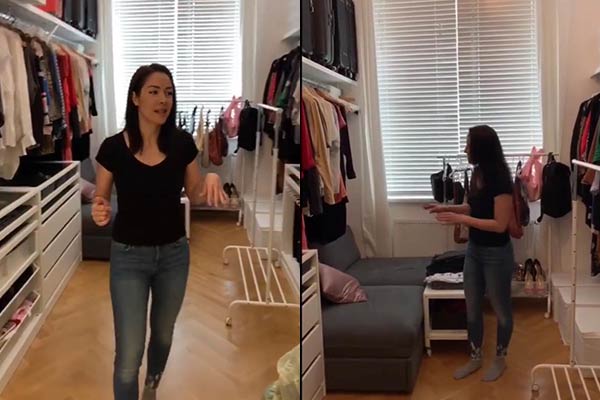 MASTER BATHROOM
Opposite the walk-in closet is the master bathroom.
Cindy acknowledges that its design can look "crazy because of the geometric tiles."
But the former showbiz personality says she was adamant about getting that style.
In fact, the unique bathroom tiles are custom-made from Spain.
Cindy reveals, "I saw them online and they were not available in Austria or in all of Europe.
"And so, I had a picture taken and sent to a company in Spain who were able to reproduce them for me, and I'm really happy how it turned out."
Apart from the bathroom's design aesthetic, one of its unique features is the "double shower."
This is specifically installed so that the shower area can actually accommodate her, her husband Daniel, and their two kids Noa and Lima, at the same time.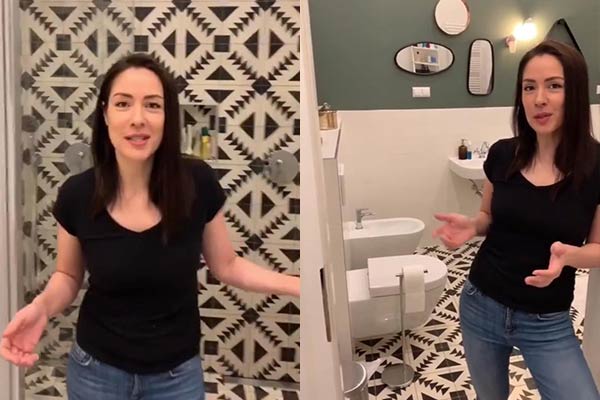 MASTER BEDROOM
When it comes to Cindy and Daniel's bedroom, its aesthetic is more minimalistic.
"I love this room. This room, to me, is serenity, pure," she says.
Cindy specially loves the lamp shade she found in Peru.
"It is actually an award-winning Filipino-made lampshade made out of textile of pineapple. Piña.
"It has wires inside, so you can actually shape and crumple it to your desire and make it look the way you want to."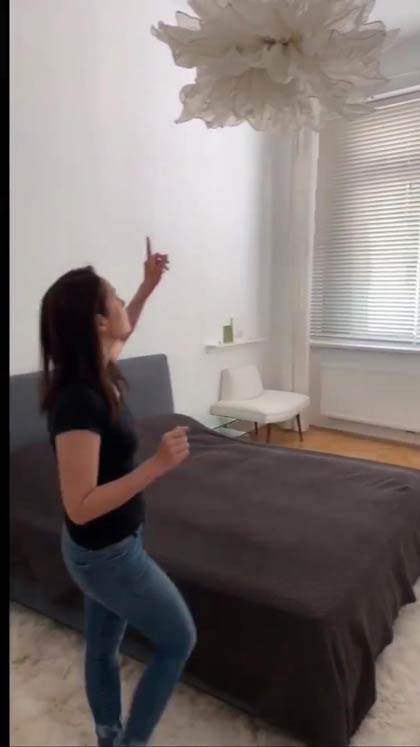 Cindy's make-up table sits by the window.
It doesn't have the requisite drawer, but Cindy loves it because it was a gift from her husband.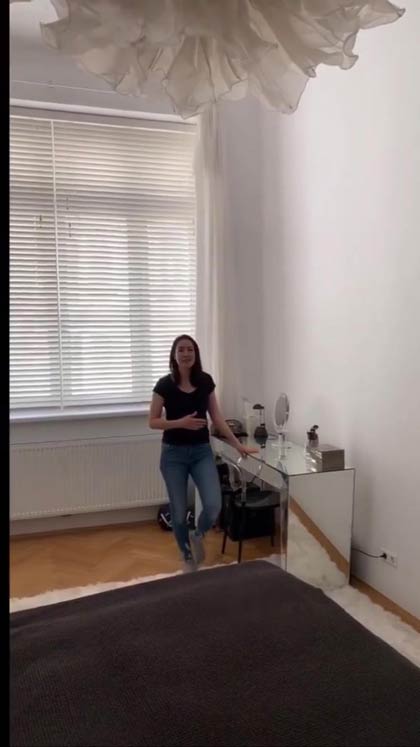 HALLWAY
The apartment's hallway is decorated with art pieces that the family has collected through the years.
A map of Vienna hangs by the main stairway, which is the entryway to the apartment.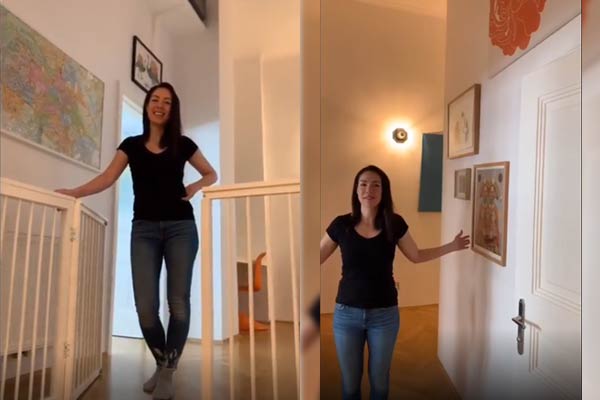 As they head further into the hallway, more vibrant art pieces and designs adorn the wall.
In one spot, Cindy shows the large accent mirror.
She says, "It's an old factory window that has been outfitted with these little mirrors to make one big whole mirror.
"I really, really love how it makes the corridor look even longer."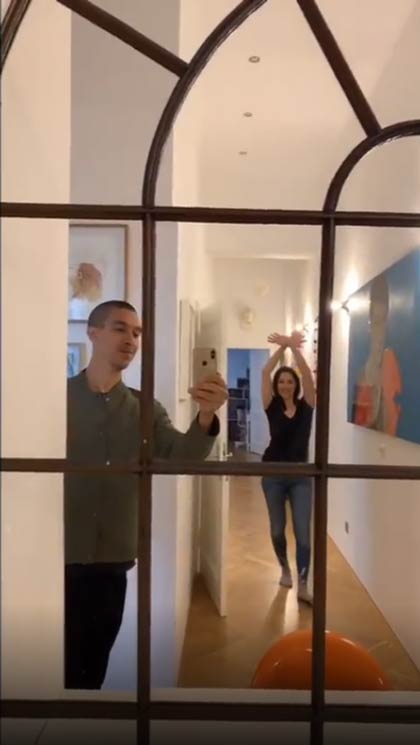 Turning around the corner, the colorful decorations tell guests that they are heading toward the kids' rooms.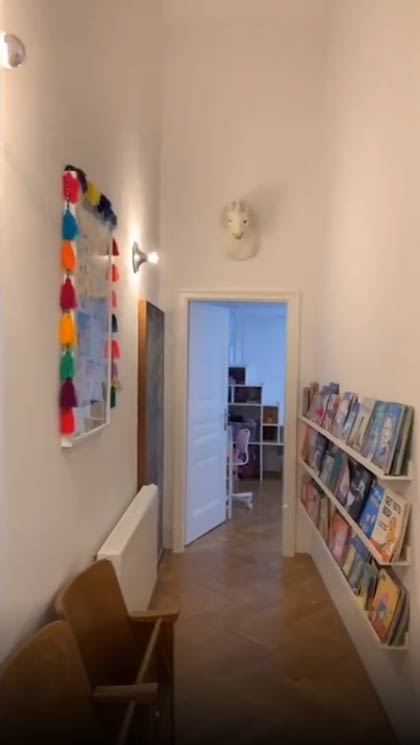 SECOND BATHROOM
Before checking out Noa and Lima's bedrooms, Cindy gives a quick tour of her daughters' common bathroom.
The mother of two loves the bathtub. She says, "It's iron-cast, isn't that cool?" The tub rests on tiles that are the same as the custom-made tiles in their big bathroom.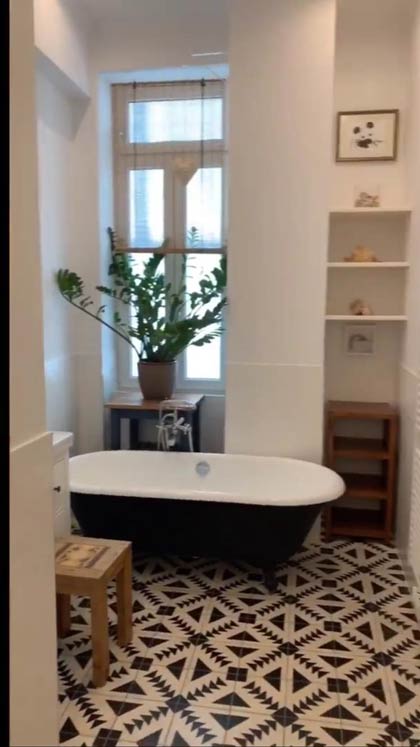 Children's Rooms
Closest to the bathroom is Lima's room.
Lima is Cindy and Daniel's three-year-old daughter.
Both bedrooms feature a built-in open closet, which Cindy's uncle and Daniel made as well.
Cindy says, "I just love how it's open and it can be reconfigured. So, when she grows older, bigger clothes can fit in."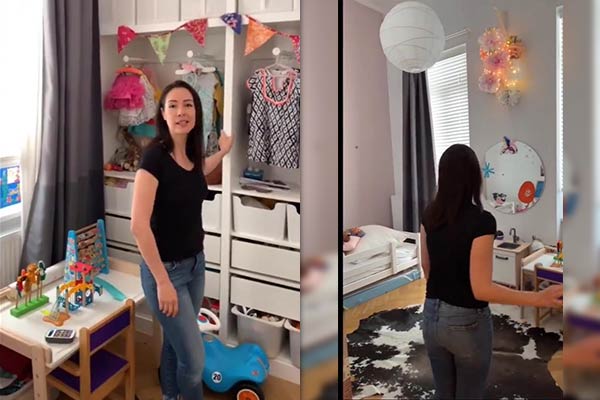 In Noa's bedroom, the part Cindy loves most is the split level.
Noa, 9, sleeps on the upper level, which can easily fit a queen-size bed.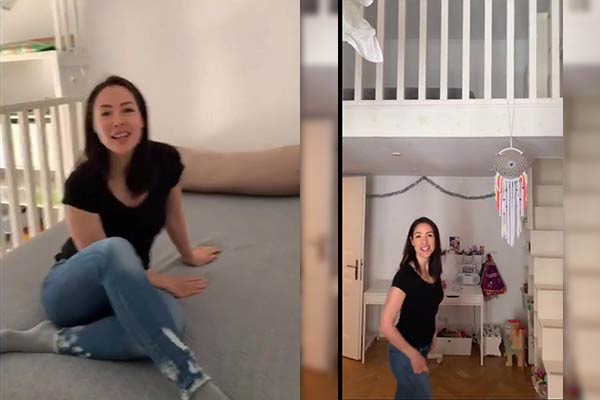 Watch Cindy's full tour of their home in Vienna below: