It's been a crowded year in the household of Christian Bautista and wife Kat Ramnani—always "full of friends," exactly as they meant their home to be from the start.
"It's really a house designed for entertainment," Kat tells PEP.ph (Philippine Entertainment Portal) one afternoon in December 2019, before heading off to Africa for her delayed honeymoon with her singer husband.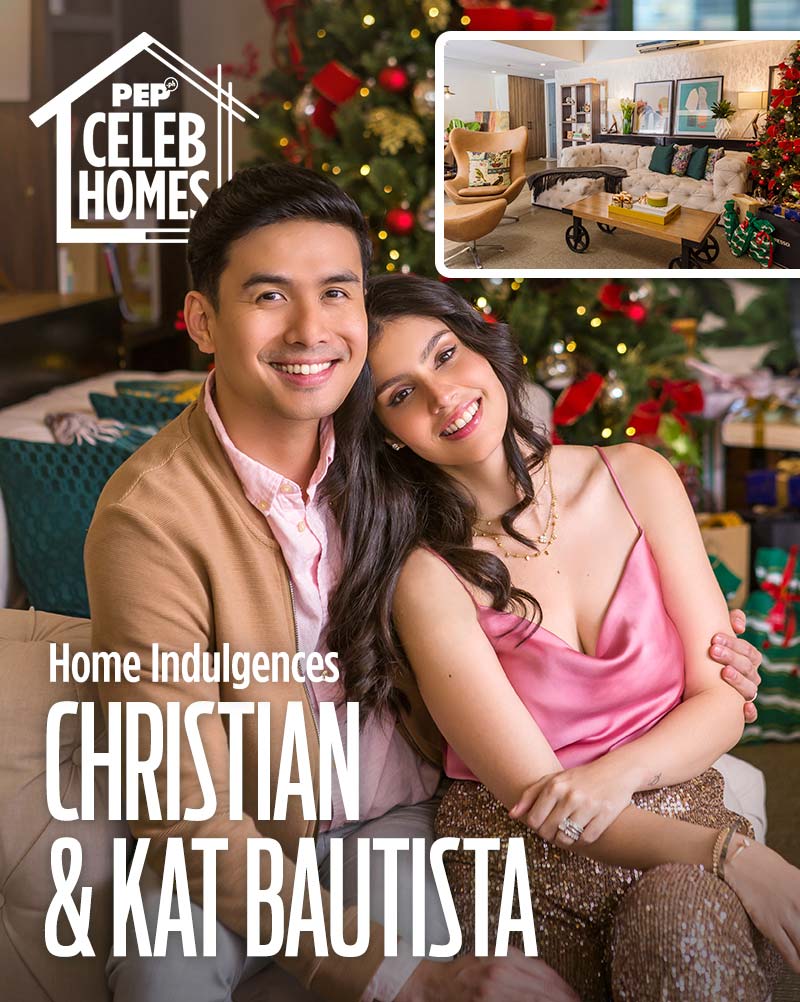 Christian and Kat welcome PEP.ph to their three-bedroom condominium unit in a prime multi-use residential building in Bonifacio Global City.
"We really designed it for entertaining," Kat says. "Like, the kitchen used to have a wall around it. We broke down the wall, and then created that bar.
"The objective really of the bar is, while I'm prepping food, we can talk to our guests better here."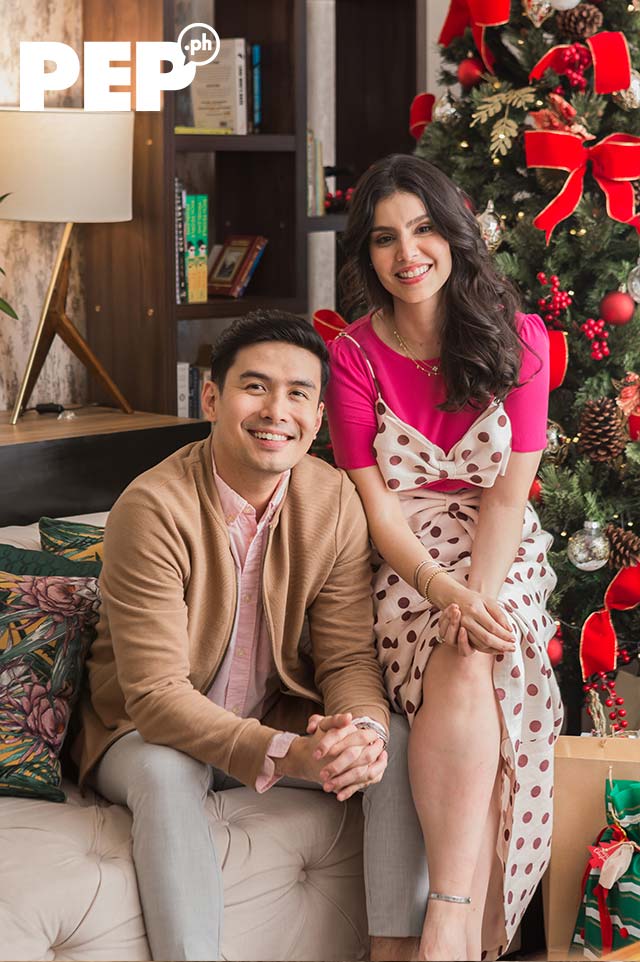 They even have rooms for overstaying guests!
Kat elaborates: "One of the great things is, whenever people come here to stay, because it's a three bedroom, we have room.
"We've had a lot of guests. My sister comes to join us every year. Christian's brother sometimes spends the night here.
"I work close by, so a lot of my co-workers sleep here. We've done our business planning here.
"We've had a lot of memorable dinners here. We've hosted a lot of friends here."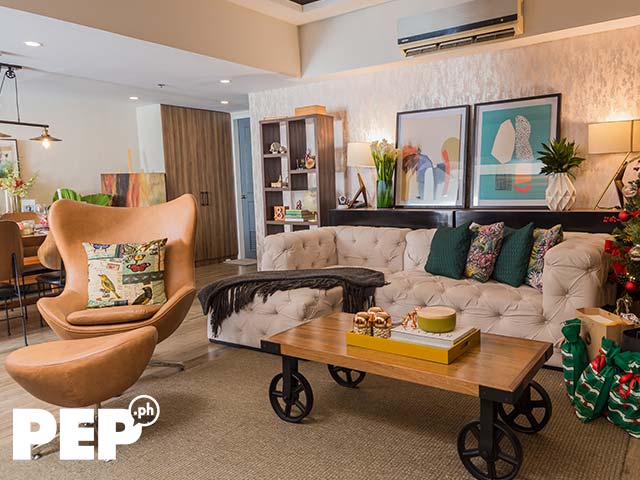 MIXING AND MATCHING PERSONAL STYLES
The unit's interior design is mainly Kat's idea, including the living room's open-plan layout, all of which Christian wholly approves.
He says, "She loves decorating. She loves always beautifying the home. And not just make it a house, but make it a home talaga."
Kat remarks, "What we did was we tried to take Christian's style. I like very feminine things. We took his love for wood and I tried to put anything girly I could around it.
"I don't necessarily know what our theme is. It started out industrial, but definitely didn't turn out industrial."
In fact, the unit's "earthy green" motif was suggested by Christian: "earthy and homey space."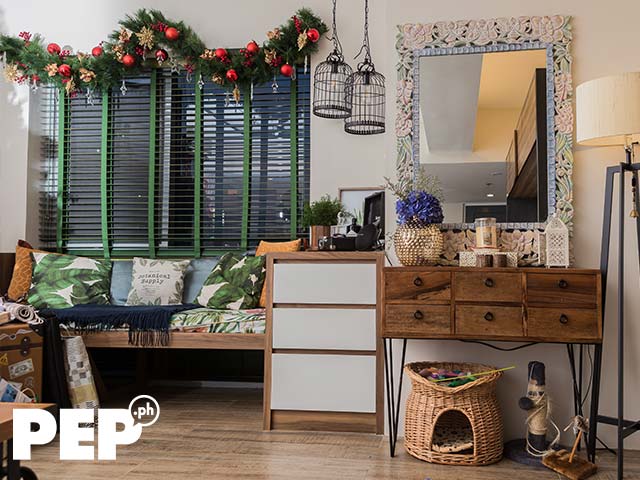 Some of the furniture pieces are a mix of personal belongings Christian and Kat had brought to their new home in August 2018, three months before their wedding.
Kat says, "There's a lot. We mixed a lot of stuff. That lamp was my old lamp from my condo. We just bought a new shade to spruce it up.
"These bookshelves are from Christian's house. We just pulled it apart and turned it into two.
"The table is from Christian's condo. He bought that by himself... we just made the chairs to match it."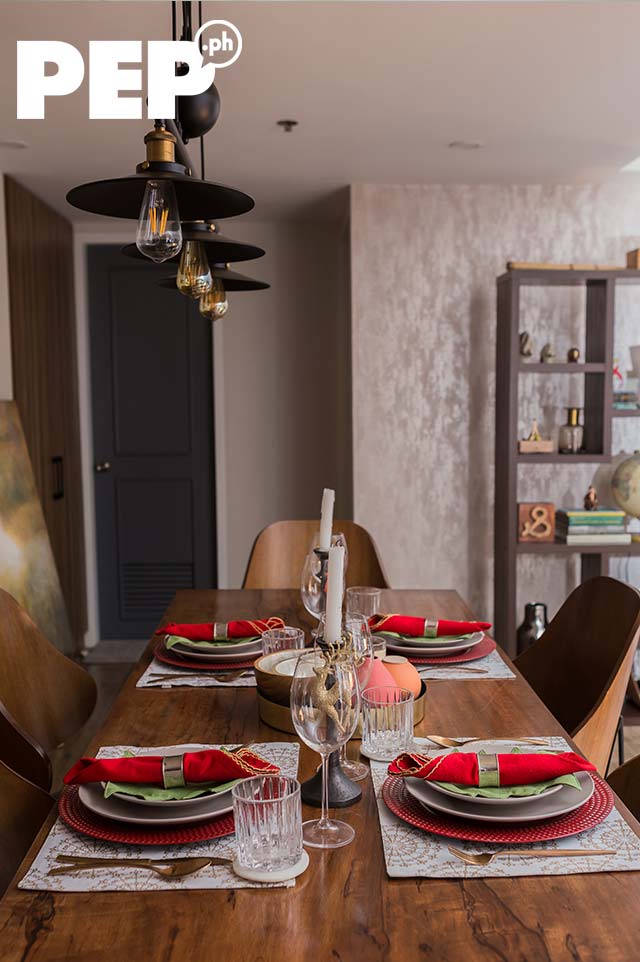 Other living room furniture are customized as well.
Christian says, "Itong furniture naman, we have a friend named Dane from the Next Furniture. Kung ano mga style na gusto namin, pinagawa namin sa kanya."
Kat adds, "This couch is customized. It's my dream couch. They made all our chairs. They made this table, they made this couch."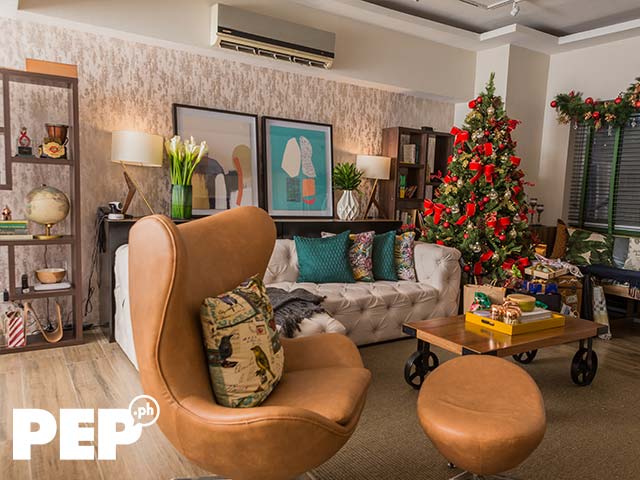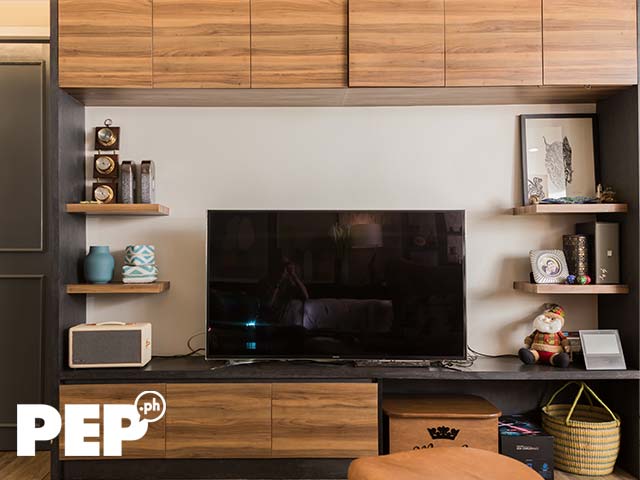 She goes on: "And then our contractor A.R. Eustaquio did everything. This place, we gutted everything. Even the ceiling, we gutted. He did everything from scratch.
"This whole cabinet, he built. He did all of our flooring, all of the lights. And as a wedding gift, he gave me my vanity table."
The custom-made vanity table is in the master bedroom, where Christian says he and Kat spend most of their time when at home.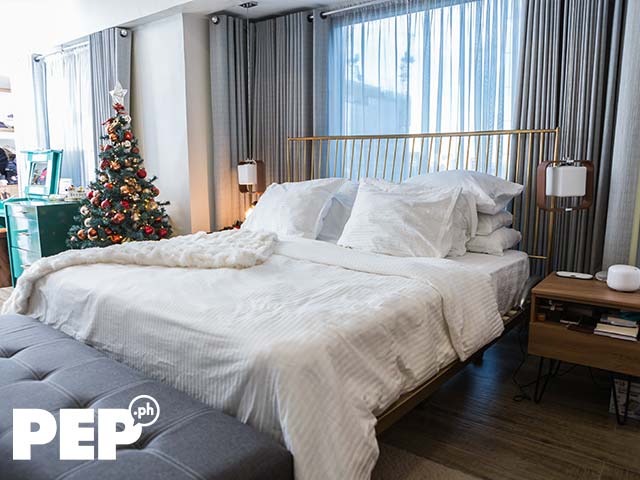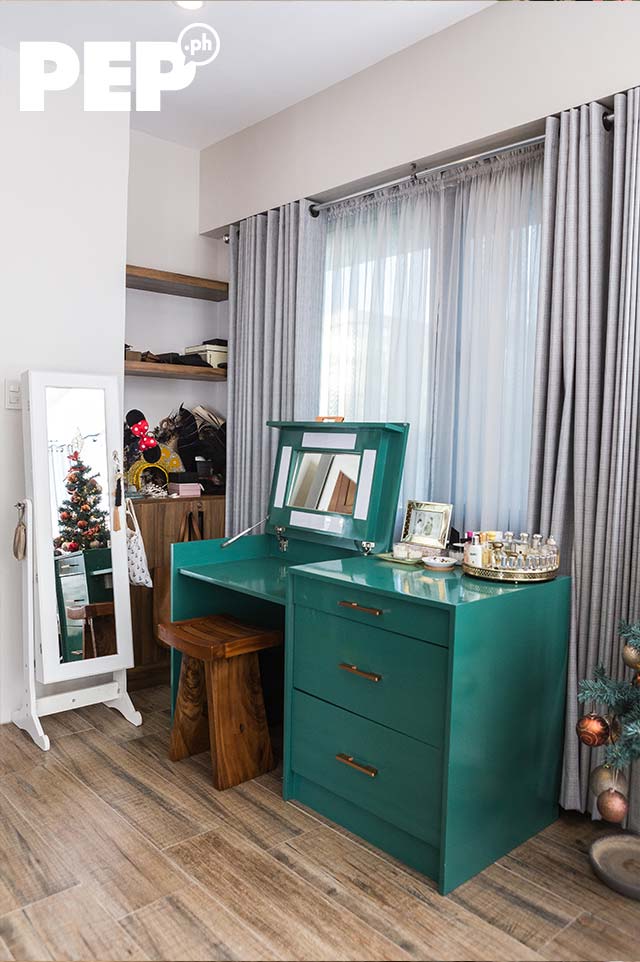 BLISSFUL HOME
Reflecting on their first year together, Kat says their home has been a setting for major milestones.
"Our anniversary was November 17," she explains, "but Christian and I were both working. We had a quick dinner, but we were both on our phones at dinner.
"December 8, I think, or 10, I was in a really bad mood, and I opened the door and this whole house was covered in flowers.
"And then Christian had our cake recreated by Naked Patisserie. They remade our whole wedding cake.
"Our whole wedding cake was there. There were donuts everywhere. That was, maybe, a big milestone.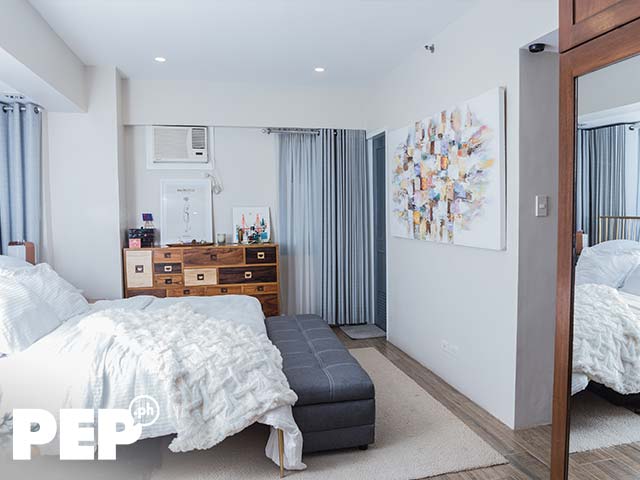 "There's a lot of little milestones where we've grown, and big things like birthdays and anniversaries.
"I learned to play the guitar here when we were preparing for the wedding. Christian started his gaming career here…
"If this is what the first year of marriage is like, we're so blessed to have such a great home to enjoy all these milestones. We're happy to spend many more milestones here."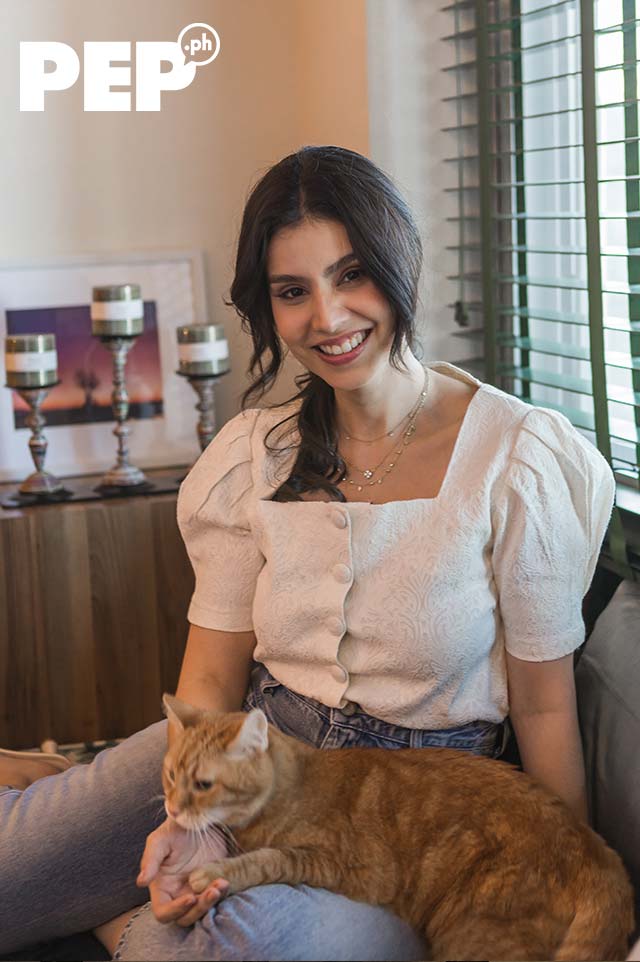 Their unit is also designed with kids in mind.
Kat reveals, "Christian has to give up his office. It becomes the nursery.
"Even the furniture we built is to the height of diaper changing tables and shelves. So, right now he's using it as an office, but it can easily be converted into a nursery.
"We wanted to make sure our investments are utilized long term."
Does this mean Christian and Kat are ready to have a baby this 2020?
Christian answers, "We'll see if God wills it na we plan for a future family later on. We'll see. We'll let you know."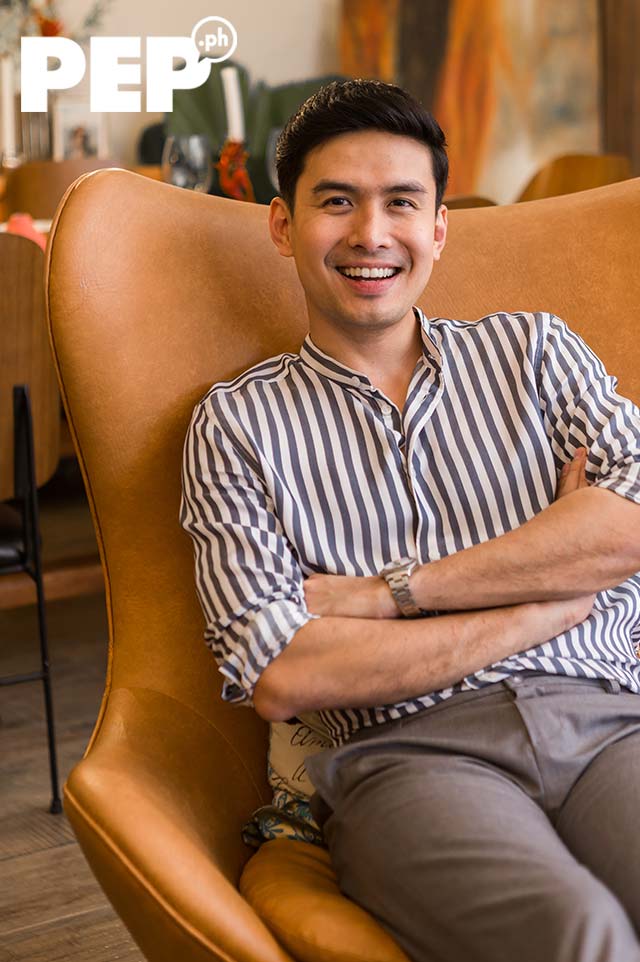 Christian and Kat are still touring Africa.
Christian will be headlining a concert with fellow GMA-7 performers Mark Bautista and Aicelle Santos on February 1, 2020, at The Theatre of Solaire.
PRODUCTION CREDITS
Photographer: Ocs Alvarez
Shoot Producer: Nikko Tuazon
Shoot Coordinator: Arniel Serato
Art Director: Jeremiah Idanan
Video Team: Gio Oliva, Marlo Adriatico, Siana Elorde
Stylist: Team Rain x Em