Sarah Geronimo and Matteo Guidicelli have started their new life as husband and wife.
As captured on Vicki Belo's latest Instagram TV post, the celebrity beauty doctor and her daughter Scarlet Snow Belo join Sarah and Matteo shopping for glassware.
"Normal husband and wife duties," says Vicki in her caption for the video.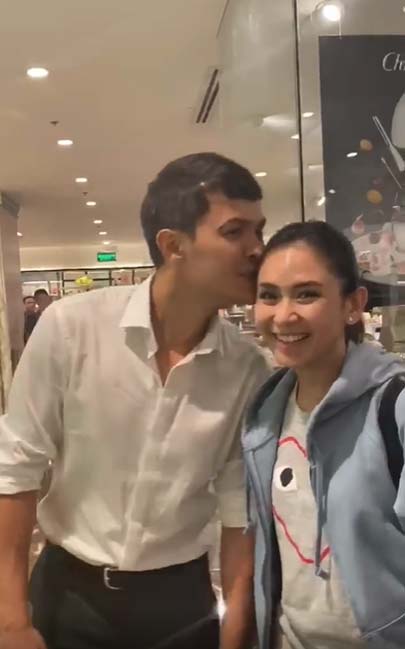 Vicki asks the newlyweds, "What are we looking for?"
Matteo answers: "Shopping..."
Vicki adds, "Shopping for the house."
Matteo clarifies, "Shopping for the wife."
He then gives Sarah a kiss on the head and continues walking around the store.
The celebrity dermatologist captions the Instagram post (published as is): "doing normal husband and wife duties.
"@scarletsnowbelo is trying to help them pick out glassware in Rustans but I don't think she's helping that much Matteo though is so sweet and patient with her."
Vicki also shares Matteo's wish for his wife: "He told me his only wish for Sarah is to be the happiest woman in the world."
Sarah and Matteo's secret wedding took place on February 20, 2020.
Though the happy occasion was marred by controversy, Matteo assured fans and their loved ones that he and Sarah are very happy.
The actor said in the Instagram post he uploaded six days after the wedding: "We are happy, we are blessed, and we are husband and wife!
"Let's always celebrate life and love! Nothing will ever defeat pure honest LOVE."