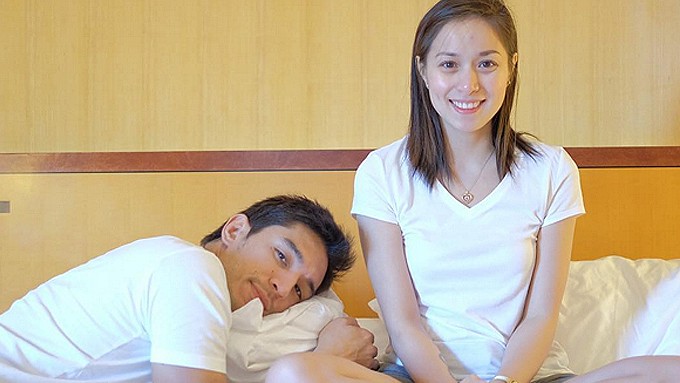 ---
On September 2015, Cristine Reyes announced her engagement on Instagram.
READ: Cristine Reyes engaged to non-showbiz boyfriend Ali Khatibi
Simply captioned "Engaged" with her fiance Ali Khatibi tagged, the photo showed her hand on Ali's and their daughter Amarah's small hand as well.
The couple had set their private beach wedding on January 27, the same time the couple began discovering their feelings for each other around three years ago.
FIGHT FOR LOVE In their recent TV appearances, Cristine and Ali talked a bit about their relationship and how it all began.
They recollected in the November 22 episode of Gandang Gabi Vice that there was nothing particularly special about their first encounter back in 2005.
Ali first met the Kapamilya actress through a common friend, but sparks didn't fly then.
Fast forward to 2012, another common friend, Hale frontman Champ Lui Pio, became the unknowing matchmaker.
Champ directed Cristine, who then wanted to get into Brazilian Jiu-Jitsu, to Ali, who's into such combat sport.
This time around, Cristine's attention was captured, and she developed a small crush on him.
As 2013 started rolling in, the two got to know each other more.
Things changed after their separate trips to Iloilo.
Cristine was there for work, while Ali was there for pleasure. They eventually ended up hanging around and, finally, the sparks finally kicked in.
But the relationship had its hurdles.
In a tell-all on Kris TV last December 7, they related that after Iloilo, circumstances led them to stay apart for ten months.
The guy was in a relationship.
In October 2013, Cristine posted a throwback photo of Ali and her, and reflected on that time in their lives.
She started her caption with a quote, "Relationships last not because they were destined to last. Relationships last long because two people made a choice to keep it, fight for it, and work for it.—Anonymous."
ADVERTISEMENT - CONTINUE READING BELOW
With fondness, she added, "Memorable photo back in 2013. You and me against the world.
"I remember hindi tayo mapaghiwalay kahit anung pilit ng tadhana na paghiwalayin.
"Ibang klaseng euphoria whenever we're together.
"Palagi kong babalik-balikan ito kahit bilogan ako dito hahaha! kasi isa itong litratong 'to ang ang nagpapaalala sa sa akin/atin na tama ang pinaglaban natin sa lahat ng tao.
"Hindi man sa kanila. Pero sa 'tin tama.
"Dahil mahal kita at mahal mo ako."
THROUGH THICK AND THIN. Later in 2014, rumors ran wild about Cristine's pregnancy especially after cutting short an interview because she was asked to comment.
But she simply did not want to announce anything until it was final.
Cristine revealed on the now-defunct entertainment show The Buzz that she was indeed pregnant, and wanted to be certain that she was in safe condition before announcing it.
She detailed this chapter in her life further in SmartParenting.com.ph.
She said, "It was a planned pregnancy.
"When I told my family, they were happy because I've always told them that I want a baby when I turn 25.
"With Ali's side, they were surprised because he's very outgoing, he's into a lot of sports, and they didn't think he'd plan something so permanent."
Ali had been a supportive partner during the pregnancy and it even extended from his family.
During her second trimester, Ali's family were uncomfortable with the fact that Cristine was living on her own, so they had her move in to their house.
She told Smart Parenting, "I was so spoiled with food they said I must eat for the baby. Since I vomited a lot on my first semester, this was something enjoyable for me."
Cristine's pregnancy proved to be the couple's biggest trial to date as it tested their patience, faith, and determination.
ADVERTISEMENT - CONTINUE READING BELOW
Their daughter Amarah was born prematurely on February 8, and Cristine was confined in the hospital for ten days.
"Naiyak ako. I was so worried.
"I had to stay put. Kahit umupo, hindi puwede. They would bathe me in bed. Doon na lahat.
"On February 8, I was brought to the labor room [again], and [this time] the pain was really intense. I tried to look for a position that would ease my pain but it was the same kahit anong position.
"They gave me this medicine that made me feel like sinusunog yung katawan ko
"There was one day I was given that for 24 hours [through my IV], I think it was for the baby's brain.
"I would just cry."
Ali was her rock throughout the whole ordeal.
"There were times when I was ready to give up, but Ali would always put things in perspective.
"Malaking tulong that I had Ali beside me."
TURNING POINT. For two months, Amarah had to be monitored.
And taking care of their baby had made them closer and stronger as a couple.
Before considering to embark upon the next stage of their life together, they both took counseling.
One day, while they were having dinner with friends, an intimate conversation between the couple led to the proposal.
Cristine was overwhelmed with happiness when the realization of their pending marriage was certain at last.
READ: Cristine Reyes and Ali Khatibi to wed in a private ceremony this January
When asked how Cristine knew Ali was the one, she revealed on their appearance on the October 8 episode of Tonight with Boy Abunda, "Nafe-feel ko every time I'm with Ali yung comfort na hinahanap ko matagal na, and siya yung nag-fulfill no'n.
"Parang yung emptiness sa heart ko, nung dumating siya sa buhay ko, na-fill 'yon."