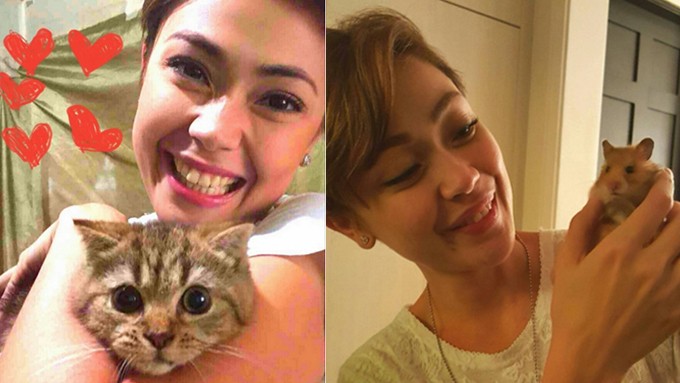 ---
If you're following Jodi Sta. Maria on Instagram, you know she is an animal-lover.
Just look at her family:
She captioned: "Family Day! Thirdy bottle feeding Miracle and Destiny.
"Lourdes trying to make Freedom and Harmony behave.
"Mama holding Charity and Serenity.
"Our doggie Bear who thank God doesn't have an identity crisis being with the kitties."
She does have a spot spot for cats.
In fact, it has been Jodi's mission to give some stray cats a proper home.
Here are some of the cats she rescued.
She found Miracle and Destiny while shooting Pangako Sa 'Yo.
On why the first cat was given that name, "It's a miracle she's alive today."
She shared on Instagram, "She experience Idiopathic Hypoglycemia which left her confused, disoriented, and eventually fell in a coma.
"We rushed her to the ER of Animal House and she was given first aid.
"A day later she was okay and we brought her home the day after that.
"A miracle indeed."
This one is Serenity. Jodi found her in a golf course.
And this is Serenity's best buddy Harmony, who was "malnourished, sick, infested with fleas, and had scabies" when Jodi found her wandering the sidewalks of Kamuning.
Now she looks healthier, thanks to her regular visits to the vet. 
During the holidays, the Kapamilya actress introduced a new addition to her family—a hamster.
Jodi believes in taking care of animals the same way she takes care of people.