Maine Mendoza is spending the Holy Week with her family in Pico de Loro, Batangas.
The long break is the perfect opportunity for her to unwind and take a breather from her grueling showbiz schedule.
"I am finally on vacation! Wooot!," she wrote on her blog.
"Life's been a little hectic lately and I have been waiting for this week to come.
"I am happy to be here at a beach resort somewhere at South with the family.
"Yes you read that right, I am not in New York.. I wish I was there, though!"
Currently on a much-needed break, the 21-year-old Eat Bulaga! co-host plans to accomplish things she hasn't had much time to do lately:
1. Get enough sleep
She wrote, "Loving the fact that I am at the beach again… I have been waiting for this week to come.
"I am sleep deprived at this point and I have been craving and needing sleep!
"Eto na ang tamang panahon to catch up on sleep I have missed the past few days and to unwind as well."


2. Update her blog site mainemendoza.com
"Wanting to be a productive "blogger" this week.
"Since I won't be having any work the whole week, I think it's the perfect time for me to catch up and blog about the things that [have] happened the past few weeks…"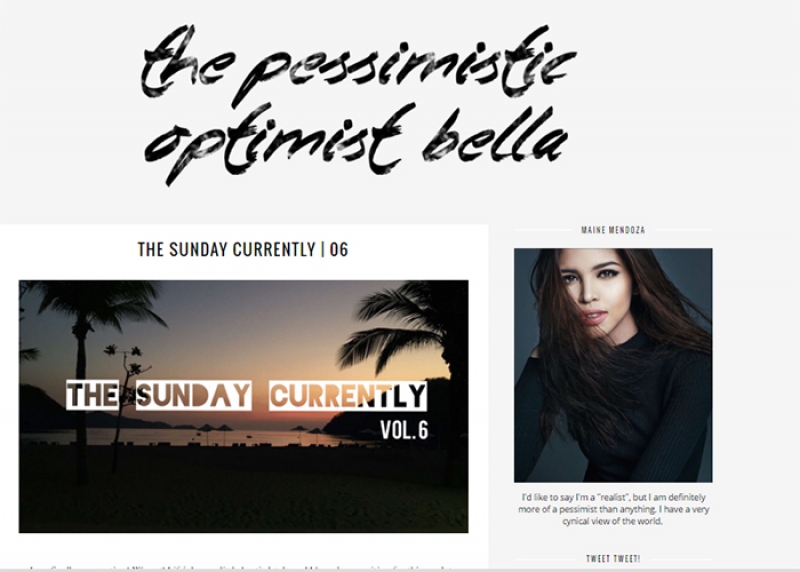 3. "More time to edit videos! And extra time to catch up on Awkward," an American teen comedy series.
4. Maine, of course, wishes to have more purely-R & R time with family and friends before getting back to her busy schedule.
"Hoping for a fun-filled vacay with the fam!
"Hope I could also go on a mini getaway with my friends before this week ends! S/o to Kat, Janeeva, Maryse, Jannica, Cristine and Ola, yuhoo!
"[I am] feeling happy that I'll get to be at leisure this week!
"I badly need this time off for the following weeks and months would be hella busy for me.
"Pero kebs! Kaya 'to, para sa ikauunlad ng pagkatao ko! Pak ganoin!" she concluded.