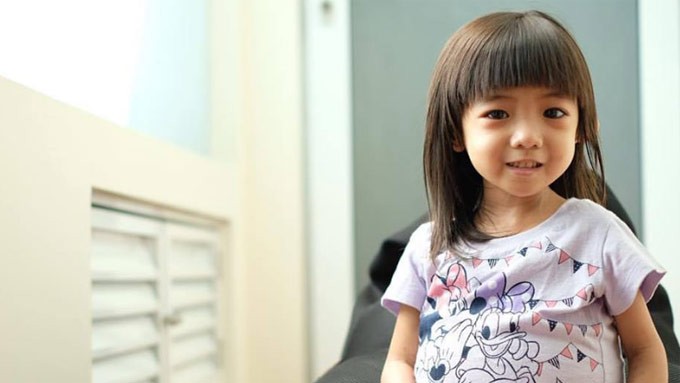 ---
Most likely you had come across the story of a young girl named Caitlin Soleil Lucas on your Facebook News Feed.

It was in September 2015, when her parents, Feliz and Jayjay, began to suspect that the lesions on her face, legs, and arms that looked like mosquito bites were far more serious than they appeared to be.

At first, not one of the 33 doctors who examined her in the two hospitals here in Manila could tell Caitie's exact condition.

On March 2, ten days after her parents decided to bring her to Singapore, came the diagnosis--a rare blood disease called Juvenile Myelomonocytic Leukemia (JMML).

Her fan page Courageous Caitie, which chronicles her battle with the disease, is being followed by concerned individuals, including the Team Kramer, Anne Curtis, to name a few.

Last night, according to the latest posts on her fan page, she had her last workbook with her mommy, watched The Lion King and Madagascar, painted and played with Play Doh, and even asked why she was "only allowed water and juice" when she "wanted to eat something else."


Early today, March 31, she had difficulties breathing; her "oxygen level" was not going up.

Then, the sad announcement from her parents:

Here's our way of saying, "Goodbye, Courageous Caitie."

Dear Caitie,

Today, we join the thousands and thousands of people who mourn your death.

We never got to meet you, but we followed your story—from the time the 33 doctors here in Manila couldn't tell exactly what your condition was to that day when the doctors in Singapore revealed you were suffering a rare disease called Juvenile Myelomonocytic Leukemia (JMML).

We had uttered short prayers of gratitude for every positive development in your condition.
We were saddened and wept silently when we saw the latest update on your fan page's feed: "Today our daughter has gone to Jesus already."

We'd like to ask, "Why? Why you?" Your mom and dad had asked the same thing, and made the choice of accepting your fate with faith.

Sweetheart, you were an eye-opener.

You helped us realize that every single thing we have now is borrowed, and can be taken away any time.

Constantly, for three months, you had reminded us to be appreciative of each day, and savor each moment we have with the people who matter to us.

You fought a battle of a lifetime. 

You went through countless blood extractions and transfusions, several excision biopsies, bone marrow aspirations, and had all those cables and tubes hooked to your body. 

Yet, when you smiled, you made it all look so easy, like the pain was no big deal.

Thank you for showing us courage, patience, and strength.

You helped us realize that most of our complaints and concerns have been inconsequential.

You had touched lives, united people, and brought out the best in netizens. 

You had been our little star, a symbol of hope, our courageous Caitie.

Your stay here on Earth was brief, almost four years, but it was a life well-lived.

Well done, Caitie.
ADVERTISEMENT - CONTINUE READING BELOW
 Thank you and goodbye.