"I'm back! You're back! We're all back!"
Thus boomed the raspy voice of Willie Revillame, television's prodigal son, in making his flashy comeback on television on May 10, 2015, a Sunday.
With a six-minute opening video that used drones to film 200 male and female dancers facing off on the top three floors of Wil Tower, and to sweep the breadth of the area from the sky, in a grandiose execution that cost P2 million, Willie gave notice that, yes, he is back.
The promise is, from then on, every Sunday, at 3:30 in the afternoon, he will mount a show of song and dance, cheer and games, and contests and prizes to rival any seen in game-and-variety shows on the small screen.
And it's all happening on the GMA Network.
Yes—and the fuss is? Well, this master showman (sans the glittery sequins) has not been seen on the tube for the last one year and seven months.
In TV universe, that translates to 19 months of darkness or five months shy of two years of oblivion.
He's supposed to be dead in the water. That makes his return akin to the Second Coming.
The fellow may not have the noontime slot back (his good-luck charm) nor the primetime hours (the slot he last occupied), but his is the program that takes over right after Sunday's noontime show.
As anybody knows, the lunch hours of a Sunday are when the networks wage their colossal battle for entertainment supremacy.
This endows his time slot with the leavings of star power and a frenzied audience.
Thus, as television programming goes, it's not bad at all that he comes right in after the Kapuso channel's high-octane extravaganza.
What's more, GMA is big-time TV. The network boasts 55 stations nationwide and posts a current market valuation that ranks it No. 2 among the country's 67 commercial television networks.
At press time, Philippine Stock Exchange figures put GMA's revenue in 2014 in the billions, at P11,982,888,346, and its net income at P1,009,519,244.
But now comes the real kicker: Willie is with GMA, not just as a host— the job that has made him, by his own reckoning, three times a billionaire—but as the producer of his very own show, one he has named—not too surprisingly, but wittily anyway—Wowowin.
Chairman and president of his new company, WBR Entertainment Productions Inc. (the initials stand for his full name, Wilfredo Buendia Revillame), Willie wholly owns the variety-game show that also sells him as its singular star attraction.
Says he to YES!, clearly sounding like this has to be the single sweetest cherry in his cocktail: he is now his own master.
"Hindi ka na empleyado na makikiusap pa sa mga boss.
"E, ang gusto mo lang naman mapaganda ang show. Hindi na, tapos na 'ko ro'n. Ikaw na ang boss.
"You call the shots. Ikaw lahat, kung sino'ng gusto mong guests, kung sino'ng gusto mong staff.
"Mga papremyo, ikaw na lahat 'yon. Actually, ikaw lahat. Magbabayad ka ng time slot sa GMA. Kumbaga, nagrerenta ako sa GMA.
"And then lahat ng staff mo, ikaw ang magpapasuweldo. Ikaw din ang magbibigay ng prizes. Lahat!
"Lahat, pati pagkain ng mga security, ng janitors, lahat, sa 'yo lahat 'yon. Sarili ko lang lahat. Akin 'to lahat. Kumbaga, on my own ako ngayon."
By all accounts, Willie has become that rarity in the tightly wound, semineurotic, "exclusivity clause" paranoia of big television: he is a blocktimer! (Only the much-respected Antonio Tuviera, president and chief executive officer of Eat Bulaga!, a noontime show that marks its 36th year on television in July 2015, has that enviable business arrangement, currently also with GMA.)
On the Sunday that Wowowin's premiere episode was launched on GMA, it came up against rival network ABS-CBN's Kapamilya Mega Blockbusters, which features hits from the network's movie company, Star Cinema, the leading film production outfit today.
Showing was the megahit She's Dating the Gangster, released in cinemas only last July, starring the country's hottest young love team, Daniel Padilla and Kathryn Bernardo. Willie was up against a big one.
Then TV ratings supplier AGB Nielsen released figures for that Sunday afternoon's slot.
Its Metro Manila figures put ABS-CBN's audience share at 11.7 percent and GMA's at 22.1 percent; while its nationwide (National Urban TV Audience Measurement, or NU TAM) figures put ABS-CBN at 14.4 percent and GMA at 19.4 percent.
Both within Metro Manila and nationwide, Daniel Padilla and Kathryn Bernardo had lost to Willie Revillame.
Maybe, Willie is truly back.
Caption: When audiences roar Wowowin! Wowowin! Wowowin!, it all sounds cleverly like Wowowee. Wowowee is, of course, the now defunct ABS-CBN noontime show that began it all for Willie in 2005.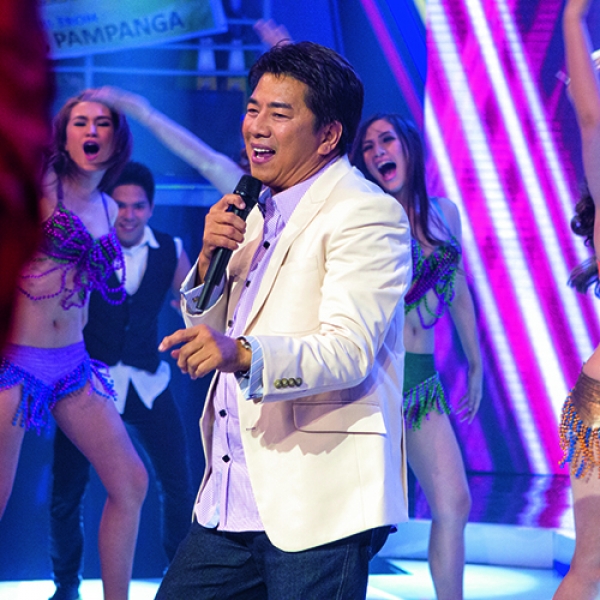 True, he already had 19 years of TV exposure before Wowowee—as drummer, sitcom mainstay, drama-series actor, sidekick to male stars, co-host and funnyman to TV divas (Alma Moreno and Dina Bonnevie), and resident funnyman.
By then, he had also already appeared in 26 movies (Internet Movie Database figures) in roles that went from modest to marquee.
True, Willie's life did not begin with Wowowee—but his glory years did.
It was Charo Santos-Concio—then senior vice-president at ABS-CBN, now its president and chief executive officer—who handpicked Willie.
In a network with the deepest pool of good-looking box-office talents, she chose Willie to host, solo, the station's upcoming noontime show, where houses-and-lots, jeepneys, tricycles, and one million pesos in cash would be coveted and attainable prizes.
For audiences plucked from low-income barangays, this luck-based, get-rich-quick, manna-from-heaven game show was mind-blowing.
The network funded it all. Not Willie. But Willie, its main host, lifted the show to heights not even the network could have imagined.
At the time (and as it is today), the lunch crowd was owned by GMA's Eat Bulaga!, a television phenomenon hosted by the brothers Tito and Vic Sotto with their pal Joey de Leon, a.k.a. TVJ.
The seasoned comedian-hosts just routinely crushed anything ABS-CBN threw their way.
Their Eat Bulaga! was all of 26 years old in 2005, the year Wowowee wobbled onto the noontime scene.
Enter Willie—then 44 years old, brash, fearless, and hungry.
He let fly a kind of hyper, almost manic, brand of hosting.
He led audiences in bursts of gibberish cheer and then plied them with the saddest ballads he sang himself.
Never mind that he mumbled half his sentences. He thought on his feet and didn't miss an opening. He teased, provoked (if, sometimes, to uncomfortable levels), drew laughs.
He had the pulse of his audience.
He sought out their heartrending tales, never flinching from the sorriest ones.
Liberal with the hugs, he had old ladies looking on him like the prodigal son they still loved.
Often, he sent them home with tears of joy and thanks. A man on hyperdrive, Willie was always the star attraction.
His bevy of funny and talented co-hosts, lovely guest stars, and sundry performers kept the show interesting, but it was he that people came to see.
He was the funnyman—with an edge. Cornered or in a bad mood (or both), he dug into his survival instincts and said things that, on television, teetered on the risqué. He remained unpredictable, yet roguish and charming.
Six days a week—in a show that originally began with an hour and a half of airtime and then began to usurp all of three hours—Willie was a dynamo.
He was barker, town crier, jester, master of ceremonies, cheerleader, dancer, games master, ring referee, balladeer, counselor, PR, marketing man, endorser, and host.
He was the show. And he went over big.
Once he had vowed to the woman who had plucked him from near-obscurity and had made him a power on television: "Ma'am Charo, this time you will be proud of me."
He made good on that vow. But such a force of nature was bound to polarize. Indeed, the masa adored him.
A number made a visit from him their dying wish, while many kissed his hand as they might a religious icon.
Meantime, politicians sought him out for studio passes with which to woo voters, even as single ladies (and the not-so-single) sought him out for other favors.
But indeed, too, an unsmiling, educated middle class couldn't stand him.
They wrote strident letters to editors expressing disapproval (selling escapism, idiotizing the public, encouraging mendicancy, perpetuating the class divide).
Their stridence rose with every Willie slip. At the same time, self-made Pinoys living abroad started becoming devotees, and began making a pilgrimage to Willie and Wowowee part of their homecomings.
Occasionally, some upper-class folk came around as well, seeing in Willie a charismatic endorser or a fascinating dinner guest.
On the international broadcast scene, Wowowee was on a roll.
The wider reach of ABS-CBN's The Filipino Channel (launched April 1994) turned Wowowee's foreign tours into promotional bonanzas, for the show and for the network.
GMA, with its incipient Pinoy TV (launched March 2005), could not neutralize Wowowee's exposure abroad.
Soon, there was a crackle in the air: the Kapamilyas were making the Kapusos work harder in order to own noontime programming.
On Wowowee's third year, its host emerged as No. 1 on The YES! List of 50 Most Powerful Celebrities.
Here's an excerpt from the writeup that explains why we chose Willie the most powerful showbiz star of 2008: "As many people adore Willie as disapprove of him— but nobody can be indifferent to him… [The ratings have turned] Wowowee's ringleader—reportedly earning P1 million a day from his lucrative ABS-CBN contract and his endorsement deals—into a 'global star,' with balikbayan contingents shrieking when he makes his entrance…
"[The] man has mojo: After ABS-CBN snapped him up again and reinstalled him as king of its noontime programming in 2005, he turned his life around—image, finances, lifestyle, work ethic, even daily routine—to become the king of Kapamilya land."
Wowowee, the upstart game show—helmed initially by Bobet Vidanes and eventually by Johnny "Mr. M" Manahan—had begun to gnaw at the undisputed leader.
The best was yet to come. The next year, 2009, would be Wowowee's banner year.
In the first quarter, Kantar Media/TNS, a marketing research firm that conducts national surveys on TV ratings, declared Wowowee the leader among all daytime programs.
The March 2 statistics that year put Willie's ratings at 23.2 percent, and Tito, Vic, and Joey's at 14.6 percent.
The upstart was beating the veterans by 9 to 11 percent.
Wowowee had clicked, and in the center of it all was Willie—the show's hardest working talent, its charismatic force, and its biggest draw.
But in the up-and-down life of Willie Revillame, he would lose it all in a snap. One ordinary day in 2010, he and the network had a final falling out.
For Willie, it all began with a pesky fly in the ointment.
He had long been irked by a radio commentator from ABS-CBN's sister company, DZMM, who was, he believed, cutting him down at a time he was barely getting sleep from all the work he was putting into Wowowee.
He found it particularly galling that the commentator was doing this from a booth only a short walk away from the Wowowee studio, and was getting away with it.
On-cam, he challenged the network bosses to get rid of the guy—or else.
He said he wouldn't return to the show!
It was a mix of rant and ultimatum—from a guy who was the product of the streets, had a temper, and had had enough.
What he hadn't factored in was his bosses losing face. Stunned that a mere employee would call them out in front of the country, they played hard ball.
It didn't help that some bosses were, by then, already stretched by the episodic upsets Willie had brought to their door.
Willie, living by the code of the street—the only code he understood growing up—could not back down if his life depended on it.
Thus, in 2010, after a meteoric five years and five months, Wowowee came to an end.
Thus began Willie's status as persona non grata in the network he had praised only two years back for giving him "the best contract! Maybe hindi lang dito—sa buong mundo!" (It's an industry secret that a dislike for Willie, though studiously not admitted, simmers among select Kapamilya executives to this day.)
Equally studiously, Willie avoids criticizing anyone at ABS-CBN, and instead brings to the interview the nice moments he had with "Boss Gabby" and "Ma'am Charo."
SUCCESS. Today, Willie is smart enough to recognize that whatever he did in Wowowee constitutes the fundamentals of his success.
Through as many shows with as many derivative titles—from TV5's Willing Willie to Wil Time Bigtime to Wowowillie and now to GMA's Wowowin—the 54-year-old has stuck to the formula that catapulted him to the status of demigod among his loyalists.
Weeks before Wowowin was to be launched on GMA, he told YES! that he wanted his new show to feel like Wowowee.
"Ang concept na gusto ko, parang The Rising Star, 'yong 'pinapalabas sa States, parang American Idol, lights, everything. Pagpasok mo, matindi."
But beyond this very showbiz entrance, where drumrolls pump up the audience and LED lights razzle them into imploding, he said that what he wanted was down-home warmth.

"Dapat very intimate, kasi gusto kong ibalik 'yong Wowowee. Ano ba 'yong Wowowee? Very intimate sa tao."
To illustrate this intimacy, he mentioned a game portion in Wowowin called "Bigyan ng Jacket 'Yan!"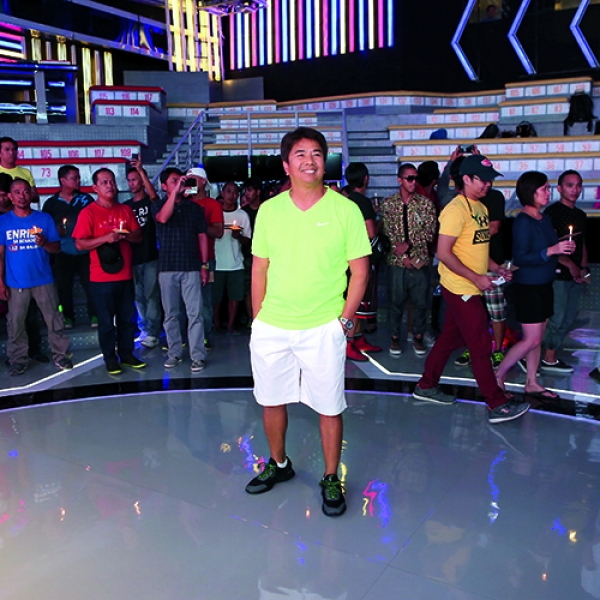 In the premiere episode, 10 contestants, personally chosen by Willie from the audience, each got a colored jacket to wear (on top of the white jacket given to everyone in the audience earlier). Inside the pockets were questions.
Question: "Kung ang mud ay putik, ano naman ang mudfish?" Answer: "Hipon." Wrong! The right answer is hito!
The P200,000 jackpot had just risen again.
Excited about the jacket game, Willie shared this back story: "Alam mo ang story behind diyan? Sobrang lamig sa studio ng ABS.
"May matanda do'n, pag lumalabas ako, sabi niya, 'Willie, meron ka bang ano, tuwalya o jacket?' 'Owen [Jean "Owen" Ercia, Wowowee floor director], kuha kang jacket sa kuwarto ko.'
"So, parang feeling ko, sabi ng Diyos—ang nauuhaw, painumin; ang nagugutom, pakainin; ang nilalamig, bigyan ng jacket 'yan!"
THE RUMORS. In the one year and seven months Willie was out of sight, whispers about him had run wild.
The fellow, whisperers said, had no more money.
He was selling his properties one by one. His cars—the silver Audi, the yellow Lamborghini, the yellow Porsche, the green Jaguar—were disappearing from his garage.
With no TV presence and last seen falling off the grid from a network ranked a far third, he fell into a depression, became flabby, gambled.
As a final humiliation, he was seen being barred from the country's top two casinos, where he'd lost P400 to P600 million and couldn't pay up.
People raised their brows. That's what happens when 'twas easy come, easy go, they sniffed.
And thus the rumors flew, wilder and thicker the longer Willie was out of sight.
Finally, at his Ayala Heights home— which looks as elegant as when we first saw it in 2008, with patio furniture recently updated to Dedon and B&B Italia—we sit him down to an interview.
It's April 24, just 16 days shy of his May 10 reentry into showbiz.
There's a bit more weight around his middle, but otherwise he looks the same.
His sunburn—from a golf trip to Anvaya in Bataan, where he had gone with buddies on his yacht, Wil—suits him.
It makes his skin red and gives him the look of someone who's enjoying life.
Why, he is enjoying life, he says, gesturing around him.
Indeed, everything in the sprawling house is neat, clean, and orderly, exactly as he wants it.
And as upgrades go, the floor of his pool is gorgeous.
Light blue tiles have given way to gray natural stones, which give the pool an inviting luminosity.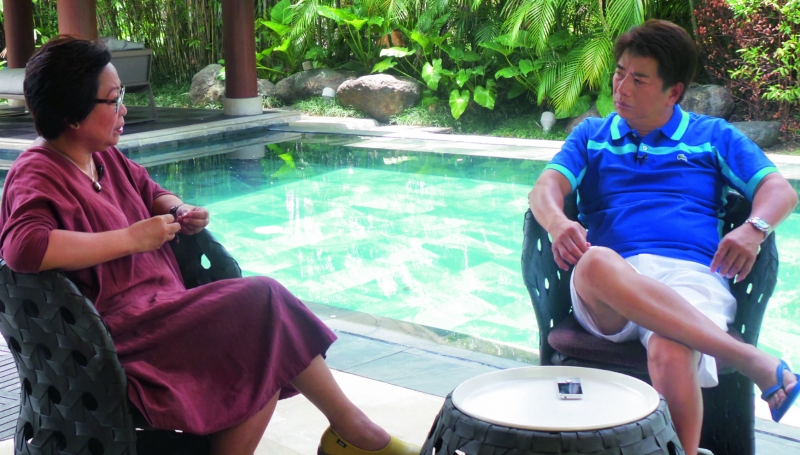 Willie, seated in a Dedon chair, having his coffee, the day's newspaper, his iPad, and his Happy Mobile phone in front of him, does look content.
And he is making a comeback! "I'm always back," he corrects us.
"Hindi naman ako mawawala sa mga taong gusto kong makapiling every day or even once a week. Andiyan lang ako.
"Kaya lang, sometimes, you know, tao ka, e. You need to rest. Kailangan mong magmuni-muni in life. Ano ba talaga ang gusto ko?
"Lagi na lang bang kahit me dinadala kang problema, paglabas mo, nakangiti ka?
"You have to talk to yourself also. Hindi naman pupuwedeng lagi mong isipin ibang tao. Papa'no? Pababayaan mo sarili mo?
"Health is wealth. Kasi, dati, it's all material things e. Just like that, once na atakihin ka, that's it.
"Lahat ng itong pinaghirapan mo, wala na."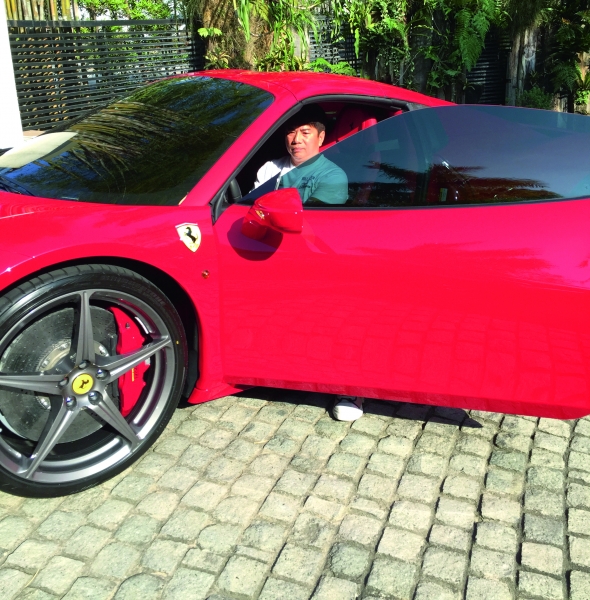 He admits that he let go of several cars. He sold them, often at a loss, because the nature of the beast is that they depreciate.
"Di ba, parang kanya-kanyang luho 'yan, e.
"Kanya-kanyang hilig. Naging hilig ko lang naman 'yan, e. 'Yong meron kang dalawang Rolls-Royce, may Ferrari ka.
"Dati, lahat kumpleto 'yan, e. Pero hindi ko na nga nakikita sa garahe 'yan, e, sa sobrang busy mo.
"So, what's the use? At saka five years, luma na, e. Binili mo nang napakamahal, pag 'binenta mo, halos kalahati na lang.
"Binili mo lahat sila P40 million, ang presyo ngayon P25 million na lang. Bakit mo gagawin 'yon? In a practical way, hindi na. So, nag-invest ako, properties.
"'Yong pera doon, bumili ako ng sa Tagaytay kasi maganda 'yong lugar.
"Dati isang ektarya lang, ngayon it's almost five hectares."
He also admits selling a few valuable pieces of property. But not to pay for gambling debts, he says, confronting the big rumor.
He was selling simply because he not only didn't need them, he didn't know what to do with them.
Like, he says, his Wil's Events Place on Sgt. Esguerra Avenue in Quezon City, a stone's throw from Wil Tower Mall (a commercial/residential building he co-owns with former Senator Manuel Villar).
"Hindi ko kelangan 'yon kasi meron akong Tower Mall.
"I don't know how to handle a business like restaurants maglaro.
"You have your own room reserved for you. 'Yong P100 million ko, isang buwang andiyan 'yan, walang gagalaw niyan, babalik ako.
"Pupunta lang ako ng Amerika, ando'n lang 'yon."
Baccarat and Lucky 9 were his preferred pleasures. "Merong manager, 'tapos may tiga-ano [kuwenta]… meron kasing mga points 'yon… 'Tapos, natalo kunwari ako. 'Pahinging 50 million."
At one point, he played with P200 million.
"Nilaro ko 'yon for two days, pero one week na 'ko do'n. You come and go, e. Pero naka-reserve lang sa 'yo 'yong kuwartong 'yon."
As to how much he really lost while trying on the life of a high roller, he won't say. "Ako lang nakakaalam no'n. Ba't kelangan ko pang sabihin 'yon? At saka ako lang naman ang naglalaro sa buhay ko.
"So, sa akin na lang 'yon."
Being Willie, he has to go on the offensive. "Alam mo ba ang problema sa sugal? Pag nananalo ka, maraming natutuwa sa 'yo.
"Pag natatalo ka, maraming sumisira. 'O, buti nga sa 'yo!' Ganoon naman ang buhay, e.
"Pag nagiging successful ka, maraming hinihila ka pababa. Pag babang-baba ka, gusto ka nilang tulungan, kasi naaawa sa 'yo."
We tell him that the word going around is that he was depressed. Quick on the draw, he answers, "Well, mukha ba 'kong depressed?"
Launching into an analogy between life and gambling, he says: "Paano ka madi-depress in life, e ang buhay naman, hindi naman 100 percent [sure].
"Hindi lang naman sugal. Sugal, e, kikitain mo rin naman 'yan pag nagsipag ka na, e. at 'yong ganyang mall, kasi wala naman akong marketing for that. 'Yon lang 'yon."
The gambling rumors were persistent, we say again. He doesn't deny it, but he gives no figures and is uncontrite.
"First of all, 'yong pera na 'yon, pinaghirapan ko naman 'yon. At hindi ko naman ninakaw 'yon, hindi naman ako involved sa corruption.
"So, lahat ng perang ito ay sa akin, galing sa pinaghirapan ko. Kung anuman ang gawin ko dito, e ako naman ang magdidesisyon.
"At the same time, nag-enjoy lang ako, e, no'ng time na wala akong ginagawa.
"Naglibang lang ako. Naglibang lang ako actually.
"At saka inaral ko lang din ang buhay na gano'n. Kaya ko ba? Madi-depress ba ako sa ganito? 'Yon ang inaral ko."
The life he tried to get a taste of was that of a high roller.
It was a life that clearly impressed him. "Talagang VIP ka! You have your own villa.
"Iba talaga. Talagang puwede kang sunduin ng eroplano, to bring you to Las Vegas.
"Pag VIP ka, sarili mo lang ang kuwarto. 'Yong kuwarto mo na sobrang ganda, paglakad mo, two steps ando'n na 'yong ano [gaming table], at ang tao do'n, alam nilang sa 'yo 'yon. Nobody touches that.
"I play alone. Lahat ng VIPs, high rollers sa buong mundo, isa lang sila.
"Huwag ka lang malulong. Huwag ka lang magbebenta ng lahat ng gamit mo, na wala ka na even a single cent."
He didn't get to that point. "You know, 'yong perang natalo sa akin, parang nagsisimula ka lang ulit sa buhay. It's a good thing natalo ako, e.
"You know why? I learned how to stand up again. Kasi hindi ka naman zero.
"Kamukha nito [Ayala Heights house], ang halaga nito nasa P400 million. Siguro 'yong Tagaytay ko [in Cavite and in Batangas], nasa kalahating bilyon.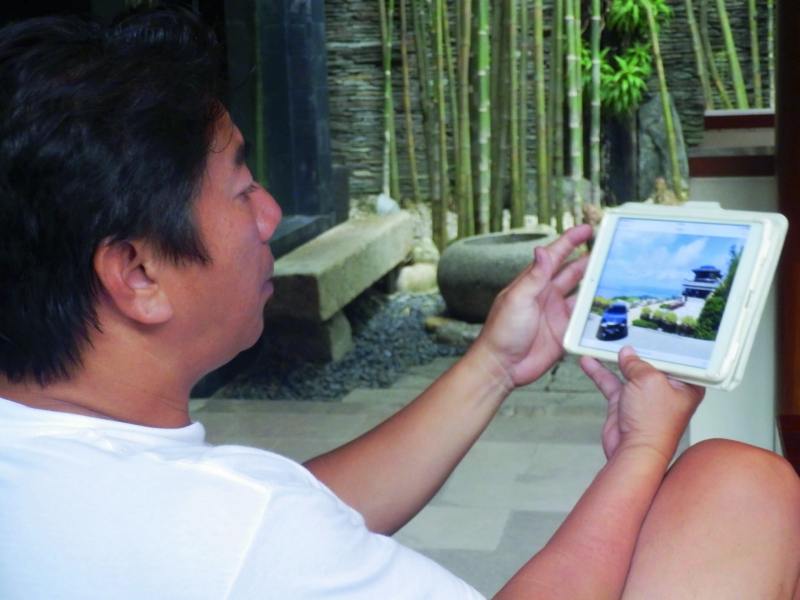 "Siguro 'yong mga penthouse ko, nasa kalahating bilyon. You know, hindi ka zero, e.
"Bakit ka mapu-frustrate? Alam mo ba, ang pera dapat slave mo 'yan.
"Hindi. Hindi ikaw ang slave ng pera. Kung kinukuriputan mo ang sarili mo, e may problema ka.
"You work so hard, and then titiisin mo ang sarili mo? Puwede ka naman kumain ng steak, bakit ganito lang?"
We ask directly if he sold property to pay for gambling debts. His answer: "No, me pera pa naman ako, e. Why would I sell na properties? Okey pa naman ako."
But he's not addicted to gambling, he says. In fact, he has stopped. It doesn't work for him anymore.
He says, "It's because me programa na 'ko.
"Ayoko naman na nagka-casino ka pa, e me programa ka na tumutulong ka.
"Ayoko ng gano'n. Para bang hindi maganda 'yong pagtratrabaho mo.
"Naglibang lang talaga ako. Parang ginawa ko lang siyang pastime."
Even more imperatively, his GMA contract stipulates that he cannot gamble.
MAKIN G IT. Willie admits to YES! that the whole idea of mounting Wowowin is a risk—one that he will take and one that puts his personal money on the line.
"Life is a risk," he says, his face turning serious.
"Sa lahat ng bagay, hindi lang sa showbiz. Paglabas mo ng bahay, me risk na ang buhay mo, e.
"So, dapat lumalaban ka sa buhay."
Facing the possibility of failure, he says, "Kung hindi maging successful 'to, ako lang naman ang magsa-suffer.
"But, you know, financially, okey 'yon. Okey pa naman lahat.
"Meron pa naman akong mga na-invest na ano. At meron pa naman akong pera na pupuwedeng, I would say, isugal.
"Gano'n naman ang buhay—sugal, e."
In this gamble, is he also testing the waters to see if the public still wants him?
"I would say yes," Willie answers.
"Kasi, very understandable naman kasi 'yan. Kasi, this is a business."
Meaning, if the public has become indifferent to him, the ratings and the ads won't be coming in, the show will be cancelled, and his days as a blocktimer will be over.
But in the world according to Willie, you don't entertain failure. "Basta ang ano ko lang dito, there's no competition with any channel for me.
"You know, kung maging successful 'to, good, di ba? Siyempre, gusto ko rin maging successful para sa mga staff mo, sa mga guests…
"Ang importante nito is you should give a good show.
"Pag may maganda kang programa at makakapagbigay ka ng saya at tulong, I think 'yong mga taong 'yan ay mamahalin ka.
"Maganda 'to, kasi for the people—sa mga tao."
He adds: "Ang energy ko, e—the crowd, the people.
"Kung makita ko lang na masaya sila, nadadala na 'ko, e. It's not about me.
"It should be the other way around. It should be them that's giving me the energy.
"It's me giving the laughter, giving them the inspiration. Parang gano'n."
He says he isn't antsy. "Hindi ako kinakabahan kasi hindi ako nasa illegal.
"Lahat ng bagay na ikinaba ko, kapag may kaso, e.
"May trouble. Do'n ka kakabahan kasi. [Sa Wowowin] kasi, hindi masama ang intensiyon ng show. Hindi para kumita lang ako, e.
"Kumita man ako, do'n ko rin ilalaan... Maglagay ng mas magandang premyo!
"Saan ka nakakita ng isang programa na pag nanalo ka, may kotse kang brandnew?
"Meron kang isang bahay na bigay ng Camella [Homes]? May one million [pesos] ka pa! Nasa 'yo lahat."
Back in 2009, he told us the secret of Wowowee's success: "It's sincerity, and I give them importance.
"In every Filipino, my constant in the show is, 'This is your show. You belong to the show.'
"Pag-ingatan natin ito, kasi sa inyo po ito, e.
"Ako lang po 'yong caretaker dito."
In 2015, he says the secret remains the same for Wowowin: "Dapat bibigyan mo ng importansiya ang mga taong ito.
"Dapat sila ang bida sa isip at sa puso mo.
"Hindi ikaw ang bida.
"Hindi paglabas ko, ako ang hahangaan n'yo—dapat kayo ang hahangaan ko."
Anyone who got to watch Wowowin's premiere telecast could feel Wowowee all over again.
The studio Willie built ina rented building has recreated the structure and ambiance of the show that, 10 years ago, started it all for him.
An arena in the center, steps layered and wrapping around it, easy exits and entrances for the audience—everything feels like Wowowee.
Certainly, the host sounds like the host of old.
Talking about how "goody-goody" hosts don't last, he says, "Kunwari ganito—na-offend 'yong thirty percent, 'yong seventy percent, natuwa.
"Ang sinasabi ko nga sa inyo, bakit ka nga 'binabalik? O, kung meron kang offense, meron kang ganito, bakit even MTRCB, sinasabi, 'Ibalik n'yo na lang si Willie.'"
He quips: "Siguro naging boring na rin 'yong buhay nila.
"Kasi wala daw silang pinapanood na, 'Ano'ng sinabi [na foul]?' Galing pang MTRCB 'yan, ha? 'It's a good thing babalik na siya.'
"Kasi 'yon ang spice, e!"
This time around, Willie—quite possibly the most up-and-down man in modern showbiz history—has his foot in GMA, a station that prides itself with having a no-nonsense, no-frills reputation.
Willie seems to think he fits in here.
"Eto na talaga ang bagay sa akin—blocktimer.
"Gusto ko, parang [British producer and host] Simon Cowell, 'yong ikaw ang nag-iisip.
"Gusto ko ang production ko, ako talaga—'yong creativity."
And, as he is wont to do, he pays his respects. He tells YES!: "GMA is very supportive. Attorney Felipe Gozon, Mr. Jimmy Duavit, Mr. Philip Yalong have been texting me every day, almost. Kinakamusta ako.
"They talked to me just this morning, 'O, kamusta ka? Basta, Willie, pag maganda 'to, flexible kami.
"Any time na may gusto kang sabihin sa amin, at maganda ratings... we can sit down to talk, pati [tungkol sa] Pinoy TV.'
"Pinagkakatiwalaan nila ako... international! Ang sarap ng feeling na, imagine, we are a blocktimer here.
"At the same time, ang suporta sa 'yo, para silang producer. I'm so thankful, 'no.
"Kaya 'yong nakikita n'yo ngayon na meron kaming, ano, plug, kami ang gumawa. Inapprove nila kasi nagustuhan nila, e. 'Yong mga gano'n.
"Very supportive, even all the people in GMA. Magmula sa janitor, sa guwardiya, at 'yong mga staff do'n, mga tao do'n, very supportive sila."
Weeks before his launch date, YES! asks him the dark question: what happens if Wowowin doesn't make it?
Willie puts on his Cheshire-cat grin, then points to the up-and-down strokes of the "W" in his name.
"Parang buhay ko, up down, down and up."
This echoes what he said to YES! in 2009, the first time we did a cover story on him.
Interviewing him at his The Midlands spread in Tagaytay, we noted that the legs of his massive dining table, the legs of his commodes that were filled with pictures of him and ABS-CBN executives, and the floor of his outdoor pool, among other items in his resort house, had the W clearly marked on them.
He said then: "W, that's my life. You go up, you go down. Gusto ko meron kang parang identity mo.
"Iyong W, ikaw na, kasi ang title ng show mo, it's Wowowee, and your name is Willie, Wilfredo.
"So, parang gusto ko lang meron akong—kunwari, wala ka na sa mundong ito, meron kang naiwan na ano sa anak mo. Pag nakita nila iyon, parang naaalala ka nila."
We note, in the present day, that he also has an attachment to Wil.
His most visibly luxurious acquisitions are marked with Wil: the yacht, in its exterior; the plane, in its interior.
With a straight face, Willie says that's because Wil is attached to God's name: "Tignan mo, laging sinasabi natin, 'It's God's will."
Turning serious, he talks about Wowowin giving him a shot at, possibly, being at his happiest ever.
"Pero, I think, kasi ilang bagsak ka na sa buhay, ilang down ka sa buhay, siguro eto 'yong the most na happiest moment of my life—kung sakaling makita ko 'yong napasaya ko 'yong mga tao.
"Bakit? Ako na kasi 'to, e. On my own.
"This is not a production of ABS, TV5, or GMA. It's me now.
"Ako na 'yong haharap sa inyo, ako na lahat 'yong nagdidesisyon.
"Now, you have to be careful now. Talagang mas magiging careful ka na.
"Kasi, after this one, kung magkamali ka pa, dapat gano'n na.
"I'm waiting for that glow sa mata ko.
"Siguro, para pag naramdaman ko na siguro 'yong okey ako, let's say na eto, lumuha nang masaya. 'Yon na 'yon."
Text by Jo-Ann Maglipon
Photos by Ocs Alvarez and Anna Pingol
Read the original article in
YES!
magazine June 2015 issue. To download a digital copy of YES! Magazine, visit Summit Newsstand or
CLICK THIS
.