When Richard Gomez and Lucy Torres decided to live in their Forbes Park home, one of their major considerations was convenience.
With Richard serving his first term as mayor of Ormoc and Lucy her second term as representative of Leyte's fourth district, the couple are not technically based here in Manila.
But each time they have an engagement, it would take them at least 45 minutes to get to the airport coming from their previous home in Greenhills, San Juan.
The actor told YES! magazine, "Dumating iyong time na grabe na ang traffic. One hour is not enough.
"And nothing is certain na you'd be there. So laging nate-tension 'yong buhay namin."
That was when they decided enough is enough.
Now, the trip to the airport will only take them at least ten minutes.
Another thing he likes about Makati is whenever they're hungry, they can "just go out."
Richard added, "Ang daming kainan."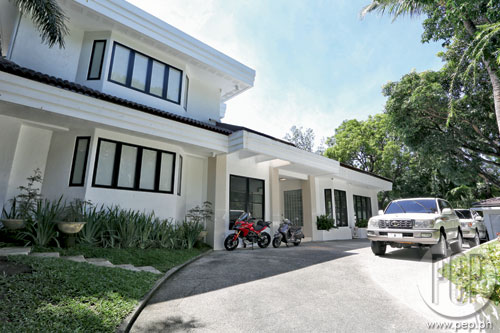 But before the family moved in to their new house, they commissioned architect Jay de Ramos and contractor Anolito Guina for the year-long renovation.
Lucy proudly shared that the design was a "reflection of us as a couple," since they were the ones who "put it together."
She continued, "Most of the items that are found around the house have a story."
Either they were given as a gift from loved ones or they were purchased when they were still single.
The celebrity couple also opted to have an open-floor plan.
The Ormoc City Mayor told YES!, "I don't like mga house na maraming partitions."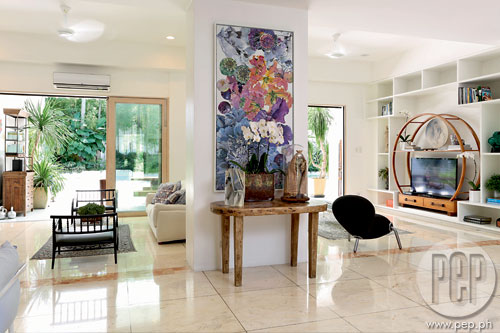 YES! magazine described the first level, "To the left of the main dining area is a smaller dining table bought from an antique store and paired with chairs."
Architect Jay pointed out to the team the highlight of the house: the soundproofed windows courtesy of the German brand Pella.
He explained, "It's very nice because 'yong heat at saka 'yong noise, nababawasan talaga."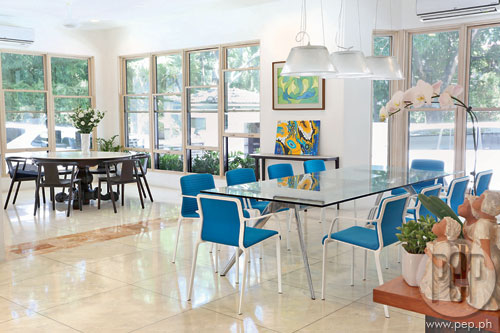 According to the architect, the home's design is "coastal...modern, yet may touch pa din siya ng femininity because Lucy really wants it bongga.
"Iyong taste nilang dalawa kinombine, and then it turned out to be like this."
Here's the seating area of the Gomezes: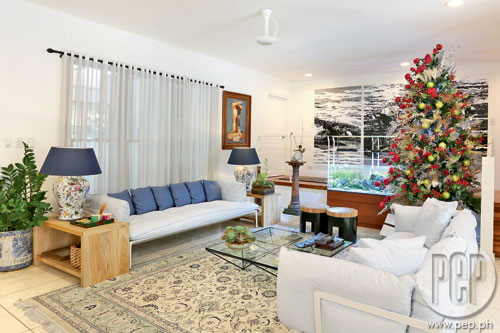 Lucy told YES!, "I wanted it to have a lived-in feeling.
"Like, when somebody enters the house, I don't want that person to feel intimidated, as if he has to tiptoe.
"I want people to be able to sit anywhere they want."
They also have this second living area in the ground floor.
The sliding door on the right side (not in the picture) leads to the pool area and patio.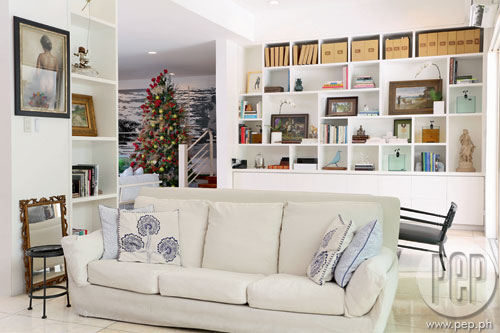 Richard's favorite part of the house is kitchen since he loves to cook.
Lucy revealed that the reason behind the all-white motif was it's easier to spot the dirt.
The house is kept spotless because Goma can't stand the sight of cockroaches. Lucy, on the other hand, does not like lizards.
Their full-functioning kitchen comes complete with gas range, range hood, oven, and a six-seater bar.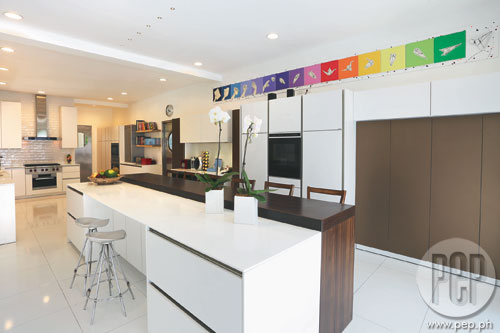 The hallway is adorned with artworks by young artists including Kiko Escora, Clairelynn Uy, and Ronald Caringal.
It also has shelves that hold small art pieces, books, and the actor's awards.
This way leads to Richard and Lucy's daughter Juliana's room.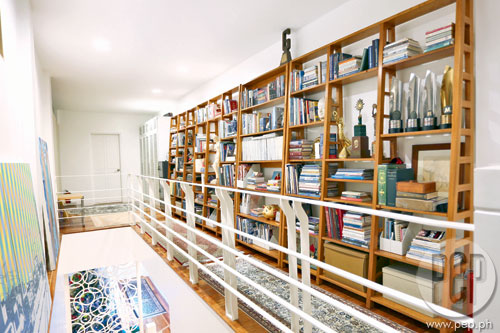 Like the rest of the house, the master bedroom also has an all-white motif.
On the left corner is where Lucy keeps her "super friends," a collection of her religious items.
Hanging atop their bed is Geraldine Javier's painting of white-haired girl.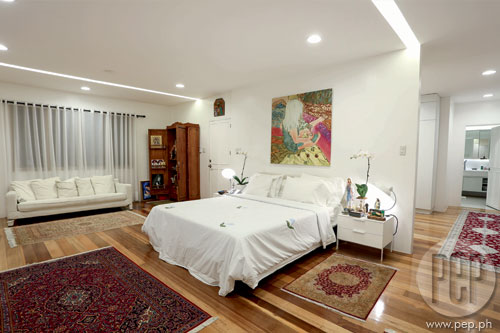 The master bathroom, also in white, has a separate toilet and shower areas.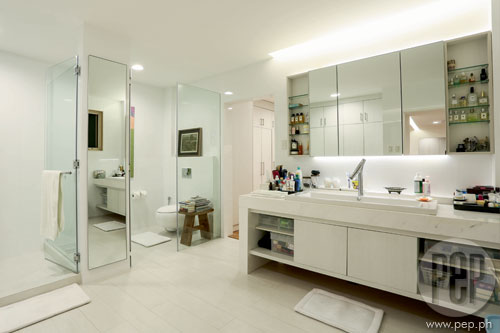 The politicians turned one room into a spacious work station.
This also houses Lucy's collection of things, old and new.
Juliana's bedroom also follows the house's color motif.
Above her green couch, which gives the room a pop of color, is a painted portrait of the 16-year-old Gomez by Ronald Caringal.
It was her dad's birthday gift when she turned 15.
Since Juliana loves to swim, the Gomezes has a five-meter swimming pool.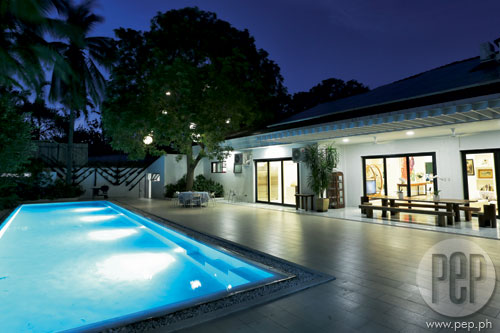 This wooden table and benches found in the lanai were bought from an old restaurant. It was the same table that the family used back in their Greenhills home.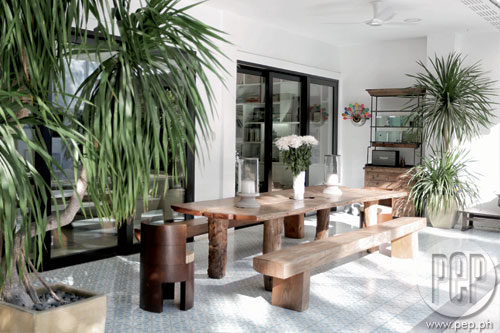 Original article by: Gabby Libarios
House photos taken by: Rene Mejia
Read full story in the December 2015 issue of YES! Magazine. To download a digital copy, visit Summit newsstand at http://summitnewsstand.com.ph/yes-magazine. It is also included in the 2016 YES! Celebrity Homes Special out now in the bookstores and newsstands nationwide.