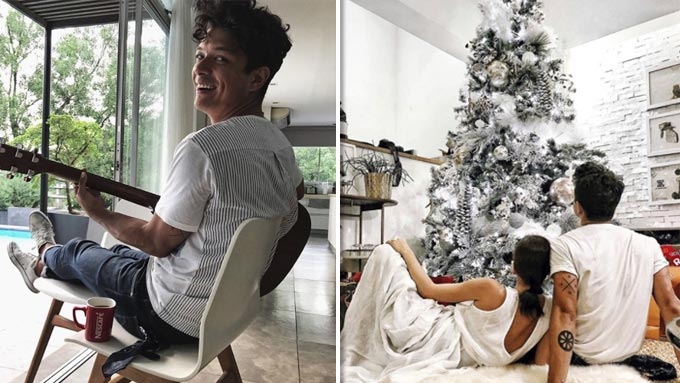 IMAGE jerichorosalesofficial on Instagram
---
For an actor who's busy and into different passions—from motorcycling to surfing—we can only imagine how things go at home.

When actor and businessman Jericho Rosales comes home, he does so to a relaxing space where he can indulge in a good night's sleep, enjoy a quick respite outdoors, and spend some quality time with his wife Kim Jones.
It's safe to say that we got it right.
Jericho's house is a modern dream—with clean lines, jalousie windows, and spaces meant for taking a break and entertaining friends.
IMAGE @bujibrownlegs on Instagram
His best friend, architect Buji Libarnes (one of this year's creatives to watch!), designed the house in 2005, where the structure is essentially all-white and minimalist.
Inside the home, neutrals, wooden elements, and a homey atmosphere dominate.
White curtains provide privacy, while letting in enough natural light.
Most of the windows in the house are kept bare to let in the breeze and sunlight.
Take a peek inside Jericho's sanctuary and check out some of the things we love most about the space.
Cozy living area is perfect for quick naps.
In a snapshot shared by Buji on Instagram, there is a pretty living area with some beach-inspired touches.
Defining the space is a woven area rug that evokes memories of the well-loved banig.
The high ceiling helps the space look bigger while improving air circulation.
Behind the inviting sofa is a brick-accent wall adorned with framed photographs.
Jericho also has a talent for taking photos, and we can only guess that a number of the photos on display were taken by the actor.
Find a similar sofa at House of Ital. Shop for similar frames at SM Home.
Abundant natural light streams in from sliding glass doors and windows.
ADVERTISEMENT - CONTINUE READING BELOW
With plants and tropical-inspired touches completing the living area, friends will surely feel like they've been transported to a secret getaway by the beach the moment they step into the home.
Working with a combination of white-and-earth tones can instantly turn a space into a resort-like escape.
The house is pet-friendly.
Jericho and Kim share the spacious haven with a couple of furry companions.
Opting for an easy-to-clean floor is perfect if you live with pets.
The staircase is beautiful.
Who won't adore the staircase in this house? It highlights the beauty of wood and clean lines.
One of the best things about this house? There are tiny nooks where Jericho and Kim can enjoy cups of coffee, exchange stories, and admire the outdoors.
After a short flight of steps from the first floor, there is a quiet corner furnished with matching chairs and a round table with marble top. It can function as a reading nook, too.
Find similar pieces at Design Story.

A secret passage connects the house.
The bridge-like part of the home's structure houses a daybed spruced up with pillows. It can function as a nap nook, a sitting area, or simply a special place where Jericho can take a break and play the guitar.
IMAGE @bujibrownlegs on Instagram
Notice the jalousie windows chosen for the space? These glass windows let in plenty of light while keeping the space well-ventilated.
Do these jalousie windows look familiar to you? Architect couple Buji and Nikki Libarnes used these in their envy-worthy house in La Union, too! Click here to see more photos.
The outdoor area is perfect for parties.
Jericho and Kim definitely host get togethers with friends, and for these BBQ nights and pool parties, their outdoor area is perfect.
Complemented with a long table and wooden benches, the area is reminiscent of hip hangouts by the beach.
ADVERTISEMENT - CONTINUE READING BELOW
With a setting as relaxing and as cozy as this, we won't be surprised if their friends stay and chill for hours.
It's also perfect for couple quality time.
Since they both love the water, Jericho and Kim can simply lounge by the pool, enjoy refreshments, and soak up some sun.
Furnished with sturdy outdoor furniture and with plants all around the area, it's the best spot to enjoy free days and quiet afternoons.
Coast Pacific crafts exceptional outdoor furniture. Click here to learn more.
This story originally appeared in REALLIVING.COM.PH.
* Minor edits have been made by Pep.ph editors.