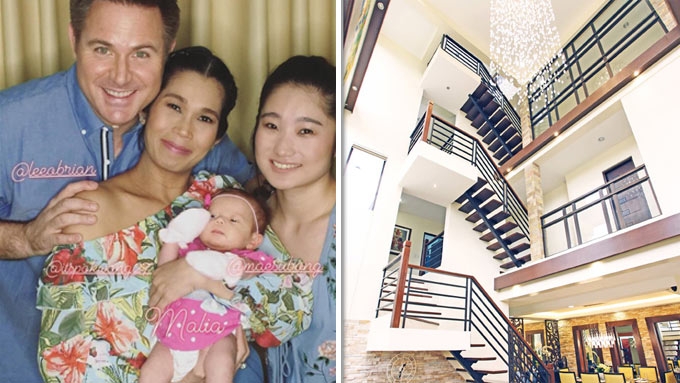 IMAGE itspokwang27 on Instagram / YES! Magazine
---
In 2012, actress Pokwang opened the doors of her home to the YES! magazine team.
Around that time, the house was two years old.
In just eight months, the actress' envy-worthy property was completed, with interior designer Janet Diquiatco-Torio working on the interiors.
"Nag-ground-breaking kami ng mga May 2010. Tapos, no'ng mga first week of June, ayan na, kinayod na 'yan. Ang laki ng batong nakuha nila, e. Ang laki ng backhoe na ginamit," she relates.
Since the place where the house stands is quite hilly, the construction team had to build a retaining wall to ensure the structure of the house as well as the safety of the people living in it.
"Kailangan, e. For safety. Di mo masabi ang nature," Pokwang adds.
A result of her hard work, the house, which has eight bedrooms and eight bathrooms, is indeed an investment and a reward that the comedienne deserves.
Foyer
ADVERTISEMENT - CONTINUE READING BELOW
The main door opens to Pokwang's vast collection of Swarovski crystals, Chinese figurines, colorful gems, and scented candles, to name a few.
Underneath the built-in ledge are more interesting pieces.
Some of the items we spotted are a koi fish figurine, a smiling Buddha, and other fragile knickknacks. Sprucing up the wall is a koi fish painting by Jef Lorente.
Living Area
The living area is a celebration of warm tones and captivating colors.
Once guests get the hang of the house's high ceiling and spacious floors, their attention will surely turn to the comfy seating pieces and the striking works of art by Chico Javier.
When Pokwang moved in, some of the items were in place like the TV and paintings, and she only did minor adjustments.
With sofas in dark brown and another seating piece in orange, a neutral rug was chosen to anchor the space. The TV was placed under the stairs, with the rest of the entertainment essentials taking up minimal space.
ADVERTISEMENT - CONTINUE READING BELOW
Find similar pieces at Our Home.
Living Area
A few steps from the living area is the lovely door with a decorative sunburst that shows eight long rays and eight short rays.
"Simbolo iyan ng pag-asa, kasi light, di ba? Ako nag-suggest no'ng design," says Pokwang.
The actress' design for the sun was executed by her interior designer's friend.
Big windows let in natural light and give the owners a fantastic view of Antipolo's lush surroundings. Since the house faces east, it is filled with calming light when the sun rises.
Living Area
ADVERTISEMENT - CONTINUE READING BELOW
Look up and marvel at the home's high ceiling and sleek staircases. The flights of stairs showcase wooden steps without risers, and a central metal support.
An enchanting chandelier with tiny lights livens up the ceiling.
Find a similar lighting piece at Illuminati Technique, #34 Quezon Avenue, Quezon City.
Dining Area
Dominated by yellow touches, the dining area is homey and inviting.
According to Pokwang, both the dining and kitchen areas serve as a tribute to her friend, Kris Aquino.
Surrounding the dining table are eight comfy chairs from home improvement store Eclectic Living, while the lighting piece with teardrop-shaped bulbs help set the mood and add drama to the space.
Completing the look are the console holding select decor pieces and a painting of the Last Supper by Roy Morelos.
Find a similar dining set at Home Matters.
Kitchen
ADVERTISEMENT - CONTINUE READING BELOW
Varying shades of yellow define the spacious cooking area.
One of Pokwang's favorite areas in the house, the kitchen is well-equipped with enough storage options, a wall-cabinet system, enough drawers, and topnotch appliances.
Aside from the spacious countertop that highlights a U-shaped layout, there's also a mini island in the middle with extra storage underneath.
Kitchen
Even the storage unit that holds some of the appliances follows the yellow theme.
The other end of the countertop can function as a breakfast nook with the addition of red barstools.
Find similar barstools at SB Furniture.
Powder Room
ADVERTISEMENT - CONTINUE READING BELOW
The powder room found on the first floor, the first of eight bathrooms found in the house, exudes a spa-like vibe, with warm lighting and quality fixtures.
A relaxing cinnamon-chocolate scent will surely calm anyone who steps into the compact space.
All over the house, paintings add a posh finishing touch.
Dino's Bedroom
Pokwang's brother and right-hand man Dino occupies a light blue room on the second floor.
Apart from the inviting sleeping space, he also has his own bathroom.
The room is modest yet perfect for a good night's sleep, with light blue walls, a double bed defined by a cushioned headboard, and a work area, too.
Dino's Bedroom
ADVERTISEMENT - CONTINUE READING BELOW
At the foot of the bed, the occupant has an entertainment console that's part of a built-in cabinet system and work desk. The shelves near the work area hold books while the one above the TV showcases a collection of DVDs.
Dino's Bathroom
The T&B takes inspiration from luxury hotel Sofitel's well-appointed bathrooms. It has an enclosed shower area, a toilet area, and a compact countertop with a vessel sink.
Shin's Bedroom
ADVERTISEMENT - CONTINUE READING BELOW
Built in the memory of Shin, Pokwang's son who passed away, the green room is filled with decor and knickknacks just like the other rooms in the house.
Though the room has never been used, Pokwang still made sure to equip it with a TV, an inviting bed, and other personal details.
Mae's Bedroom
There's no doubt that Pokwang's daughter Mae owns this bedroom.
Varying colors complete the space, with a lighter shade used on the walls and a darker one for the headboard.
To keep the room from being too overwhelming, the cabinets and wall accents are painted white, while dainty prints are subtly incorporated.
One cabinet has glass doors to showcase Mae's collection of stuffed toys.
Mae's Bedroom
ADVERTISEMENT - CONTINUE READING BELOW
A built-in desk/storage unit takes up one side of the room where Mae can read and finish school requirements. To follow the room's color theme, the chair also has a dark pink upholstery.
Find a similar chair at SM Home.
Mae's Bathroom
How edgy is the combination of black, pink, and white?
It was Mae who thought of using the said colors to achieve a girly yet a little rock-and-roll aesthetic. Unique textured tiles were used on the walls while black pieces were used as flooring.
Second Floor Walk-in Closet
ADVERTISEMENT - CONTINUE READING BELOW
Found beside Mae's bedroom on the second floor, this walk-in closet serves as storage for Pokwang's outfits, costumes, and shoes, some of which were given by fans. To keep it neat and organized, the belongings are grouped accordingly, with specific compartments for shoes and clothes.
Pokwang's Bedroom
The only room found on the third floor, Pokwang's room can be likened to a hotel, with delicate furnishings and a mix of bright and neutral colors. Dominating the space are shades of brown and cream, with lime green and orange as accent colors.
According to the actress, orange is her lucky color.
The huge customized bed is defined by a tufted headboard that extends up to the ceiling, giving the sleeping space a luxe look. The border of the headboard has ornate backlit carvings that also add to the appeal of the room.
Pokwang's Bedroom
ADVERTISEMENT - CONTINUE READING BELOW
The dresser with cabinets takes up an entire wall in the sleeping space. Glass-doored shelves hold Pokwang's collection of designer bags, some of which were also given by fans. Also on display are her favorite perfumes and other collections.
Walk-in Closet
The spacious walk-in closet is found between the bedroom and bathroom.
Reminiscent of a high-end boutique, it's completed with a chic chandelier, a tufted seating piece, and huge cabinets. The storage units in this room hold Pokwang's everyday clothes.
Find a similar seating piece at Our Home.
Pokwang's Bathroom
ADVERTISEMENT - CONTINUE READING BELOW
Who wouldn't enjoy spending a few minutes in this spacious and hotel-like bathroom? The actress' private space has a shower cabin that can be turned into a sauna, a topnotch toilet bowl, and pretty tiles.
Mosaic tiles spruce up one wall where open shelves are installed to hold fresh towels.
Find tiles and other bathroom fixtures at Sanitec, 2/F, 240 E. Rodriguez Sr. Ave., Quezon City.
Pokwang's Bathroom
A spacious countertop holds Pokwang's toiletries and other essentials.
Since the wall tiles are simple, a decorative mirror was chosen to spruce it up.
Extra cabinets under the sink can be used to store cleaning supplies and extra toiletries.
Find a similar mirror at Mandaue Foam.
Prayer Room
ADVERTISEMENT - CONTINUE READING BELOW
A door inside Pokwang's bedroom leads to a compact prayer room where she can spend a few minutes alone.
"Dapat ito, gusto nila, parang gym. Sabi ko, 'No.' Gawin ko na lang siyang prayer room ko. Di ba? Bilang Siya naman ang nagbigay sa kung anong mayroon ako," she shares. Match stools and kneelers were placed in front of the altar.
Prayer Room
The prayer room has a garden trail lined up with plants and a stone path. It can also be used as a meditation area.
Facade
ADVERTISEMENT - CONTINUE READING BELOW
From afar, the house doesn't look like a typical house with its imposing modern structure, multiple levels, and tall glass windows.
The partiall- seen roof deck is ideal for get-togethers with a place for meals, barbecue nights, and a fun night with friends.
Read the original article in the February 2012 issue of YES! Magazine. To download a digital copy of YES!, visit Summit Newsstand at http://summitnewsstand.com.ph/yes-magazine.
This story originally appeared on RealLiving.com.ph.
*Minor edits have been made by the PEP.ph editors.