DATELINE: METROMANILA, 2016
Since she was crowned Miss Universe on December 20, 2015, Pia Alonzo Wurtzbach has been living the life that she has always wanted. The svelte 26-year-old German-Filipino beauty queen, who won the prestigious title that had eluded the Philippines for 42 long years, is now based in the heart of Manhattan, New York City, unarguably one of the top three coveted destinations among cities in the world. Pia's apartment is located in a postwar high-rise building with 20 floors and 242 units.
YES! Magazine—PEP's online affiliate—gets the chance to visit Pia Wurtzbach and photograph her contemporary New York apartment one sunny but chilly day in April 2016. And what's the first thing that the bubbly Pia tells us about her life in the Big Apple? "New York is home to me now. I love it. I just love being here!"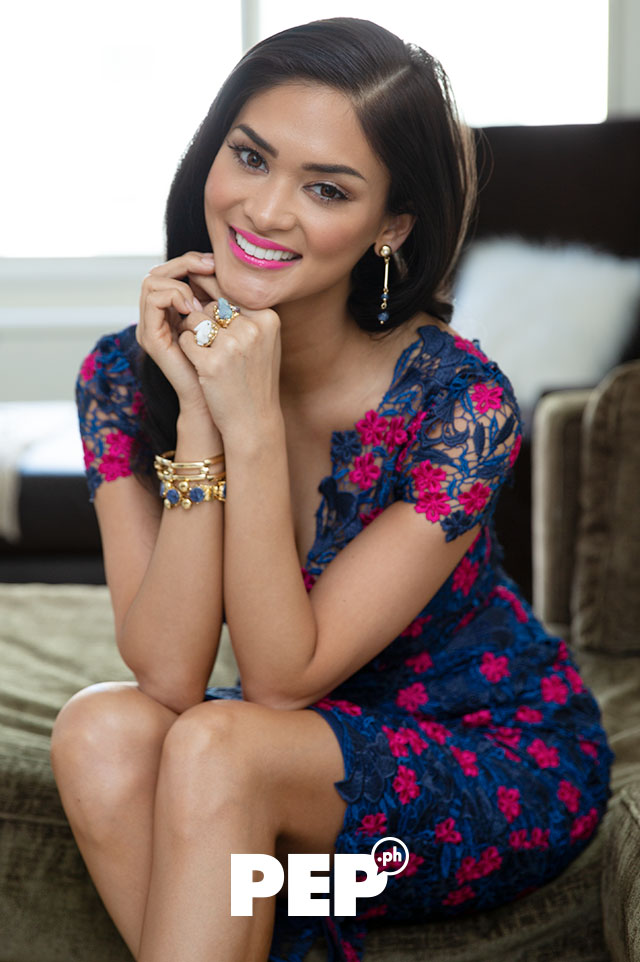 Living in a stylish and spacious apartment in Manhattan is a dream come true for Pia. But she admits that things can get a little lonely at times, especially since she hardly ever sees Miss USA Olivia Jordan, the other beauty queen with whom she shares the apartment. Miss USA—who, like Pia, is under the guardianship of the Miss Universe Organization (MUO)—has her own work commitments to attend to.
It's a good thing that the MUO, the body that produces the Miss Universe, Miss USA, and Miss Teen USA beauty contests, is also looking after Pia's well-being.
"They would always check up on me, you know," Pia says. "They're very caring. They make sure that I'm okay, that I'm awake and that I have the energy and that I am happy, how I'm feeling holistically. They would ask me, 'Are you feeling homesick? Do you need a day off, just to catch up on sleep?' They really understand. They've been very good at making sure that I feel right at home. It's only been, what, five months, and it feels like they're family already to me."
The Pinay queen of the universe shares the New York apartment with Miss USA Olivia Jordan, who is just as cheerful and chatty as Miss Universe.
Pia's eyes light up as she talks about Olivia Jordan, her American "BFF" (best friend forever).
"We would share a lot of stories," she says.
"I remember our very first long conversation. It was all about pageants. Because we've both been in the pageant industry for quite some time, we clicked right away. She joined a few times before making it to Miss Universe, just like me. And we're the same age. That's how we bonded then."
It was not difficult for Pia and Olivia to establish a strong bond. Both of them, the way YES! sees it, are genuinely nice and are driven to reach the same goals.
"Now we talk about, you know, about guys," Pia says, her lips forming a wide smile. "We're just like anybody else. We would talk about girl stuff. We would talk about makeup and shoes and bags. You know, things that interest us. Things that interest girls. So, ayun!"
Pia is not giving herself a deadline when it comes to acquiring a lot and building a house of her own in the Philippines. After all, she's still preoccupied with her life in New York.
"Siguro, I just want to have something when I have to get back to Manila," she says. "Obviously, I want to have my own place there, and eventually in England, where my family is."
Pia does not know yet what New York has in store for her. Nevertheless, she is excited about the possibilities of living here even after her Miss Universe reign.
"We'll see what's going to happen at the end of the year after my reign, if I'm gonna be staying here or not. That's also a possibility, so I haven't decided on permanent residency yet—although, of course, Philippines would still be home to me."
Pia confesses that although she has been living in New York for more than five months (at the time of the YES! visit), she has yet to visit all the tourist spots in the city. Aside from her work, it's the cold weather that keeps her from accomplishing such an endeavor.
"Well, I have visited some," she says.
"I can't say that I've done everything yet. I do have a checklist in my mind. But I haven't gone through it yet because of the busy schedule, and also, I'm waiting for the weather to get warmer. So that I can enjoy it better."
Life in New York, Pia says, happens so fast. The dusky beauty admits that she often has to stop walking just to catch her breath, figuratively and literally, because everything around her seems to be moving nonstop.
It's only when she's in the privacy of her bedroom that she gets to replay the events
in her head. "That's when I start to realize I just went to this place and that event. And then I begin to think about what's going to happen in the coming weeks. Really, it's all about planning, and everything is fast paced. Everything here is just happening so fast."
Especially with this New York experience, Pia says she would definitely choose a condo unit if she were made to choose between living in a house or in a condominium. Aside from the security and privacy, she loves the convenience and the comforts that condo living affords her.
As for the design of her dream home, Pia leans toward Mediterranean style. She does not know yet the specific details and the kind of furniture that she would bring into her "future home," but she does like the idea of having many windows and good lighting.
"It sounds nice. Just good lighting. That's very important to me. Good lighting, no matter what the design is. I'm very particular with the lights that have to come in. The lighting in my area reflects my mood. You know how lighting affects the mood of the people living inside the house, right? Yeah, that's important to me."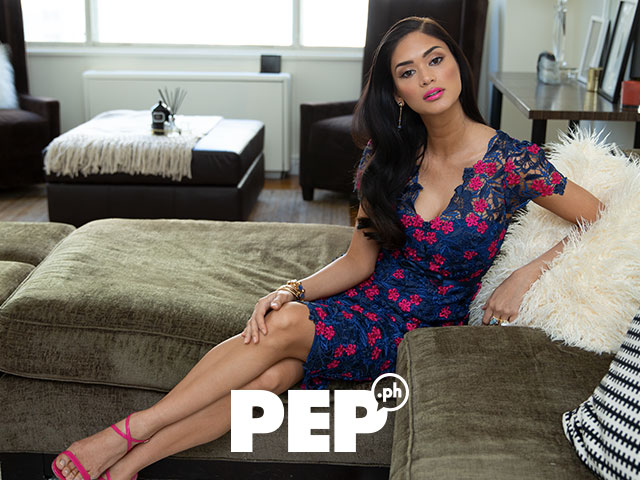 Her choice, she says, comes with her age. "Right now, I'm really a city girl, so I prefer a condominium. Maybe, you know, when you're young, you prefer to be living in a condo unit. Then when you get older, you start thinking about living with a family. That's when you start appreciating having a home instead of an apartment."
Pia describes New York City as "always busy." The beauty queen says it's a city like no other. "There's always something going on. Uhm, I can't compare it to London or Manila. It's very distinct. It's unique. I can't compare New York to anywhere else."
Pia says that New York's vibrant energy is what makes the city charming and beguiling and exciting and mysterious all at the same time. "Yeah, because even at night, the city is alive, even in the wee hours. The energy is there, constantly. There are no areas in New York where I felt like it was a ghost town. Everywhere you go, there's something going on."
It took Pia some time to adjust to New York City's unpredictable weather. She tells YES! that she arrived in Manhattan in December 2015, a few days after winning the Miss Universe 2015 crown. At that time, the city was in the middle of what meteorologists called a polar vortex, which ushered in the brutally cold winds from the Arctic region.
In the early weeks of 2016, the temperature in New York City reportedly dropped to minus 4 degrees Celsius.
But that did not stop Pia from exploring Central Park, the most visited urban park in the United States, located just a few blocks from her apartment.
According to a March 2016 report by the Travel+Leisure website, Central Park "stretches across nearly 850 acres of prime Manhattan real estate" and is visited by more than 40 million locals and tourists annually.
VISITING PIA
It's April 2016, and it's freezing in Manhattan.
We find ourselves clasping the jackets that we are wearing close to our chest as we stand on the doorstep of a high-rise residential building in one of New York's most expensive neighborhoods.
A few meters from where we stand, office workers and other locals, bundled up in layers upon layers of clothes, are scurrying all over the place with their heads bent down, barely looking up at one another as they cross paths on the way to their respective lunch meetings for the day.
Across the street, vendors are carefully unloading their merchandise from their parked trucks. A group of tourists, wearing color-coordinated shirts and holding big paper bags, is excitedly snapping photos of the window display in a clothes shop.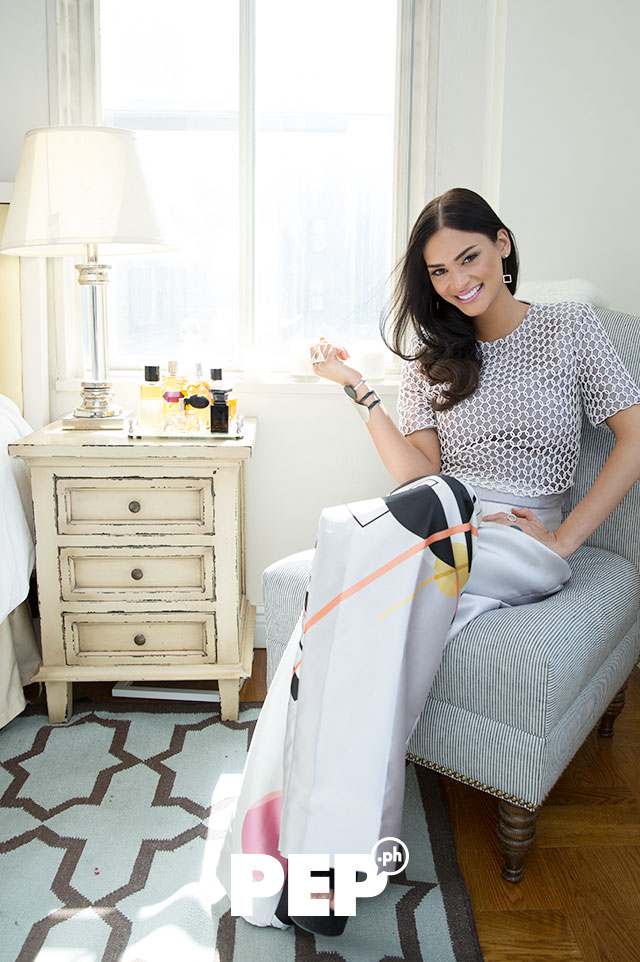 Along the street, there's a cacophony of car horns blaring out of yellow taxis and private SUVs, each one rushing to get to the next destination in the shortest possible time.
Up above, the sky is clear, bright, cloudless. The sun, which has been hiding for the past two days, is now making its presence felt despite the freezing temperature.
For a typical New Yorker, today is just an ordinary day.
But for people like us, who took a 17-hour flight from Manila to New York just to be here, today is no ordinary day. In a few moments, we will be interviewing one of the most beautiful women in the world—or should we say, in the universe?
After we enter through the double glass doors leading to the marbled lobby of the high-rise building, a bespectacled blond young woman, whose name is Megan, greets us and invites us to sit in one of the upholstered seats. While waiting for the go-signal, she engages us in casual chitchat and asks if we need anything.
Several minutes later, we find ourselves standing outside a door, which, from the way it looks, opens up to a corner unit.
We knock three times.
When no one answers, Megan herself decides to open the door for us. She then ushers us into the spacious living room where the woman that we are expecting to see has been patiently waiting for her makeup to get done.
Wearing a bathrobe, her hair still wet from the shower, Miss Universe 2015 Pia Alonzo Wurtzbach looks up at us and, in a soft voice, says, "Hi! Kumusta?"
According to Pia's gracious manager, Esther Swan, whom we met in the lobby earlier, Pia is feeling a little under the weather. She has been fighting jet lag and a nagging case of the common cold.
"Do you guys want anything?" Pia asks us. "Coffee? Water?"
We politely decline her offer.
"Are you sure?" she asks again.
Even if she is not in the pink of health, the 5-foot-8 German-Filipino beauty does not lack the social graces expected of a host.
When she's done with her hair and makeup, Pia quietly stands up from her seat, excuses herself, and walks slowly into her bedroom to change.
A few minutes later, a more energetic Pia walks back into the living room.
As the makeup artist gently re-applies red lipstick on Pia's lips, the beauty queen starts exchanging banter with her stylist, Marquis Bias, who is fixing the hemline of Pia's pants. Pia then cracks a series of inside jokes, sending the entire room roaring with laughter.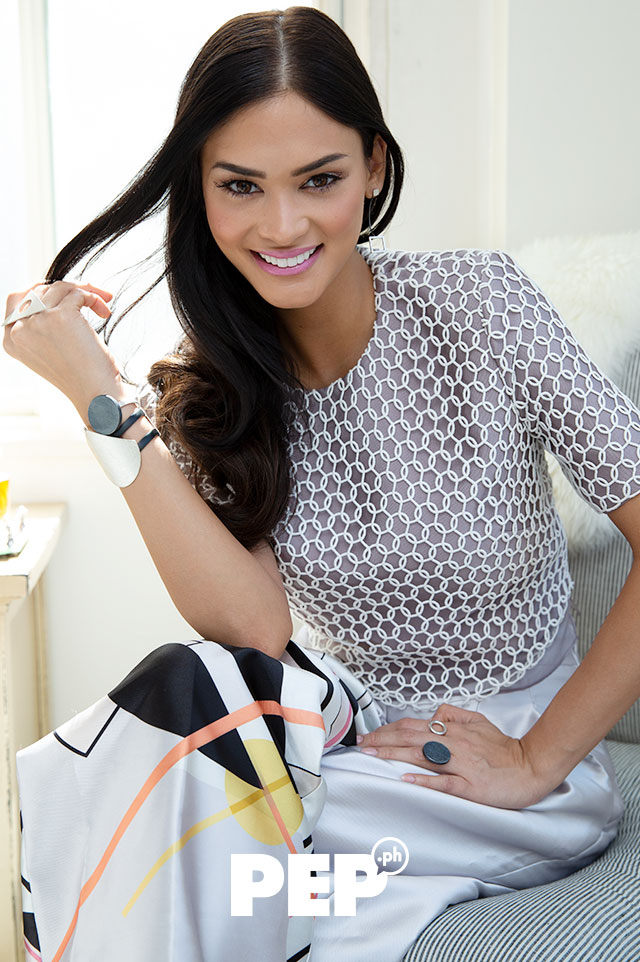 Every now and then, Pia hums and does a little swaying movement—an obvious indication that not only is she playing a song in her head, she is also dancing to it.
It's a different Pia we are seeing now. Just a moment ago, this woman was barely talking. Now, all of a sudden, as if on cue, she becomes the life of the party.
We can't help but ask Pia, "Where do you get all the energy?"
With a coy smile, the 26-year-old answers: "I don't know. I get that question a lot. I guess it's just the adrenaline of being here. I mean, it has been a long journey getting here."
Pia Alonzo Wurtzbach, to her credit, has always been a dreamer, a doer, and a fighter.
A HEART FILLED WITH GRATITUDE
While Pia's big win has brought a great deal of pride to the Philippines, it has raised the bar for beauty pageants everywhere. Young women hoping to represent the country will have realized by now that competing in prestigious international pageants like Miss Universe does not only require gorgeous physical attributes and sharp wit, but also a charisma and an appeal that transcend ages, cultures, gender, and generations.
Fashion designer Bessie Besana puts it best:
"At least, alam na nating lahat kung ano ang hanap ng Miss Universe. Talagang celebrity, cover model, cover girl na kayang magsalita.
"You know I read something about the Miss Universe staff liking her a lot, kasi with the previous Miss Universe winners daw, they have a staff na nagka-caption pa ng Instagram and Facebook pa. This time, Pia writes it herself. And they like that she's intelligent and that she can write. After all, she's a writer. Kaya I think advantage niya 'yon.
"Since she raised the standards, it added pressure sa mga girls natin for this year. Parang, oops, ang hirap na."
Pia knows that the next Miss Universe Philippines will be carrying the weight of an entire nation on
her shoulders. (At the time of the YES! interview, Binibining Pilipinas has not yet crowned its 2016 batch of Binibinis.)
"During my time, I was under a lot of pressure too," Pia says. "Now she's going to deal with the pressure of making a back-to-back win happen. It's okay, because I'll be able to give some tips in some ways." When you talk about succession, you talk about the beginning and end of a queen's reign. Pia doesn't want to entertain that thought yet.
"Hindi pa!" she says, her tone suddenly turning somber. "I don't think about that at all. I know it's been a few months. So many things have happened already. I don't feel any sense of panic that it's going to end. I don't feel that after it ends, there's nothing... No, no, no! There's no sense of panic at all."
Instead of worrying about the things that she has no control over, Pia would like to focus on her job and live in the moment. She knows that she still has a long way to go and a lot of things to be excited about and be grateful for.
"I heard from a few people here that I say thank you a lot daw," she says. "Maybe that's just the way I am. I just feel thankful. If there's a new project, I'm excited about it. If there's a new endorsement, I'm happy about it.
"I would always tell them stories, like how I started in the Philippines and how hard life is back home. But things changed for me because I waited and I didn't give up. And I'll always be grateful for that."
Pia is not sure how life will unfold for her after her reign as Miss Universe. Will she continue living in New York, or will she go back to the Philippines? Will there be job opportunities for her or will she finally meet the man of her dreams?
She doesn't have a ready answer to these questions. What she does know is that, if she continues to live a life of gratitude and never forgets the people who have helped her get to where she is now, she will do just fine.
"I always express gratitude to everybody who has helped me get there, kasi parang pasasalamat ko na rin sa Diyos," she says. "Ang dami kong pinagdaanan. Ito pala 'yong dahilan kung bakit ko kailangang pagdaanan ng lahat na 'yon, kasi this is my destiny."
Pia pauses for a few seconds. Taking a deep breath, she goes on: "My advice to you? 'Wag n'yong kalimutang magpasalamat sa Diyos, sa pamilya n'yo, sa mga kaibigan n'yo, sa mga kakilala n'yo, sa lahat ng mga tumulong sa inyo. 'Wag n'yong kalimutang lumingon sa inyong pinanggalingan."
We can't wait to see where life takes you next, Pia.
Long live Queen P!
Published in PEP.ph April 2019
Adopted for PEP.ph by Jo-Ann Q. Maglipon
Originally published in YES! June 2016
Text & Interview: Gabby Reyes Libarios
Editor in Chief: Jo-Ann Q. Maglipon
Executive Editor: Jose F. Lacaba