"They can see!" Korina Sanchez Roxas lit up when asked about the growth development of her twins, Pepe and Pilar.
Her eyes brightening, she talked about the games she and husband Mar Roxas have been playing since becoming parents.
"Contest kami ni Mar. Sino yung unang makikita ng mga bata at ano ang una nilang sasabihin—Mama o Papa"
"He wants to be called 'Papi,' ako, 'Mommy' ang gusto ko, but, you know, they cannot say that as they're young, so mama. Basta letter 'M.'
"And then nagbibiruan kami ni Mar, minsan sasabihin niya, 'Honey, may nanalo na. They said Mar.'
"Sabi ko, 'No. They cannot say letter 'R' yet. It must have been 'Ma.'
"Well, poor Mar, he is always out campaigning 'no, so talagang may nanalo na talaga. Ako talaga," she said smiling.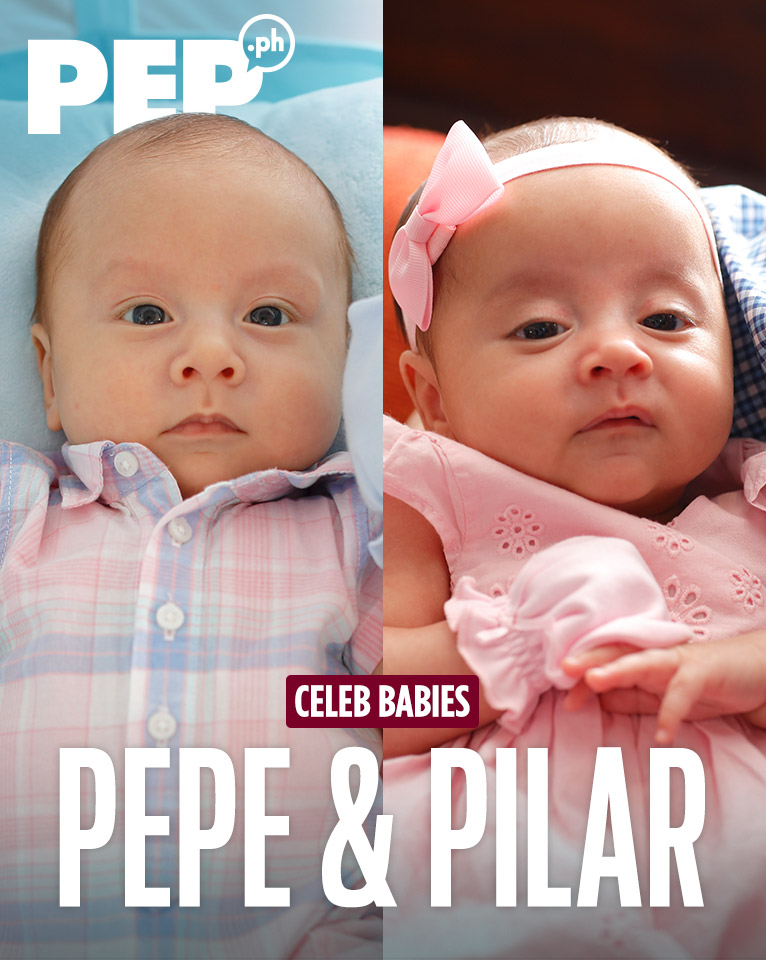 WANTED: DAD OF HER BABY
If becoming a mother for the first time at age 54 can be considered a victory, then Korina must be lauded for pushing herself to the limit.
To begin with, she won the heart of one of the most sought-after bachelors of her generation.
Korina recalled, "When I was 40, I had just started dating Mar, and, sabi ko, 'Oh my! Hanggang saan pa ba ito? This guy is not the marrying type.' Parang he is known to be the forever bachelor.
"So I said, 'Well, I don't care naman if he doesn't marry me.' I mean I was the marrying kind, but if the guy I'm with doesn't want to be married, I'm not the type na, 'Pakasalan mo ko.'
"Oh my god, I'm too proud to ask a guy to marry me, right?"
She remembered something stirred up in her at that time. She wanted to have baby and had considered asking Mar to be her sperm donor.
"I have always loved children. I was really the one most likely to have most children in high school, even in college, because all my friends know that I am crazy about kids.
"So one day, I told Mar, 'What do you think about freezing embryos? Can you be my donor?'
"At first, I was saying, 'You know you don't even have to support this child if in case we part ways.'
"And immediately, he said, 'I'll donate!'
"And we were just dating then, 'I'll donate! I don't mind,' and then a light went up, parang a light lit in my head.
"I'm going to take advantage of this and do it now.
"So donor ko siya, and now, the father of Pepe and Pilar."
The TV news personality and politician tied the knot on October 27 , 2009, at Sto. Domingo Church in Quezon City.
MOTHERHOOD IN FITS AND STARTS
However, Korina's journey to motherhood started way before then.
The 54-year-old journalist had the oocyte cryopreservation, also known as egg freezing, about 11 years ago.
She said, "We were able to freeze before I got married. When did I get married? 2009? Ten years ago. I think a year before that.
"When I hit my 40s, I really had to think fast because my follicles were getting less and less."
She was referring to the antral follicles in the ovary that indicate a woman's potential to produce an adequate number of eggs to be harvested and frozen.
"But all her worries began even before the egg freezing. Korina was turned down twice because of her low follicle count.
She recalled, "A specialist in New York and a specialist in Singapore turned me down, and then I researched.
"I wouldn't take no for an answer. I researched, and I realized that follicles, the follicle number doesn't tell you it's impossible, it tells you it would be difficult. And the word 'difficult' to me is a trigger. Kung difficult lang iyan, kakayanin pa iyan. Puwede pa."
"You know what I did? I relaxed. Kahit galit na galit na ko, nakangiti pa rin ako. Gloryang glorya ang staff ko noong mga panahon na iyon.
"Pag nakarinig ako ng bagong invention, electric chair, 'Ay, anong ginagawa niyan?' Ay, bumili ako nung electric chair na iyon. Talagang nangangatog ako, nag-e-electric chair ako, acupuncture, acupressure.
"I really stayed healthy, and I was able to produce follicles. I worked with a very aggressive Belgian-trained Filipino Ob-Gyne, and every week, I would go into his clinic, and we would look for follicles.
"If you believe enough, do something about it, it will happen.
"So, you know, I mean for women now, I would advise that you do it earlier. Kung wala kayong boyfriend, humanap kayo sa sperm bank or get somebody to donate. I would advise that you do it earlier."
Making light of the situation, she quipped, "The embryos were frozen and then, in my head, sabi ko, 'May balbas na kaya yung anak ko diyan? May ngipin na kaya yan paglabas? Ang tagal-tagal na.
"Anyway, so iyon, they were frozen, and then according to pediatrician-Ob-Gyne, you can leave them for generations there.
"But then, it's a miracle because konti lang embryos namin and not all the time nabubuo."
MOMMY, AT LAST!
Did they choose to have twins?
According to Korina, "There are really two embryos planted in, na hindi lahat ng pagkakataon, nabubuo pareho. Ito nabuo pareho at lalaki at babae pa."
Pepe and Pilar were born through surrogacy on February 12, 2019, one month before their supposed due date, in Pittsburgh, Pennsylvania. Pepe came out first and was ahead of Pilar by one hour.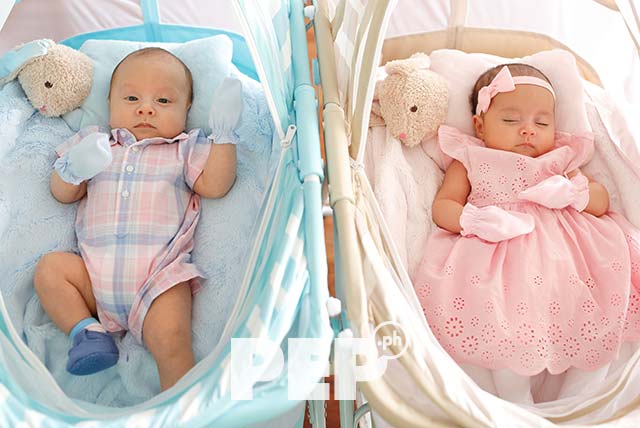 Pepe's full name is Pepe Ramon Gerardo Manuel Denzel Sanchez Roxas—combining the names of Korina's dad, Mar's dad, Mar himself, and Denzel Washington.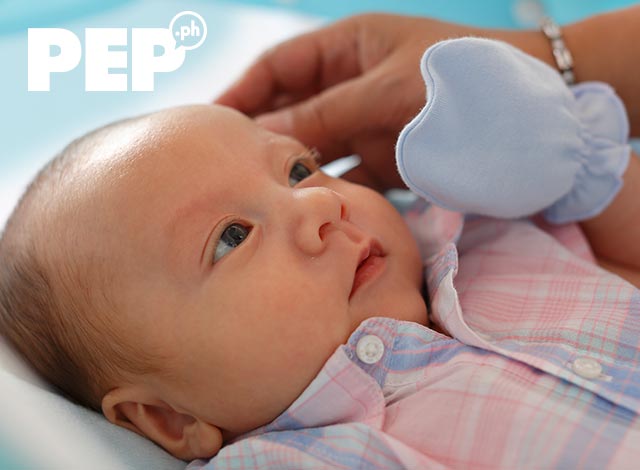 Pilar's is Pilar Judith Celia Ester Korina Sanchez Roxas. Judith from Mar's mom Judith Araneta Roxas, Korina's mom Celia, and Mar's grandmother Ester.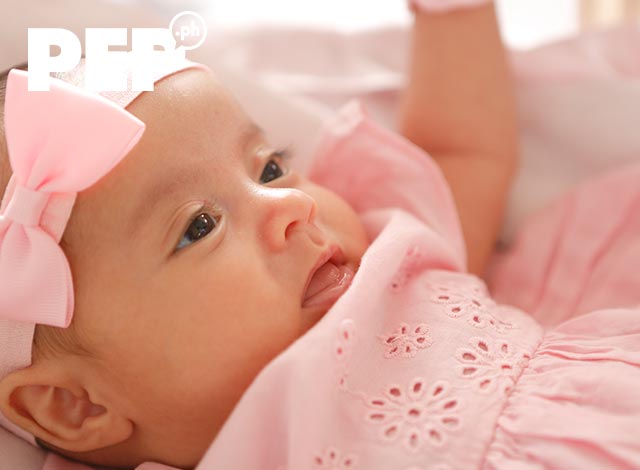 While waiting for the babies' arrival, Korina trained with an infant specialist and did more research.
She said, "Since we arrived in Pittsburgh, of course, there was really less of a support system; although I had a nurse and a caregiver. In the beginning, on the first week that we were there, I had a trained infant specialist train me, Pilipina rin ito na based in the U.S., so I had her fly over kasi family friend and that's really what she does.
"So tinuruan niya kong mag-change ng diaper and, basically, infant care.
"I saw how the nurses in the hospital… really, tina-tumbling-tumbling ang mga bata, the babies are not really that delicate."
Browsing through her Instagram posts, she made motherhood seem so easy, but, she admitted to having her share of worrisome moments.
"One time, we thought we were having issues with one of the kids, so we were really trying to observe, and I did not want to sleep. According to the pediatricians, it's normal. Breathing lapses.
"Siyempre taranta kami ng caregivers. And then when we went to the hospital, they said it really happens. 'Really? It really happens? They stop breathing.'
"And the twins recovered on their own. So since then, there has not been an episode like that.
"But I discovered a way to avoid that from happening. When I feed them, I put them at an angle of 45 degrees, and I stretch, so the air passage is clear, so ako pa ang nagturo. But that was just logic because nobody can really diagnose why a child could stop breathing even for just a second or two. I didn't want that to happen because the breathing and the swallowing are not coordinated yet, so what does that tell me? You have to keep the air passage clear.
"So ako yung nagturo sa mga caregivers ko na pag pinapadede niyo, you take breaks, and you really have to watch them, keep it in an angle."
So far, how is she as a mother?
"Hindi ako maarteng nanay. Hindi ako sobrang protective, sobrang delikado, you know.
"I think being informed is very important, so you're not guided by pamahiin. You're not bound or disabled by the opinions of too many people."
"I don't claim to know everything, so I want to learn from what they know. 'Ah ganyan pala iyan.' 'Ah, talaga? Bakit? Bakit gano'n?' You know, the thing about Filipina caregivers is that they tend to mother your kids the way their style was with their own kids, but each mother has her own pulso sa anak niya. Each mother has her own logic so it's like a give-and-take. I learn from them and they learn from me and they also learn to respect the way I want the kids handled. So it's been very happy, it's been very ano naman pleasant."
MORE PEPE AND PILAR POSTS, PLEASE!
The little ones were introduced to netizens on February 21, and have since dominated Mommy Korina's social-media feeds.
This photo shoot with PEP.ph (Philippine Entertainment Portal) took place at Mar Roxas and Korina Sanchez's family home in Cubao, Quezon City, on April 4.
Pilar, clad in a pink dress, was camera-ready. Pepe, however, was asleep.
According to their mom, "It really has always been Pilar who's more sociable, I think. And pediatricians say that girls really develop faster. Pilar, I think, started seeing first.
"She is also more interactive, and ang daming sinasabi. She's always trying to start to talk. You can tell because it's not crying when she makes sounds, she wants to converse. So I think that's so adorable of her.
"She also has more balance temperament, so really good-natured. Even when she was upset or crying, it's so short and so soft. I think she's an angel. Really."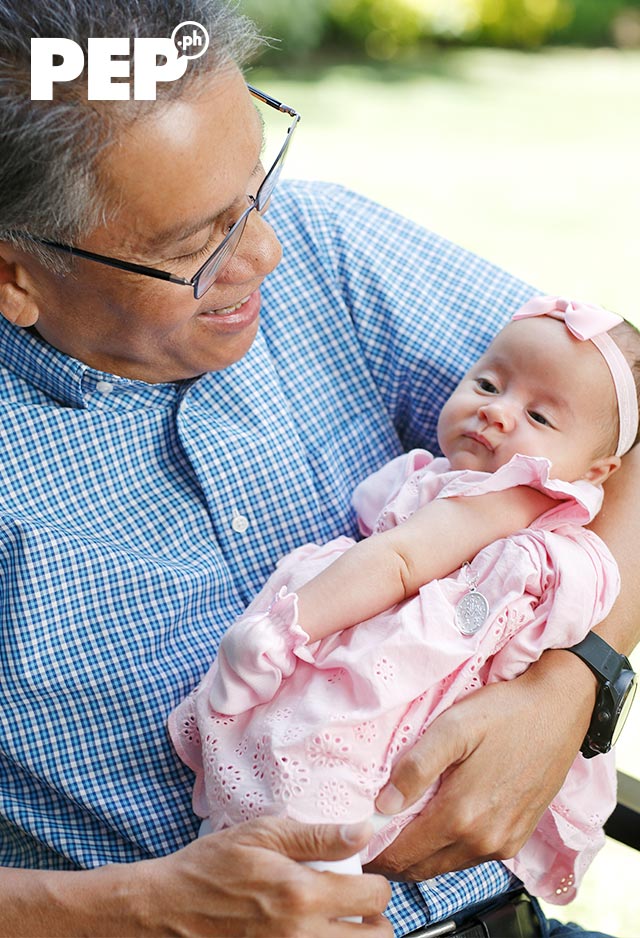 "Not to say that my son is not, but Pepe is really more determined. He is more impatient. He's more active.
"He loves to be jogged around to calm him down, but when he is in a good mood, I think he is the most pogi baby in the world.
"From the yayas' stories from before, I know that Mar was a very impatient baby… He liked things done fast and accurately and perfectly.
"It's too early to tell because the twins are two months old pa lang, things keep changing.
"But Pepe seems to take after his dad. Even Mar thinks Pepe is going to be a thinker and a serious person. Even the nurses say that about Pepe.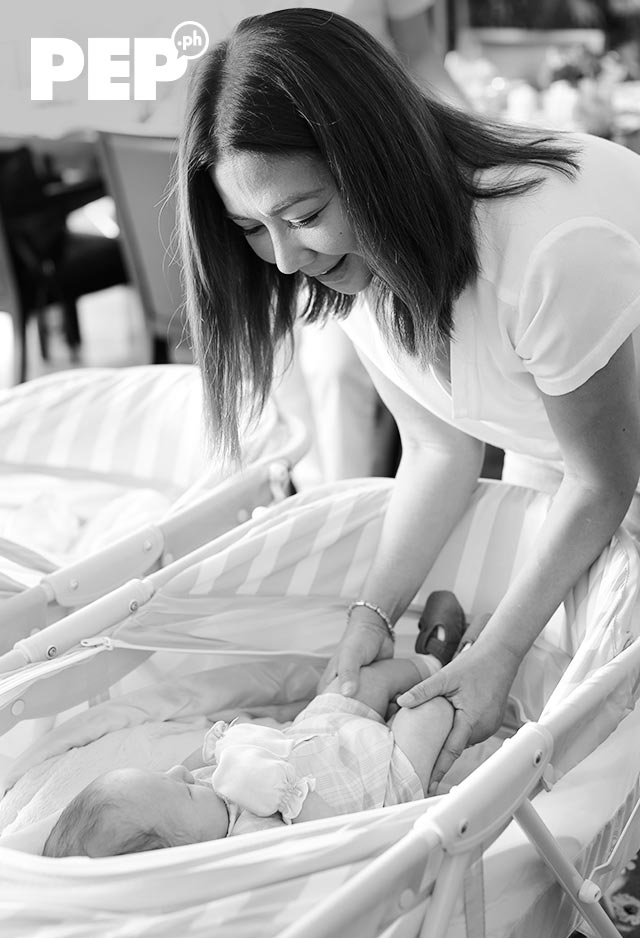 "He is like black or white. He is like feed me or else. So gano'n. 'Okay, it's time to eat, okay, I want it now.'
"Pilar will wait even if she is hungry. Hindi pa siya iiyak agad. She will wait as long as you entertain her, she will wait. Put a pacifier, she will fall asleep. Even if it's time for her feeding."
Up close, Pepe has tisoy features, and Pilar is like a doll. Both have black-gray eyes and, as everyone in the PEP team remarked, "Ang tangos ng ilong!"
WHAT IT IS LIKE TO BE A MOM IN HER 50s
Some studies suggest that women who become moms at the latter stage of their lives are more patient and more emotionally ready. Can Korina say the same thing about her?
"I do my own studies. There hasn't really been an episode where talagang taranta ako.
"And if you ask my mother-in-law, she would tell you that I'm very fast, I'm very confident as a mom. Maybe being more than 50 years old does that to you, especially that I'm very hands-on.
"I'm very ma-research and I'm observant, so I guess that led a lot to the confidence."
Maturity, she said, has made her appreciate two things: clarity and calmness.
Korina was 21 when she joined ABS-CBN's news and public affairs, and, for 15 years, an anchor of the primetime newscast TV Patrol.
or the most part of her career, she was doing at least two shows on television.
She said, "When I started working, I never really thought that I wouldn't be married by the time I was 30.
"But it was very important to me that he was the right one for me, and if it wasn't right, it was not a priority because I was self-sufficient.
"I was then whole all by myself. I had a flourishing career, and I was enjoying it a lot. I was travelling a lot.
"I was also helping my brothers because, well, I lost both my parents."
Korina lost her dad Ramon Sr. and her mom Celia in 2004. She has three brothers; namely, Milano, E.G., and Mickey.
The Kapamilya host continued, "Panata ko sa mga magulang ko, itataguyod ko ang pamilya ko. So nakasuporta din ako sa lahat ng pamangkin ko. I mean they earn enough, it's just that I want them to have a good enough life.
"So, for the luxuries, ako 'yon.
"So parang hindi ko hinanap. And then nagkaroon naman ako ng dogs.
"But all my staff know if I'm in a bad mood, they'll bring one of their children to our meeting, and alam nila, okay na ang mood ko.
"So I was really bound to be a mother."
Her fear as a parent is not being able to see the twins grow.
But, she underlined, she and Mar, 61, do not want to feel restricted, in any way, by their age.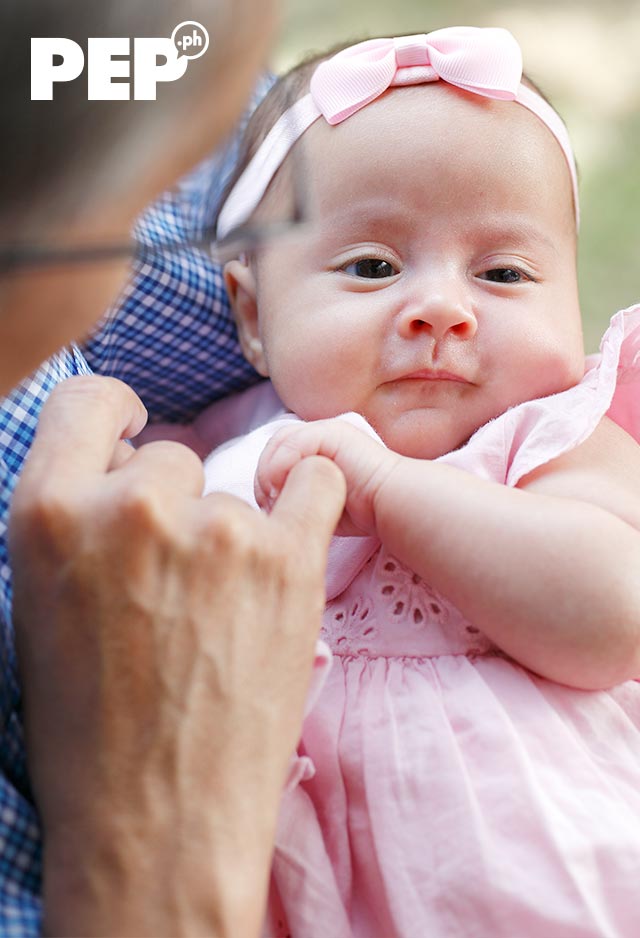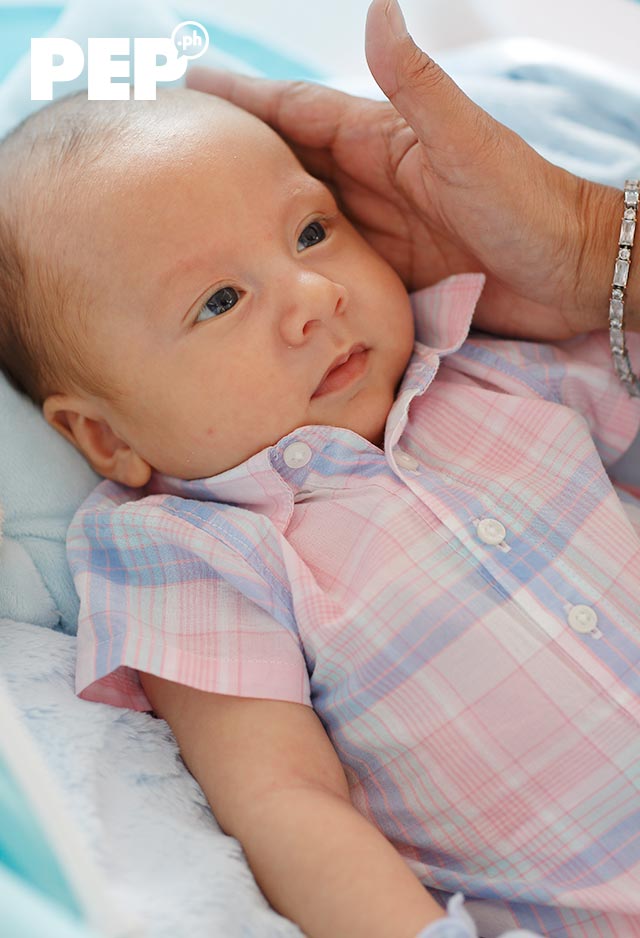 "I think it's unspoken, but it's logical that some parents who are well in their years like us, more the middle-aged, we, of course, we're always worried about living long enough for the kids, but you can't be debilitated by that, right?
"I think that's looking at the glass half empty rather than half full.
"There are many benefits to starting parenthood at this age, and it also helps us be more cautious of health and wellness and fitness, but we've always been, to begin with.
"I think that's the reason why malakas ang loob namin to start because we feel strong, we're healthy.
"We pray that we are kept this way, but it also takes a lot of participation from us.
"So as I said, these kids will help us live to be a hundred and twenty years old.
"But everything is also in place, we talked to our nephews and nieces and tell them, 'Hey, you know what, later on, you have to carry on for us,' and that's why we want to spend all our time with the kids as much as possible."
Where does she get her energy?
"You know in Pittsburgh, sumuko na yung dalawa kong caregivers, ako, gising ako, 36 hours. Sanay siguro. And honestly, minsan, ayokong kumurap. Kakagigil," she said laughing.