Remember the Singaporean socialite whose Hermes collection is one of the largest in the world?
Well, she is now one of Scarlet Snow Belo's new playmates!
Jamie Chua recently visited the Philippines to attend a friend's wedding.
During her stay, Jamie met with Dra. Vicki Belo and the latter's daughter Scarlet Snow.
The lifestyle vlogger announced on Instagram, "Meet my new play date @scarletsnowbelo! now we can eat candies and play dress up all night!"
In the comments section, Scarlet Snow asked, "Will you lend your bags too?"
Jamie replied, "only if you'd lend me yours as well"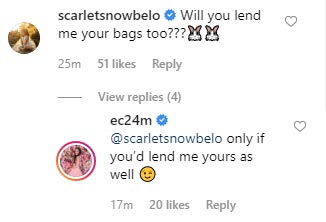 What happened was, Vicki hosted a surprise dinner party for Jamie.
The Singaporean socialite said, "I am so honoured to meet the beautiful and elegant @victoria_belo and to arrive at a surprise dinner party in the dreamiest venue.
"Fresh flowers adorned the entrance from ceiling to table to lamps, it wouldn't be possible to describe how touched I was to receive such hospitality on our first meeting.
"Meeting all of you wonderful people in my life's journey truly added to priceless memories that made my trip unforgettable.
"Thank you so much for the warmth and love Victoria!"
That wasn't the first time Jamie met some of our local personalities.
Early this year, Heart Evangelista had an afternoon tea with Jamie in Singapore.