James Reid loves taking photos, but rarely takes them for social media.
The Kapamilya actor always brings his camera, and uses it to capture moments and memories especially during his travels.
"I never had formal training in photography. I just learned online. The best way to learn is to just go through every mode and test out every setting. That's really how I learned. But I would really love to learn more," said James to the press in a previous interview.
He recalled the first photos he took as a rookie photographer were the landscapes in and around Lake Tahoe.
Part of the ABS-CBN telesersye On The Wings of Love (2015) was shot in this tourist spot straddling the states of Nevada and California in the United States.
It starred James and Nadine Lustre, his screen partner turned girlfriend.
According to the actor, "She was my first model actually, in Lake Tahoe, she was my subject."
"It's of Nadine, my first photos in Lake Tahoe... sunset... pink behind, covered in snow, and the caption I wrote was 'Stunning!' and this was before we got together."
This photo of Nadine on James Reid's Instagram account has reached 140,834 likes since it was posted on January 28, 2016.
His Instagram account has over 5.1 million followers.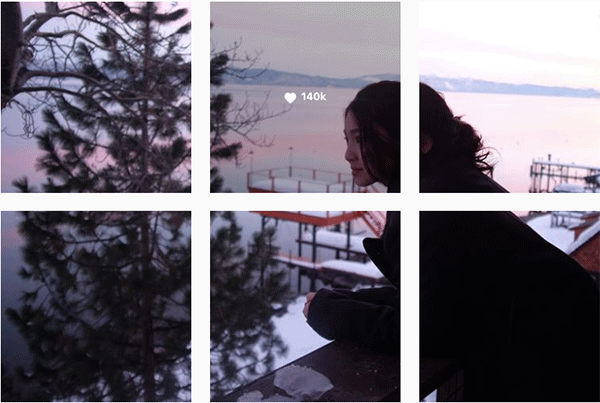 An ambassador of Fujifilm X-T30, a new camera known as The Little Giant, James was asked at the launch of the brand for some tips on how to pose like a celebrity.
He said his style was first inspired by Hollywood actor James Dean who was best known for the iconic movie, Rebel Without a Cause (1955).
James posted this photo of his idol, and wrote in the caption, "We all wanna live forever or be forever young. He managed to do both."
His pose here was akin to one of the American actor's smoking photos.
The VIVA leading man continued, "He used to be my idol. When I was 21, I was all about James Dean."
But now, "It's my own style, I don't know how to describe it, just candid, being me."
In another interview, he underlined, "I'm not really too comfortable looking at the camera, unless, of course, I'm like acting."
JAMES AND HIS FAVORITE SUBJECT
He said the real pro on poses and being all celebrity-like is his girlfriend Nadine.
The 26-year-old actor beamed, "She is an expert... knows how to use her body in front of the camera.
"Honestly, she doesn't have bad angles, she can't go wrong. Nadine is very at good composing.
"You'll notice she doesn't have many candid shots, it's not like posing na annoying, she is classy."
James shared that Nadine has been both his photographer and model.
In fact, the vacation photos that he posted on his Instagram recently were taken by her.
The blue waters and lush foliage of El Nido, Palawan, served as the backdrop.
His caption read, "Thank you for this gift of life love and beauty. #HappyBirthdayEveryone"
James celebrated his 26th birthday on May 11, but the post was dated May 26, 2019.
James's favorite photo in his Instagram account is actually of Nadine.
He volunteered that, when taking shots, he puts the setting in aperture mode and spends time exploring with its focus and depth.
He has lately been using the X-T30, and said, "It's a lot faster as I take photos, you get it straight to phone and can post to social media and the video quality is pro-grade.
"It's a step up from previous cameras in terms of speed; the video auto-focus...really amazing, really quick."
During the interview, he said, "I think she is my IG girlfriend. She takes my photos, but it's always candid because I don't like posing."
IS JAMES NADINE'S INSTAGRAM BOYFRIEND?
Does that make him Nadine's Instagram boyfriend, who, according to Urban Dictionary, "would go to ends of the earth to get the perfect instagram picture for his girlfriend."
He quickly shook his head.
Even if he likes taking photos, and has his camera with him whenever he and his squad are out-of-town or out-of-the-country, James demurred, "IG boyfriend? No, I am not that kind of boyfriend, because I have Ands, he is a much better photographer."
He was referring to their common friend and collaborator Andrei Suleik.
In a previous interview, he said, "I like spontaneity when taking pictures. The more candid, the better.
"And the moment simply calls for it, and it's not like I'm taking it, thinking, 'This is for her IG, it has to be perfect. No.
"Most of the time, I just feel like taking it. So if you notice, a lot of them were taken from the back."
Here, James took a photo of Nadine while she was taking a photo the American landmark and cultural icon Hollywood Sign.
Here's another back shot.
Some, however, made it to Nadine's feed.
This was taken in Siargao, where the couple spent their third anniversary in February 2019.
Here's another one.
Another reason he has a few photos on Nadine's Instagram feed: "Nadine gets really self-conscious if it's me. There are a lot of photos I don't post, mostly of her."
JAMES LIKES LANDSCAPES, TOO!
Browsing through his Instagram feed, it is peppered with breathtaking shots of "really candid moments."
Here's his photo of New York City's Empire State Building, which has a roof height of 1,250 feet. If we include the antenna, it is 1,454 feet tall.
James captured the rocky mountain peaks of Banff National Park of Canada in three photos. This was the middle frame. Too bad, his feed did not show the park's turquoise glacial lakes.
In the Philippines, James has captured the quaint landscape of Sagada in the Mountain Province, "There is no view like that," and the Hundred Islands in Pangasinan that he calls a "small El Nido."