All eyes are focused on Vico Sotto as Pasig City's newly-elected mayor.
The "millennial politician" assumed office on July 1, Monday, after winning the May 2019 elections against former Mayor Bobby Eusebio.
Vico's landslide victory has been likened to the story of David and Goliath as the Eusebio name had held the Pasig mayoralty for 27 years before now.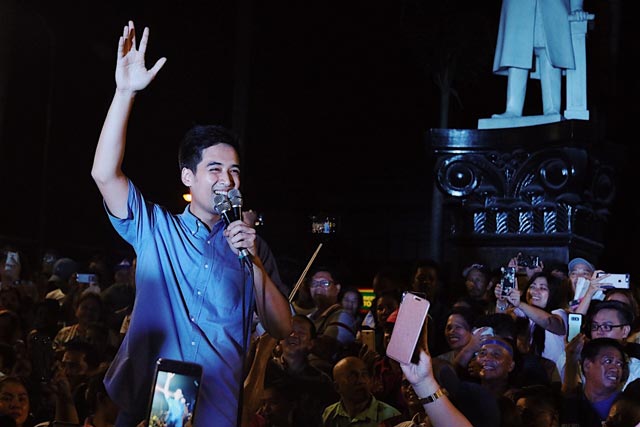 Even before his win, Vico has been earning positive remarks from netizens all over the country and not just from Pasig City residents.
Aside from his "change platform," he has been adored by many on social media for his fun personality—something that he seemed to have inherited from his father.
Vico, 30, is the son of actress Coney Reyes with Eat Bulaga host Vic Sotto.
He has four paternal siblings: Oyo, 35, and Danica, 36, whose mother is Dina Bonnevie; Paulina, 26, whose mom is Angela Luz; and Talitha, 1, whose mom is Pauleen Luna.
Vico also has two maternal siblings, namely: Lawrence Anthony "L.A" and Carla Mumar.
PEP.ph (Philippine Entertainment Portal) scoured through his social media pages and compiled some of the most adorable childhood photos he posted online.
Vico usually posts throwback photos every time he greets his parents on special occasions.
Last June 16, he greeted his dad on Father's Day with an old photo showing Vico in diapers.
He wrote, "Happy Father's Day to all the dads! Thank you, Papa, for always keeping your children first. I'm blessed to have a dad like you."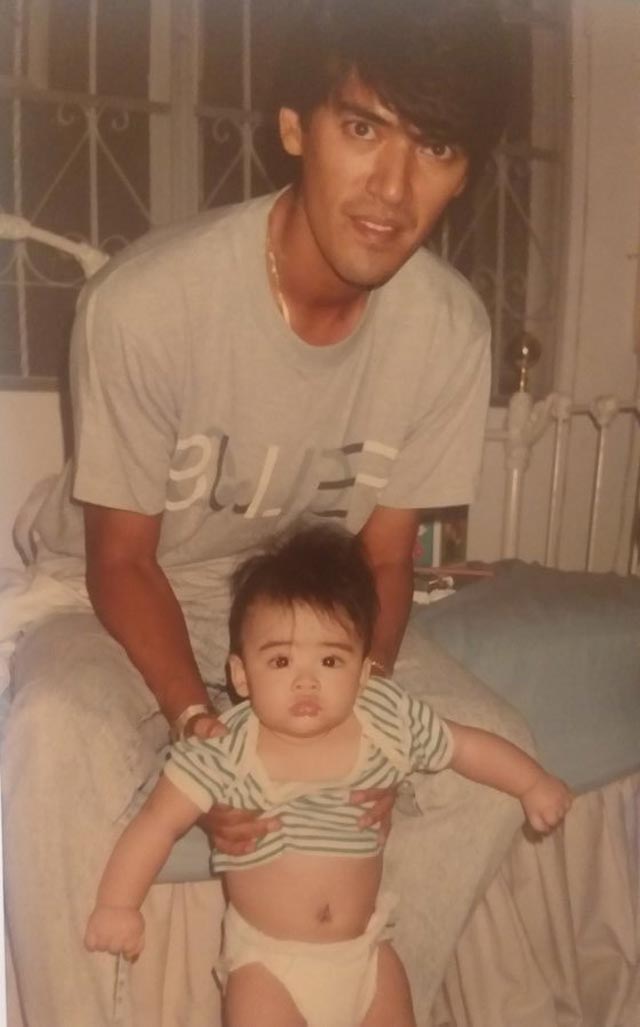 On May 27, 2016, Vico sent his mom a birthday greeting and uploaded studio photos of them, with him wearing a tie and somewhat strange facial expressions.
His caption explained his dilemma, "Happy birthday Mama! I love you! [Emojis] Look at our very comfortable smiles courtesy of: Dulcolax"
For those who don't know, Dulcolax is a medicine brand for constipation.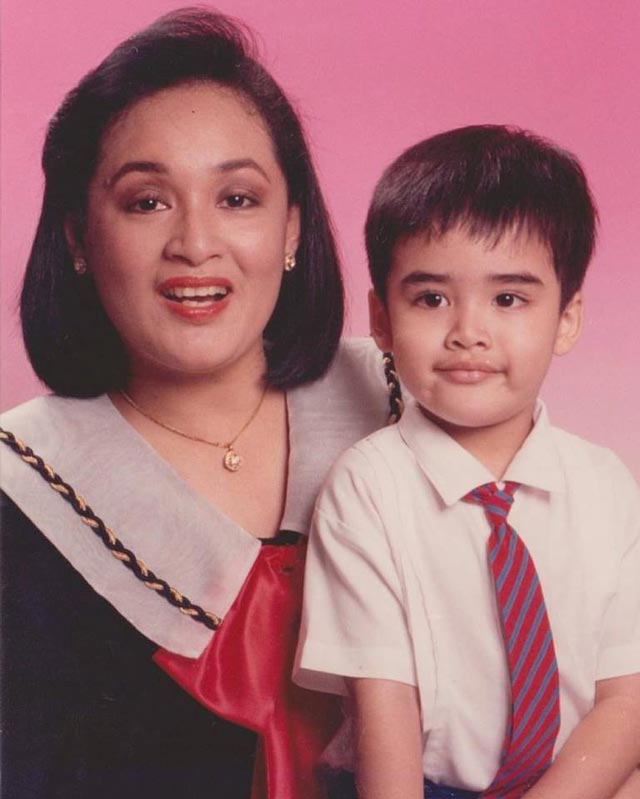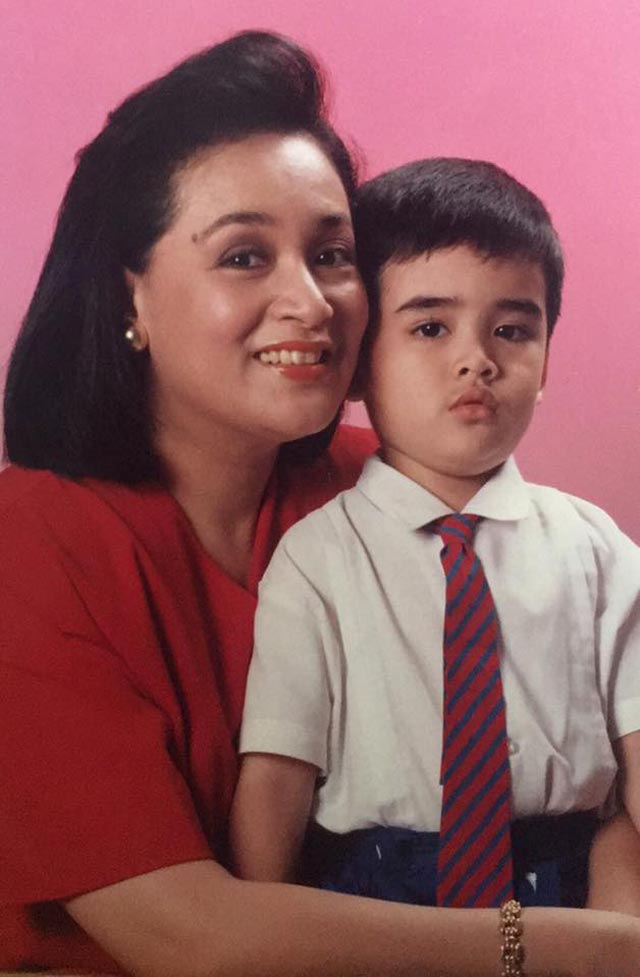 Vico's throwback posts on Facebook usually receive comments about his resemblance to his parents.
Many think he is a spitting image of his father.
In September 2018, he posted a throwback photo of his first-ever acting stint.
Vico revealed that he starred in a play when he was younger alongside Joey De Leon's son Jio and GMA-7 actress Janine Gutierrez.
He wrote in the caption, "Play namin nung Kinder - classmates included my kinakapatid, Jio de Leon and now Victor Magtanggol star Janine Gutierrez. After this project, I quit showbiz. Hehe"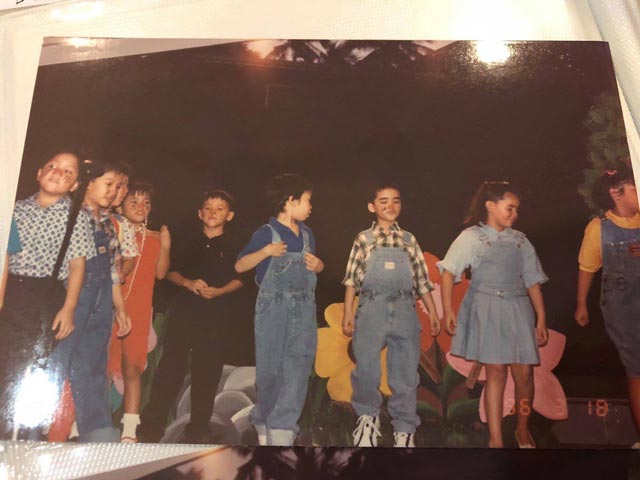 VICO SOTTO: MILLENNIAL POLITICIAN
In a Facebook post on March 20, 2016, Vico revealed that it was his maternal brother LA who inspired him to pursue this dream.
Vico wrote a lengthy post about this in his birthday greeting to his brother.
He revealed,"Why did I become interested in government service?
"The man in this picture is one of the biggest reasons.
"Kuya LA is my role model. Growing up, I would always just copy everything about him.
"My jeans were baggy, the only sport I cared about was basketball, and I became semi-kalbo.
"And it was through Kuya that I was first exposed to the ideas of GOVERNANCE and POLITICS.
"He would get home from class and teach me what he learned that day.
"I distinctly remember him teaching me the difference between jus soli and jus sanguini when I was around 9 years old.
"When I was 10, he gave me a copy of the 1987 Constitution and he would assign certain Articles for me to read, then he'd quiz me before I went to bed at night.
"11 years my senior, he treated me like his little brother, BUT HE NEVER EVER UNDERESTIMATED ME.
"He would talk to me about things that I didn't even understand and he would always challenge me to learn more and do better.
"That's also how he leads others, even his players now (he coaches the miracle LPU Juniors team) – he not only trains them but he empowers them.
"He has given many, including me, a boost in confidence because of how he believes in us.
"Kuy, thank you for seeing my potential and for allowing God to use you to mold me as a person.
"You are one of the biggest reasons why I am the way I am today."
In previous interviews, Vic and Coney said their son has always been interested in working for the government, but not necessarily to become a politician.
His passion for good and honest governance continued through college. He earned his degree in Political Science at the Ateneo de Manila University.
In 2016, he decided to go back to school and earn his master's degree in Public Administration at the Ateneo School of Government.
In the same year, Vico officially entered politics and became the youngest councilor in Pasig City.
VICO SOTTO: GROWING UP
Vico was only a few months old when his parents split up in 1990. But the young politician has remained close to both his parents.
In his interview with Karen Davila for ANC last April 2, Vico opened up about how he was able to remain grounded growing up with a single mom.
He narrated, "I would have to give a lot of credit to my mom, kasi I grew up with her.
"I'm close now to my dad especially as I've gotten older, but yung mom ko talaga, she made sure I was grounded and she made sure I had multiple anchors, so to speak.
"Pastor in church who mentored me, and then, as I graduated from college, mentors from civil society.
"So yung pinagkukuhanan ko po ng lakas at kaalaman, multiple perspective, so I think that's what really keeps me grounded and it's what keeps me honest as I enter politics."
The Pasig City mayor has also remained grateful to his father.
Vico said, "My dad is very good. He's been a great father to me.
"He's been a great father to me, even if we don't spend a lot of time with each other especially growing up.
"I would see him maybe once a week, but he made sure to see me at least once a week.
"So, I would have to thank him for that."
In a 2011 interview with PEP.ph (Philippine Entertainment Portal), Coney affirmed that Vic always made time to bond with their son.
She said, "Pero in fairness naman kay Vic, he has also done a lot for Vico.
"One thing, he makes time with Vico. Talagang meron silang weekly date. Meron talaga silang time.
"He comes over sa house. They have dinner. Basta he's in town, ganoon sila.
"In fairness, ha, we know that Vic is always there naman for Vico, for us."
In a separate interview with Inquirer.net, Vico did attribute his funny personality to his dad.
He said, "I am a good mix of both my parents, although a lot of my personality comes from my dad.
"I grew up with my mom and she made sure to teach me to love and fear God.
"Everything else is secondary."
For her part, Coney told Inquirer.net, "I would like to think that Vico is a happy blend of Vic's and my good qualities.
"He is a better version of Vic and myself. Salamat sa Diyos!"