A lot of married couples seem to underestimate the value of sex when in fact, it's one of the key factors in ensuring a successful marriage.
Having loaded schedules or simply "not being in the mood" isn't a valid excuse to just sleep through the night instead of romancing your partner.
When this happens, you will find yourselves quarreling with each other more often or becoming more distant because of a lack of a genuine emotional connection.
IS SEX GOOD FOR YOUR MARRIAGE?
In an exclusive interview with PEP.ph (Philippine Entertainment Portal), renowned psychologist and sex therapist Dr. Margie Holmes explains how the lack of intimacy among married couples can lead to fallout or separation.
The interview was done during the launch of her HOOQ streaming series Sex Talks with Dr. Holmes on July 24, 2019.
According to the sex therapist, lovemaking bonds you and your spouse in ways that no words or other experiences can.
She expounds, "Because among other things, you have to say so much and share so much through sex, through your body, that you cannot say through words."
She also says that during sex, it is your unconscious mind that's working instead of your conscious mind.
The unconscious mind, according to psychologytoday.com, "is where much of the mind's work gets done; it's the repository of automatic skills, the source of stored and often repressed memories of traumatic experiences, intuition, fantasy and dreams, and an engine of information processing."
Therefore, you and your spouse are in your truest, most vulnerable selves when you are having sex.
Dr. Holmes adds, "It's nice that sometimes, your unconscious mind can bypass the conscious.
"Kasi [sa] conscious, puwedeng magbolahan, hindi ba?"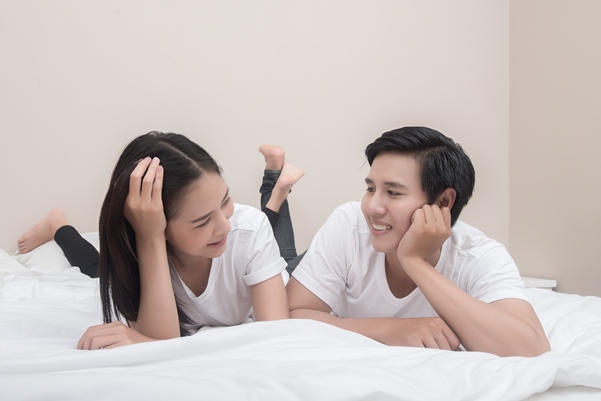 WHY DOES SEX MAKE YOU HAPPY?
Aside from building stable chemistry between you and your spouse, sex can actually make you happier—regardless if the experience was good or bad.
Psychologytoday.com discusses how this was proven true through the research done by Matthew Killingsworth and Daniel Gilbert published on the website ScienceMag.org.
According to their study and Psychology Today, "Happiness arises when we are fully engaged in the experiences of our bodies in the present moment; when our attention is completely filled up with our body sense (embodied self-awareness)."
And, as you may know, your mind and body are fully focused during sex because it "creates powerful surges of physiological arousal (warmth, blood flow, heart rate increases, excitement, tingling, throbbing, body hunger, and the like)."
So whether it was amazing or just so-so, it will contribute to your happiness because you were fully engaged in the activity.

The study explains, "Happiness [is] higher when people [are] more fully engaged regardless of activity: the type of activity did not matter as much as being focused on one's embodied experience of doing it without being interrupted by distracting thoughts."
Of course, sexual satisfaction helps sustain every relationship.
Psychological Science published the results of the studies of Florida-based psychologist Andrea Meltzer, who uses newly married coouples as subject.
It stated, "Our research shows that sexual satisfaction remains elevated 48 hours after sex. And people with a stronger sexual afterglow—that is, people who report a higher level of sexual satisfaction 48 hours after sex—report higher levels of relationship satisfaction several months later."
Besides strengthening your bond as a couple and making you a more optimistic individual, making love with your spouse on a regular basis can build a better home for your family.
In an article published by the New York Times, researchers from Ohio State say that a successful marriage is based on three things: sexual intimacy, commitment, and generosity.
When you prioritize your alone time and ''sexy time'' with your spouse, you are able to satisfy one of your needs as a couple.
This, in turn, will help you function better as a team in raising lively, healthy children
Dr. Phil McGraw also discusses this in a video uploaded on the Oprah Winfrey Show YouTube channel on April 22, 2015.
According to the relationship guru, it's not right for married couples to stop being a lover to their spouse as soon as they have kids.
He explains, "If you have a good sexual relationship, it's about ten percent [of the relationship] because you enjoy it and you go on to the other aspects of the relationship.
"But if you don't, it's 90 percent because it becomes a big barrier between you."

HOW TO SAVE A SEXLESS MARRIAGE?
Dr. Holmes tells PEP.ph that spicing up your marriage can be hard but doable if you and your spouse have built trust in your relationship.
She also recommends that you, as an individual, must know how to be predictable and exciting at the same time.
"You need a little predictability," she says.
In that way, it would be easy for your spouse to do things—in bed or in the relationship—that would please you.
Dr. Margie adds, "But to be excited, there must be a question of the chase, a question of excitement.
''Will he or won't he? Will I or won't I?"
She also says that the best advice she can give about sex is also "the best advice about life."
"Know yourself para hindi ka mapapahiya.
"If you know this, first of all, you don't have to be embarrassed about your background.
"And if you know things, you can change it if you like.
"As we psychologists say, know your unconscious.
"Know what's going on, what's driving you.
"It will be the one that keeps you driving forever."
Marriage.com put it this way, "Sex and marriage go hand in hand...intimacy enhances long-term relationships. Sex does not have to happen with any specific measure of frequency or abundance necessarily; but the more it happens, the more it enhances a relationship, and the better you both feel. By this logic, it would stand to reason that a complete lack of physical intimacy would be detracting from the relationship—just as a lack of icing detracts from a cupcake."
Intimacy is among the few things you will share ONLY with your wife or partner. Hence it increases level of commitment; it is crucial in partner bonding; it is an affirmation of how important you are to each other.
Lastly, to have sex regularly can make you live longer, and have better heart health.