Over the last few days, #AldenPautang became a trending topic on Twitter.
This was after a photo of GMA-7 actor and certified box-office star Alden Richards, taken with his new gaming rig and streaming setup, went viral on social media.
A rig, in gaming circles, refers to a personal computer. For somebody of Alden's caliber, however, the rig is, not surprisingly, a bit more special.
Well-known PC modder Mark Van Acosta, owner of Declassified Systems and Arcadia Internet Cafe, was behind Alden's custom-made gaming rig, which Mark named "Azure" and set up in Alden's Quezon City abode.
In a phone interview with PEP.ph (Philippine Entertainment Portal), Mark said it was actually Paulo Avelino who referred him to Alden. Mark said Paulo also helped him set up Alden's gaming PC.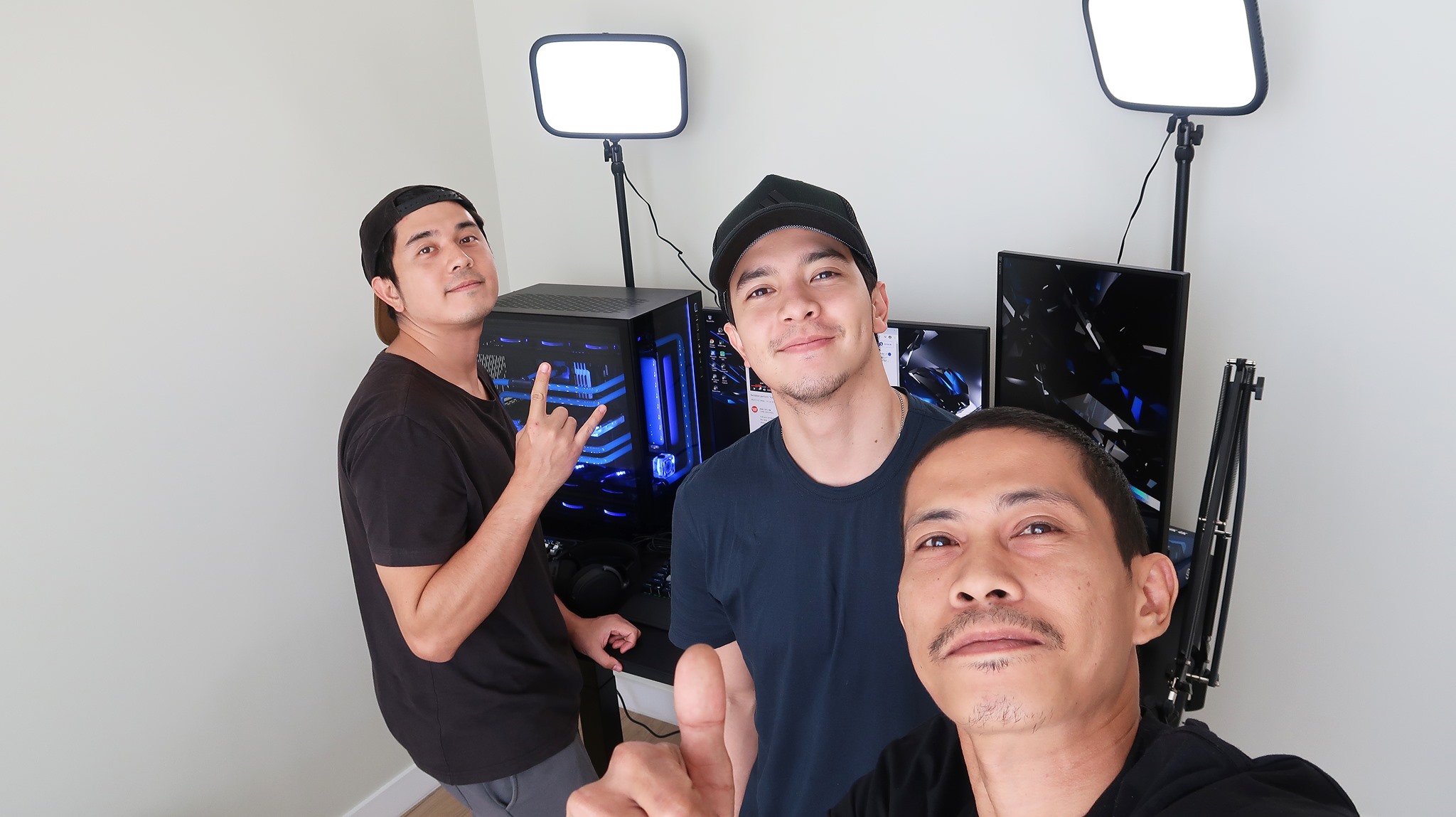 On Tuesday, March 3, Mark gave detailed information on how he built Alden's gaming PC. Mark also uploaded on Facebook some photos of himself with Alden and Paolo, which were taken after Mark had just finalized the setup.
Mark said he was very grateful to both actors, whom he referred to by their real names, writing in his caption: "Big thanks to my client Richard Reyes Faulkerson Jr. most especially to Michael Avelino for the referral and continued support. I can't thank you enough really appreciate it."
Finally, the big reveal.

Mark noted the components of Alden's PC:
i9 9900k,

Asus ROG Maximus XI Hero

Asus 2080 Ti Strix OC

x2 Asus VG279 144hhz Gaming monitor

Asus Thor 850w Platinum

64GB Trident Z RGB3600mhz

1 TB Samsung 970 Evo Plus M.2

2 TB Crucial MX500 SSD

Lian--Li 011 Dynamic XL Black computer case

Logitech G903 mouse

Corsair K70 keyboard

Two boxes of Deepcool 200EX RGB (LED) strips
For Alden's PC, Mark also built a custom water-cooling system, which includes the following:
Barrow CPU block with temperature sensor
Asus 2080 ti RGB water block
Two BlackIce 360 nemesis GTS Radiators
D5 pump
FTW pastel Blue
14mm PETG Tubes
RGB flow indicator
Four boxes of Thermaltake Riing 12 RGB fans.
In his interview with PEP.ph, Mark estimated the price for this setup at PHP350,000.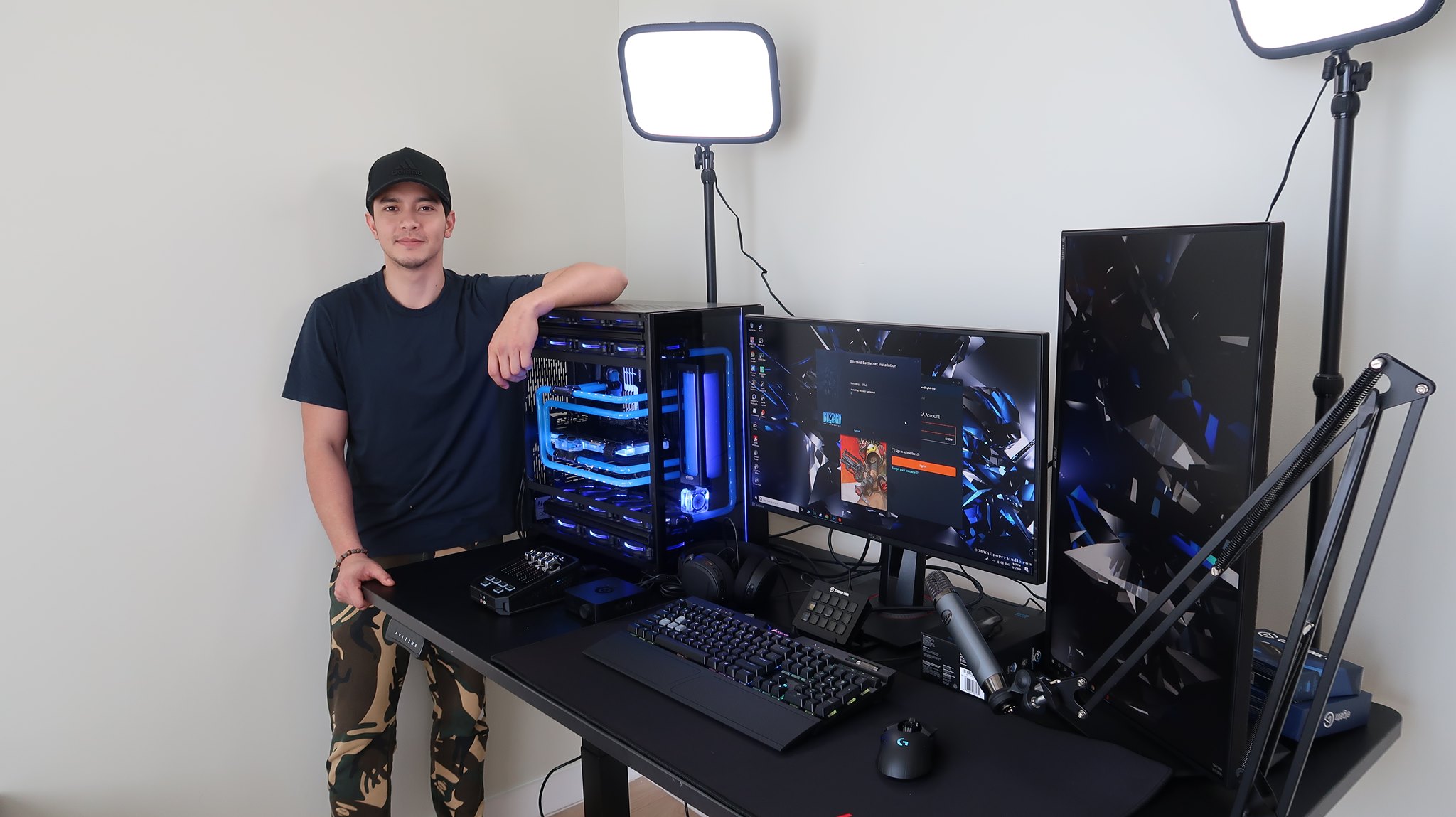 This amount does not include the cost of accessories for Alden's PC, among which are:
Elgato 4kHD Pro capture card

Blue Ember mic

GoXLR Mini audio interface

Herman Miller Embody chair

Elgato keylight

Elgato Stream deck

Flexispot adjustable table.
With all these included, Mark estimated Alden's whole setup coming close to the vicinity of PHP450,000.
Meanwhile, Mark revealed he usually does not accept offers to recreate a certain setup since he only does custom-made PC builds.
According to the Caloocan-based PC modder, prices of a PC setup could go as high as PHP700,000 to PHP1 million, depending on the PC's purpose.

But Mark noted that other gamers can also do a setup with the same specs as Alden's PC for a cheaper price.
Aside from Alden and Paulo, Mark has created custom PC builds for former Ex-Battalion member Mark Maglasang, aka Bosx1ne, and Paulo's girlfriend Jodi Tarasek.
To know more about Mark's work, you can check his official Facebook account and his Facebook page Declassified Systems.