Showbiz celebrities are giving back.

In the time of COVID-19, they are here. Stepping down from their pedestals and making themselves useful in various ways and steps, in their immediate neighborhood, in places far away, with other stars, or alone.
We thank these stars, and all the other volunteers from the world of television and the movies whose names we have yet to put down.
ALDEN RICHARDS
GMA-7 actor Alden Richards has been donating food packs to healthcare workers and to indigent families in Laguna, where he is from.
On April 14, he teamed up with businessman Raymond Ronquillo for the delivery of 1,000 ready-to-eat meals for families affected by the pandemic.
Alden has also been actively spreading awareness about COVID-19 and reminding people through social media about how to protect themselves from the novel coronavirus.
The Kapuso actor has likewise been encouraging his fans and social-media followers to donate to organizations.
On March 20, Laguna Representative Len Alonte thanked Alden on Instagram for sending out food packs to health workers in Biñan City, where the actor had opened a branch of a well-known fast-food restaurant.
MAINE MENDOZA
Maine was one of the first to raise funds for workers affected by the enhanced community quarantine (ECQ).
On March 15, the government implemented the country-wide ECQ and ordered a lockdown as a preventive measure against the spread of COVID-19.
With the lockdown, business establishments are shuttered, classes are canceled, and mass transport suspended to force people to stay home.
This has gravely affected most affected the daily wage earners.
On March 19, Maine quickly began a crowdfunding drive called "DoNation Drive," which appeals for donations to Filipino workers without means of livelihood under the "no work, no pay" policy.
A tweet last March 25 showed Maine's donation drive had so far gathered a total of PHP587,677.92, which was distributed to 587 families through G-Cash.
Maine has also set up a website that informs the public where donations are going.
According to the website, Maine's charity project as of April 5, 2020, has accumulated a total of PHP803,040.88 and has helped around 800 households.
KATHRYN BERNARDO
ABS-CBN actress Kathryn Bernardo spent her 24th birthday last March 26 sending out ready-to-eat meals to indigent families in several places in Quezon City, including barangays Culiat, Old Capitol Hills, Tandang Sora, Malaya, Claro, and Mangga.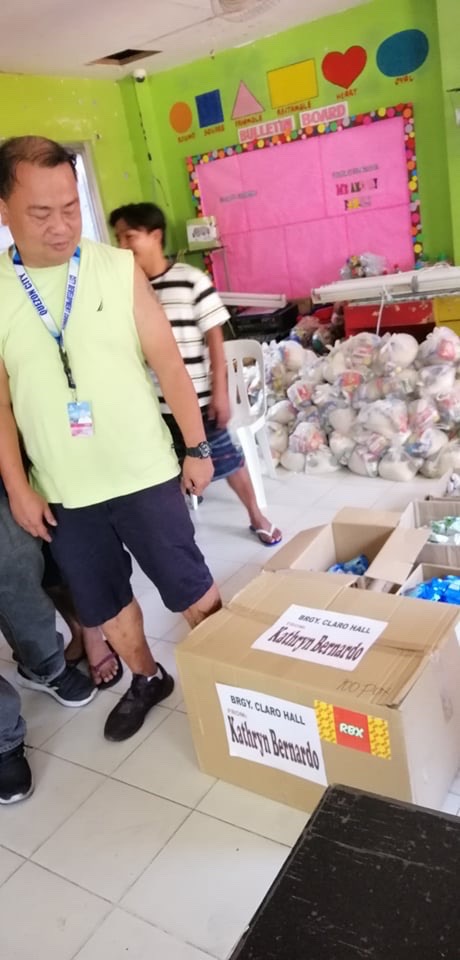 Kathryn also donated medical supplies and ready-to-eat meals to over 2,000 health workers in Metro Manila.
The box-office star's donations were sent to San Lazaro Hospital, Philippine Heart Center, Chinese General Hospital, Perpetual Help Medical Center, San Lazaro Hospital, Quezon City General Hospital, and Rosario Maclang Bautista Hospital.
NADINE LUSTRE
Nadine Lustre has quietly been helping the health workers of the Dr. Jose N. Rodriguez Memorial Hospital and Sanitarium in Caloocan City.
Nadine has sponsored personal protective equipment (PPEs), acrylic boxes, and meals, which were coursed through her aunt Mamel Paguia, Dr. Kissy Jamilarin, and Dr. Mariane Capada of the hospital's OB-GYN Department.
Netizens only came to know of Nadine's efforts through a Facebook post of Mamel last Saturday, April 11.
Mamel wrote, "We appreciate the hard work and services to our communities, may this humble gesture become helpful to the hospital staff!
"Thank you Dr. Kissy Jamilarin and Dra. Mariane Capada of OB-GYN Department for facilitating the distribution
"Thank you so much my lovely niece Nadine for sponsoring their PPEs, acrylic boxes and helping feed the team at DJNRMH. Proud tita here #fightCOVID19"
CLAUDIA, DANI, AND JULIA BARRETTO
Marjorie Barretto's daughters Julia, Dani, and Claudia succeeded in raising PHP600,000 for their charity project #ParaMayBukas.
The sisters embarked on the project in partnership with the WTA Design Studio and Anthology Festival Organization Manila Inc.
In an Instagram post, Claudia said PHP350,000 will go to the on-going construction of the Emergency Quarantine Facility at the Fe Del Mundo Medical Center in Quezon City.
The remaining PHP301,952.22 "will go to the workforce for their meals and PPEs."
Julia, in an Instagram post, also gave an update on the donation, with a note of thanks to everyone who helped in the fund-raising project.
She wrote, "Good news! Our fundraiser #ParaMayBukas has already reached its 600,000PHP goal but because of your generosity and support we ended our fundraiser with more— 651,952.22PHP!!!
"My sisters Dani, Claudia, and I want to thank everyone who took part on this mission.
"This was a success because of all your support and help. We will continue to post updates and progress. Again, thank you very much."
GABBI GARCIA AND KHALIL RAMOS
Gabbi Garcia and Khalil Ramos, along with friends Joshua Dilay, Maqui Castelo, PJ Llantino Tronco, and Nina Santos, have organized a fundraising drive called #PayItForward.
The group's charity project aims to raise PHP300,000 to be used in procuring PPE's and other necessities for health workers of the Pasay City General Hospital and the Ospital ng Parañaque.
As of April 3, Gabbi and Khalil's team has raised a total of PHP210,933.07.
On Tuesday, April 14, Gabbi updated her followers about their charity project. Their group was able to deliver to both hospitals 400 hazmat suits, 200 face shields, 2,400 face masks, and 2,400 sachets of food supplement syrup .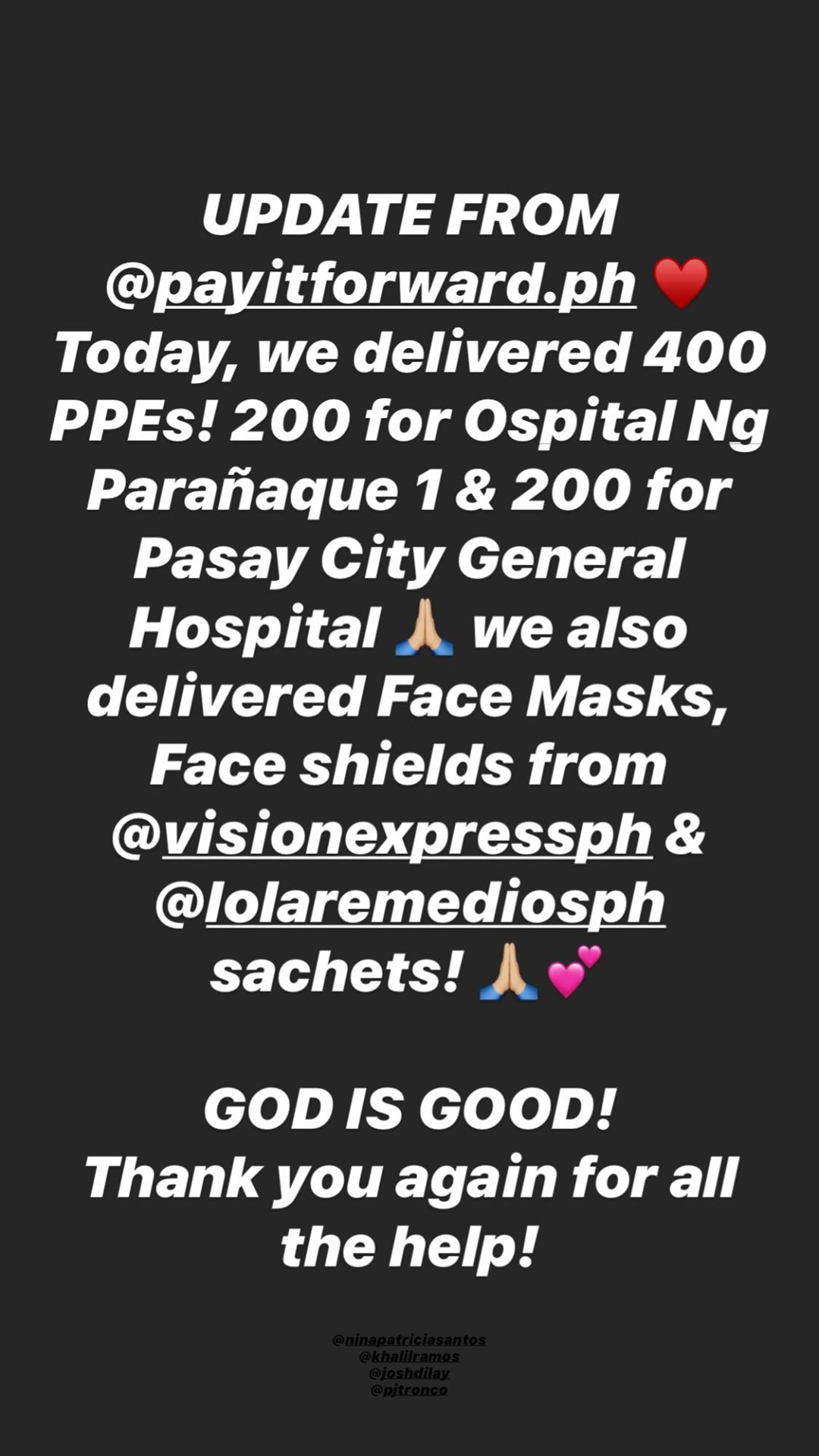 MARIS RACAL
Kapamilya actress Maris Racal helped Agbay Tagum, a non-profit organization (NPO) based in Tagum City, raise PHP600,000.
The money will be used to procure PPEs to be donated to the hospitals in Davao del Norte.

On Twitter, Maris thanked everyone who donated to the cause.
She also encouraged followers to continue sharing what they can so that they can reach more hospitals in her province.
She wrote, "As of April 1, we have already collected more than P600,000.00! Thank you to the donors, this will greatly help our frontliners in Tagum City [thank you emoji]
"But we need more help as we want to reach more hospitals. If you want to help, know that we are still accepting donations."
Maris also shared details abut where people can send their donations.
JANINE GUTIERREZ
GMA-7 actress Janine Gutierrez and her siblings, Lora and Diego, spearheaded a fundraising project called The Bright Side Project through gogetfunding.com.
Part of the donations will be used to buy food and other essentials for the underserved communities in the country.
The donations will be coursed through the Ateneo de Manila University x Tanging Yaman Foundation. Janine is a student at the ADMU.
Part of the fund will also be used to produce PPEs, for which Janine has teamed up with the #BaryaNiJuan initiative, the project of nonprofit organization OneWithFrontliners (OWF). The latter is made up 48 students, who describe themselves on Facebook as "individuals from Taft Avenue."
Janine and her siblings aim to raise PHP350,000, and so far they've raised PHP41,531.
Aside from their gogetfunding.com page, people can send their donations to the following:
BDO Savings Account - Diego Gutierrez 004360135443
GCash Lora Maxine Gutierrez 09999958723
To encourage more donors, Janine is raffling off her Louis Vuitton wallet.
She wrote on their gogetfunding page, "As a thank you, we are giving away a Louis Vuitton wallet to one random donor chosen by automated raffle.
"If you would like to join the giveaway, just e-mail a copy of your P250 minimum deposit transaction to brightside@janinegutierrez.com.
"Recipient will be announced on April 18. We will send the item once the quarantine is lifted. You may join from anywhere in the world but we will only deliver the item to a Philippine address."
RICHARD JUAN
Richard Juan donated medical supplies to nine hospitals around Metro Manila:
Richard ordered protective gear from the same supplier in Hong Kong where he previously bought N95 masks for victims of the Taal volcano eruption last January.
In an Instagram post on April 10, Friday, Richard thanked his team for helping him with his charity project.
He wrote, "Today, I sent out the last batch of medical supplies from HK to the last couple of hospitals on the list, making it a total of 9 hospitals supported by #TeamRichard for this small initiative.
"This experience made me realize that it really is not as easy as it seems to allocate goods in times of crisis.
"There are several things to consider when allocating limited resources, such as urgency, delivery/transportation limitations and many more..."
The actor also aired his thoughts about the scarcity of medical supplies amid the COVID-19 pandemic.
"I want to laud the government officials who are able to maximize their resources, support their communities (and country), be transparent AND accountable with the taxpayers or donation money (for me, I just spent my own money so I didn't have to be accountable to anyone).
"It pains me to know that protective gears are still needed for the frontliners around the country or even the world...but I hope our leaders will be able to work together and allocate supplies accordingly.
"I know this will eventually end somehow, but we will need everyone's support and cooperation!
"I will continue to do my part and support the country in my own ways. and I hope you will too! Let's keep fighting, Philippines!! Let's beat #covid19!"
ROCCO NACINO
A Philippine navy reservist, Kapuso actor Rocco Nacino celebrated his 33rd birthday distributing food and drinks to soldiers manning checkpoints.
Rocco officially turned 33 last March 21.
In an Instagram post on March 24, his girlfriend Melissa Gohing wrote, "On your birthday, you decided to give and make the frontliners smile. @nacinorocco."
The actor, with his business partner Clara Herrera and the #ProjectTiktok group, also donated personal protective equipment for use by frontliners in hospitals and checkpoints.
KIM CHIU
Kim Chiu and her family packed relief goods for 500 families in four barangays in Marikina City.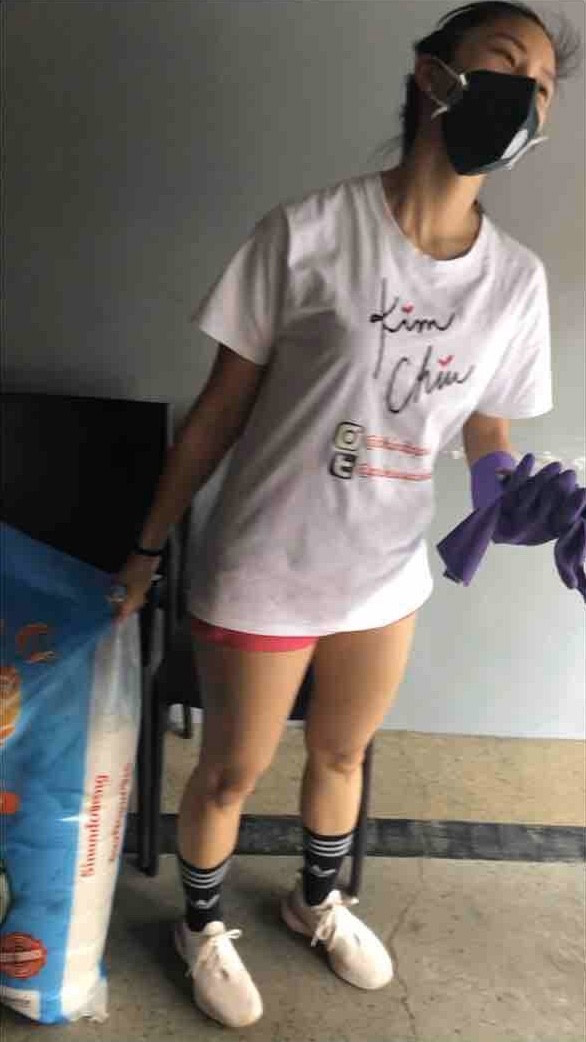 In an Instagram post last March 30, Monday, Kim shared how she was moved to do something to help the poorer communities around her neighborhood.
She wrote, "Nag decide kami dito sa bahay na tumulong kahit papano sa mga kalapit barangay na malapit sa village namin since hindi pwedeng lumayo dahil naka lockdown.
"Natuwa kami na nakabuo kami para sa 500 families.
"Ginawa ko to dahil na inspire ako sa ginawa ng kaibigan ko @guitauc [Guita Confesor] gumawa din sila ng ganito para sa mga pamilya na malapit sa kanila na naapektohan ng community quarantine."
Kim also hopes that her contribution will inspire others to help those in need in whatever way they can.
She continued, "Sana may mainspire din ako and gumawa din ng ganito, we can only do so much para sa mga kapamilya natin, kahit konte kahit paano gumaan man lang ang problema nila sa araw araw.
"Magtulungan tayo! Kakayanin natin to!"
Kim ended her post thanking everyone who helped her with her relief operations.
Kim wrote, "Special thank you buena pamilya @haidzfernandez for helping me buy the grocery since hindi ako pwede bumili sa lugar nila.
"Thank you also sa pagtulong mag repack ng bigas and Thank you @kamchiu at sa mga angels ko sa bahay!
"Thank you din sa mga volunteers na tumulong mag distribute sa mga barangays."
BEA ALONZO
Kapamilya star Bea Alonzo has been busy donating 2,000-plus face masks to healthcare and medical personnel of the Jose Reyes Memorial Hospital in Manila.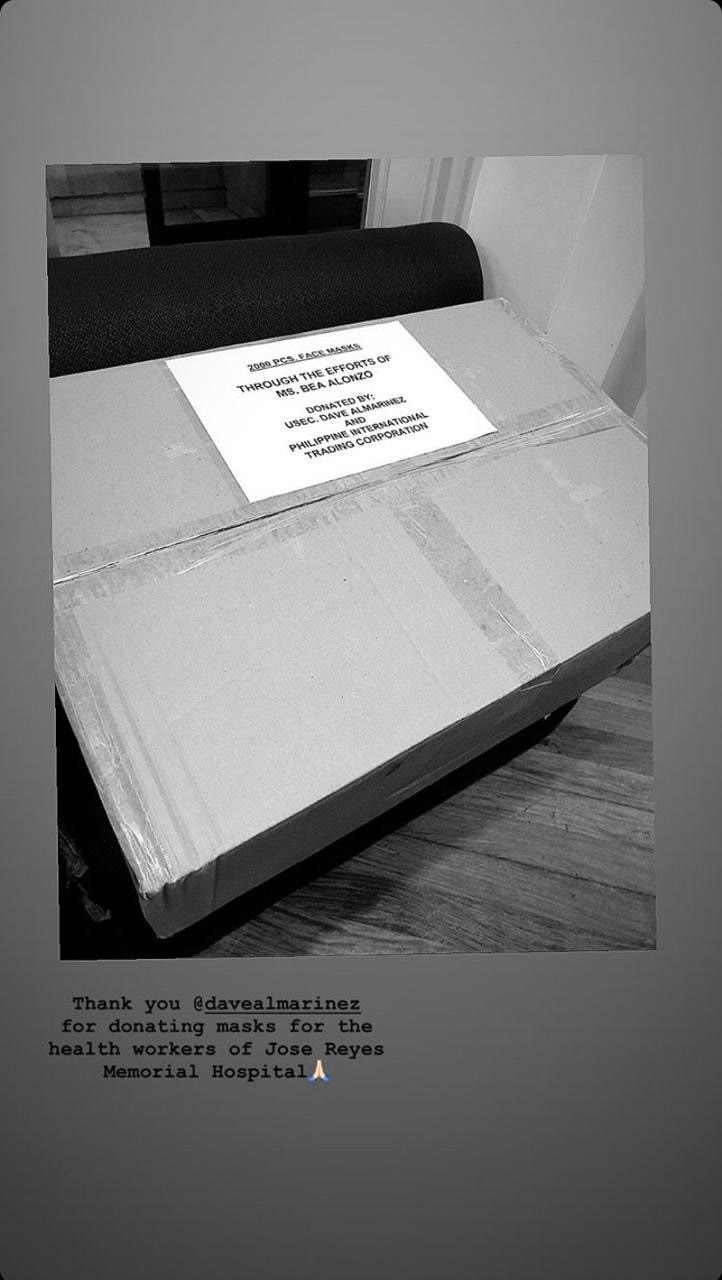 Bea also donated, through her friend Angel Locsin, pillows and folding beds for use by health workers in Taguig.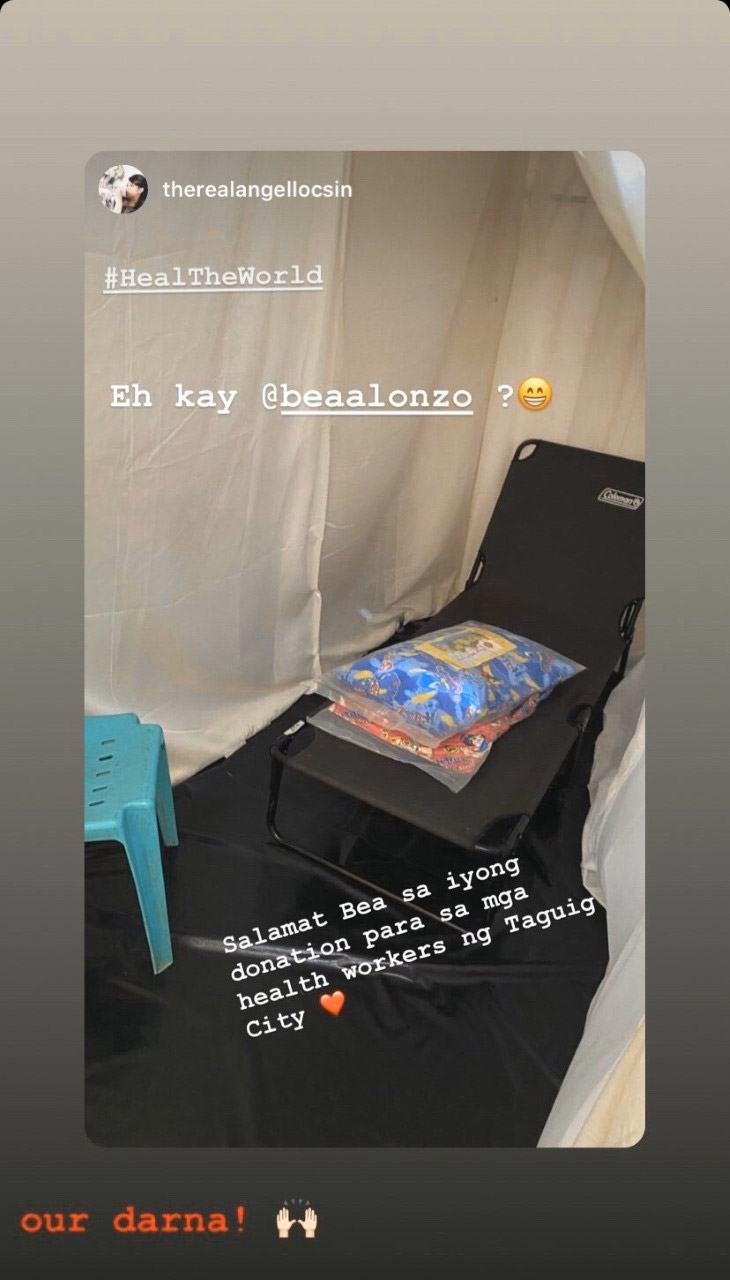 On April 4, Bea, with I Am Hope Organization, donated gallons of ethyl alcohol and do-it-yourself face shields made out of foam, acetate, and rubber for medical professionals.
Last Sunday, April 12, Bea celebrated Easter by making meals for frontliners.
She wrote on Instagram, "For the first time, I tried to cook for one hundred people (but failed), I just ended up doing 98, but that's okay.
"Given the circumstances, I decided not to be hard on myself because the core reason why I cooked in the first place is to give a little joy to our frontliners, and just by doing that, I already felt fulfilled.
"Big thanks also to friends and brands who gave food so we can make our fronliners' day a little lighter."
JANE DE LEON
Last March 20, Friday, Darna star Jane de Leon prepared food packs for the elderly of Barangay Sitio Sibol in Cainta, Rizal.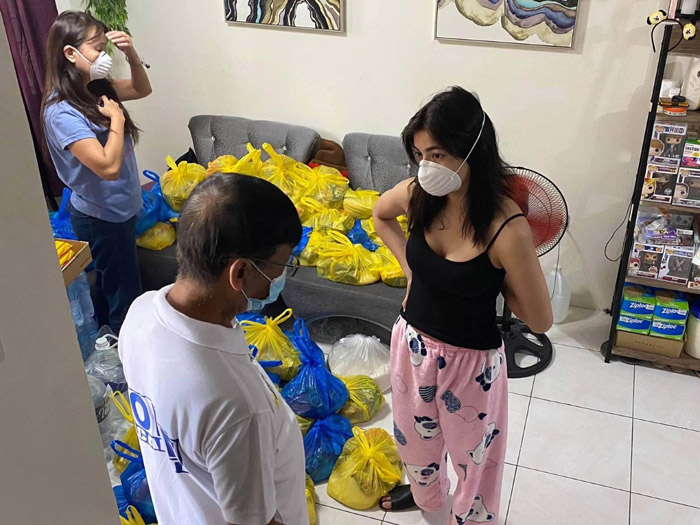 Jane spoke about the experience in an Instagram post on March 21, "Nagpaabot po kami ng aming tulong sa isang barangay that needed help.
"Nakakataba po ng puso na makita silang masaya. I keep on praying na bigyan pa ako ng Panginoon ng sapat na lakas para patuloy na makatulong pa sa mas nakakarami.
"Maraming salamat po...God bless mga Kapamilya."
MAJA SALVADOR, RIA ATAYDE, ALYSSA MUHLACH, ALEXA ILACAD, AND POOH
Kapamilya talents Elisse Joson, Maja Salvador, Ria Atayde, Alexa Ilacad, and Alyssa Muhlack teamed up with comedian Pooh and Vargon Food Service.

They worked on the #FoodForTheFrontliners project, which aims to provide free food for health workers in Metro Manila and nearby cities.
Ria sent out meals for the health workers of FEU Hospital.
Alexa sponsored breakfast meals for frontliners at the Antipolo Doctors Hospital.
Maja sent packed meals to health workers in five hospitals: Las Piñas Doctors Hospital, Las Piñas City Medical Hospital, Ospital ng Parañaque, Parañaque Doctors Hospital and Medical Center Parañaque.
Alyssa sent donations to the Providence Hospital in Quezon City.

ELISSE JOSON AND MICHELLE VITO
Kapamilya stars Elisse Joson and Michelle Vito teamed up to donate lunch meals for medical workers at the Jose Reyes Memorial Medical Center in Manila.
Elisse also sent donations to Pooh's #FoodForTheFrontliners project.
GERALD ANDERSON
Kapamilya actor Gerald Anderson has concentrated his charity projects on soldiers on duty around Metro Manila.
On March 24, Gerald, an Army reservist, personally delivered food and drinks for soldiers assigned at checkpoints in NLEX Valenzuela, on Mindanao Avenue, and along SLEX.
On March 28, Gerald brought food to soldiers stationed at the Ricardo Cruz Sr. Day Care Center in Taguig City.
Gerald has also teamed up with the Philippine Coast Guard to raise funds for the building of an emergency quarantine facility at the Dr. Jose N. Rodriguez Memorial Hospital in Caloocan City.
Last Monday, April 13, the actor helped supervise the construction of the emergency quarantine facility.
The need remains great. At press time, there are over 5,000 laboratory-confirmed cases of COVID-19 in the country.