Hashtags #CancelKorea and #ApologizeToFilipinos became trending topics on Twitter as tension between a group of Filipino and Korean netizens grew to fever pitch over the past few days.
On Sunday, September 6, 2020, Bella Poarch, a U.S.-born Filipino social-media influencer, was rebuked by South Korean netizens for her tattoo.
Her tattoo design incorporates the Rising Sun flag, which is similar to Japan's national flag save for the 16 rays surrounding the red disc.
Bella,19, has over 15 million followers on TikTok, two million followers on Instagram, and more than 16,300 followers on Twitter.
Seeing the furor in the comments column, the internet personality apologized in her post and uploaded a close-up photo of her arm tattoo—a heart with 16 red rays, similar to the controversial Japanese flag.
She wrote, "Here is a photo of my arm tattoo. I love Korea [emoji] I would never do anything to hurt anyone."
why the furor over a TATTOO
South Korean choreographer Kim Noey Mik, who has more than a million followers on TikTok, left this comment: "Didn't you know the meaning of the tattoo? I don't think so."
Bella responded and said, "I was inspired by jhene aiko."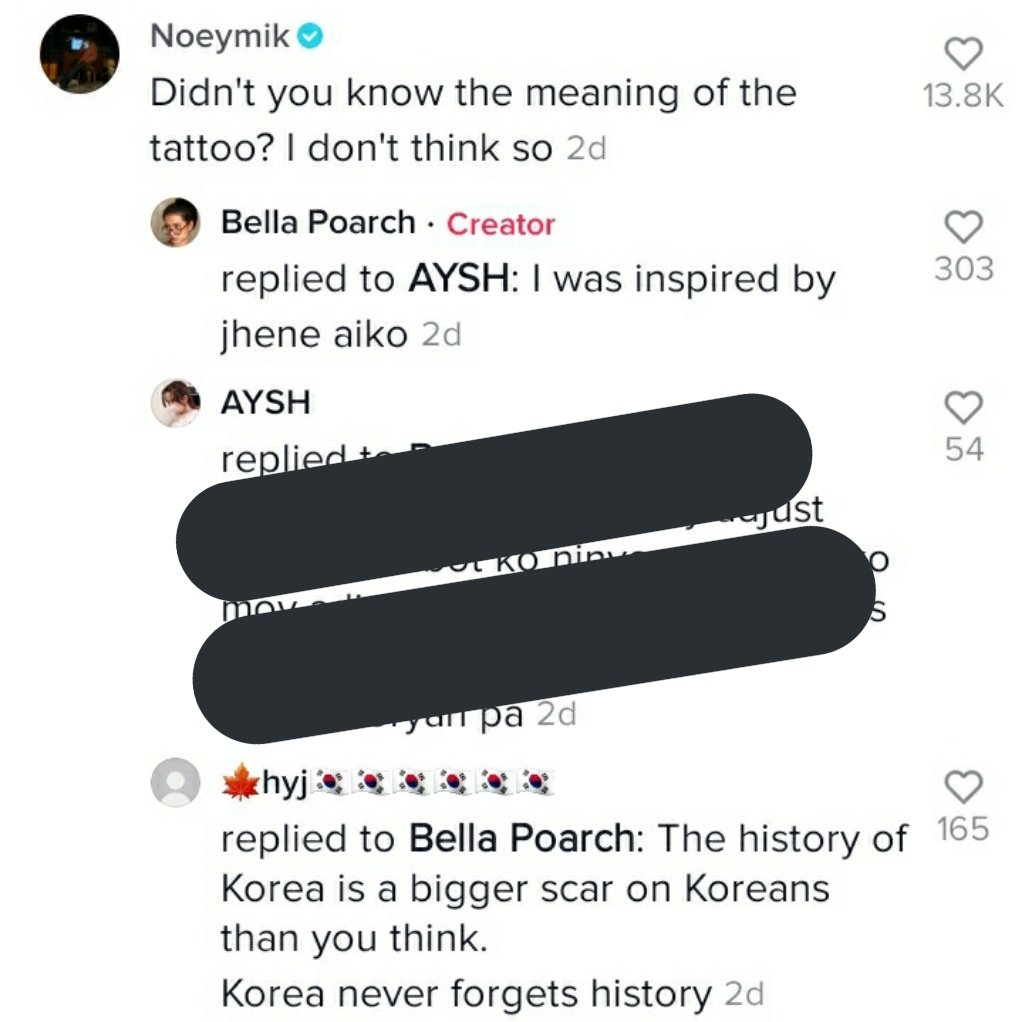 Jhene Aiko is an American singer known for her songs "The Worst" and "While We're Young." She previously had a tattoo of Japan's Rising Sun on her back, but it is now covered with a dragon tattoo.
Bella issued another apology on Twitter explaining that she did not know the dark history of the Rising Sun flag.
She wrote, "I apologize to Koreans because 6 months ago I got a tattoo of the red sun with 16 rays. At that time, I didn't know the history.
"But when I found out, I immediately had it covered and scheduled for removal. I am ashamed of myself for not doing my research. I sincerely apologize."
According to history sites, the Rising Sun flag symbolizes Japan's imperialist expansion to Korea and Manchuria in China during the second world war.
It is also associated with war crimes, oppression, and human-rights abuses committed by the Japanese military incursions.
Korea was under Japanese rule between 1910 and 1945.
In September 2019, South Korea called for a ban on the use of the Rising Sun flag during the Tokyo 2020 Olympics.
In a report by BBC.com, An Min-suk, the head of South Korea's parliamentary committee for sports, said the flag is "akin to a symbol of the devil to Asians and Koreans, just like the swastika is a symbol of Nazis which reminds Europeans of invasion of horror."
Despite pressure from South Korea, Japan continues to use the controversial flag, and is actually the official ensign of the Japanese Navy.
Note that Imperial Japan also used the same flag when it occupied the Philippines from 1942 to 1945.
And just as Koreans suffered, thousands of Filipinos were enslaved, with women forced into sexual slavery by the Japanese military.
An estimated 527,000 Filipinos, out of a wartime population of 17 million, died during the Japanese occupation.
#CancelKorea, #APOLOGIZETOFILIPINOS
South Koreans are understandably very sensitive about the use of the Rising Sun flag.
But what ticked Filipino netizens off were the racist comments made by a number of Korean netizens.
Some called the Philippines a "slave state," while others said Filipinos have "no to little education."
TikTok user MinSeok wrote in the Korean alphabet that Filipinos are "poor people non-educated people short people."
On Tuesday night, September 8, 2020, the hashtags #CancelKorea and #ApologizeToFilipinos climbed to Top 1 and Top 4 spots, respectively.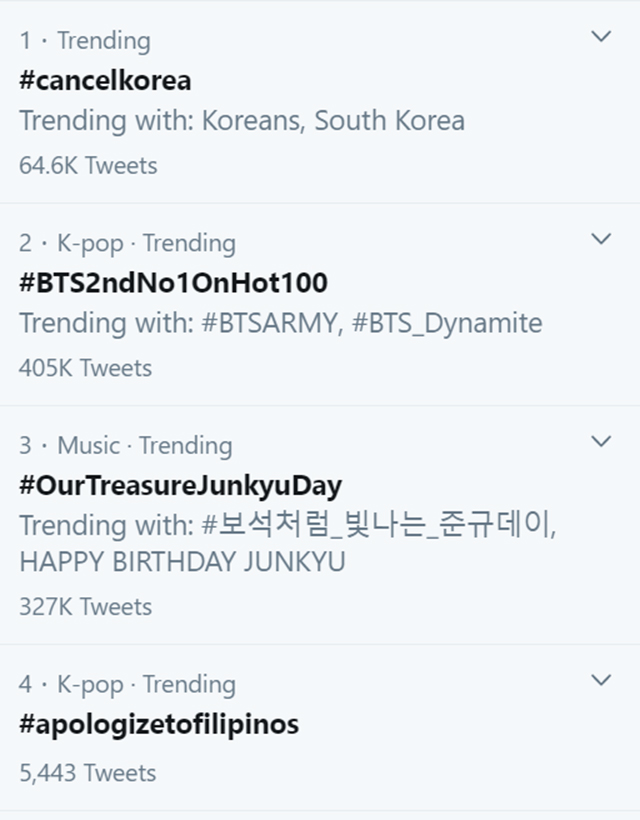 Several Filipino K-pop fans decided to "put down my lightstick and proudly wave our flag" amid the social-media feud between Filipino and South Korean netizens.
Twitter user @shiningstartxt made a point of saying that South Koreans should be thankful for Filipinos' support of K-drama and K-pop.
Published as is: "they really forgot that the philippines is one of the biggest fanbase in asia. the one who help their economy grow, the one who watch their kdramas and the one who support kpop. i guess it's the right time to put down our lightstick and proudly wave our flag. #cancelkorea"
Other Filipino Twitter users brought up xenophobia.
According to TheKoreaHerald.com, a survey conducted in 2019 stated that seven out of ten foreign residents in South Korea claimed they had experienced racial discrimination.
PHILIPPINE AND SOUTH KOREAN FRIENDSHIP
Some drew attention to the fact that the Philippines was the first Asean country that aided South Korea during the invasion of North Korea in 1950.
The Philippines sent 7,240 Filipino soldiers and, together with American forces, helped South Korean troops win the Battle of Miudong, Battle of Yultong, and the epic Battle of Eerie Hill.
On June 16, 2020, to commemorate the 70th anniversary of the battle, President Rodrigo Duterte paid tribute to Filipino soldiers who fought in the Korean War.
Twitter user @SunHoonNiKJay_ wrote (published as is): "Let's bring back history!! The Philippines was the first Asian country that sends combat troops just to protect Korea.
"And now toxic Koreans were saying that Filipinos were poor and uneducated? Take your lightstick down and raise our flag Flag of Philippines #cancelkorea."
Twitter user @akitabaquero posted a photo of his grandfather who was a Korean war veteran.
He tweeted: "This is my Lolo, a Korean war veteran. He was so happy when he visited South Korea again last year and got chance to offer flowers to our fallen heroes. Filipino soldiers died for your country. REMEMBER THAT. Hundred points symbol #cancelkorea"
In a separate post, @akitabaquero continued: "I'm not generalizing all Koreans, I just used the hashtag just to inform other people. #CancelToxicPeople Flag of PhilippinesHandshakeFlag of South Korea Good night! [emoji'"
LESSON LEARNED
Bella hopes that people learn from her mistake.
In a separate tweet, the social-media star wrote, "I live in Hawaii and I see a lot of people using the red rising sun symbol in clothing, cars and jewelry.
"Please educate yourselves and learn more about it because it came from a terrible history. It is very offensive to a lot of people. Please learn from my mistake."
Meanwhile, here's a sample of Bella's TikTok dance.
So I decided to make a dance for this sound & I'm not even good at dancing????
Aspiring idol-group member Lee In Soo used Bella's video for a duet—a function on Tiktok that allows the user to add his/her video to an existing video of another user.
Lee In Soo, who also became a competitor on MNET's reality talent search, Produce 101 Season 2, wore a traditional South Korean attire, but ended his video by hitting the camera with a katana.
Apparently meant to teach Bella a lesson, he wrote in his caption, "The only way to make a #duet with you is like this."
Would that all the sound and fury over this tattoo end on a happy note.
Gusto mo bang lagi kang una sa showbiz news at scoops? Subscribe to our Viber Chatbot here para lagi kang updated, and join our community for more pakulo!