Korean netizens are reaching out to Filipinos to apologize following the tattoo controversy that sparked the viral #CancelKorea and #ApologizeToFilipinos on Twitter.
It all started with a tattoo of the Rising Sun flag of Japan on the arm of Hawaii-based Filipino Bella Poarch, the TikTok-dancing social media influencer.
Many Koreans took offense, and retaliated in the comments section of Bella's post by calling Filipinos "ugly," "short people," and "uneducated people."
Appalled, Filipino netizens countered with the hashtags #CancelKorea and #ApologizeToFilipinos.
A few days after the issue made headlines, many Koreans have apologized, wringing out the hashtag #SorryToFilipinos.
It is now a trending topic on Twitter in South Korea.
Twitter user @jennyyyouare11 wrote: "I'm so sorry to the Filipinos. Here, other Koreans apologize, most Koreans think this is our fault. Most of people love the Philippines so much. The Philippines was the most beautiful country I have ever visited. I couldn't forget the warm smiles and kindness."
The issue has also reached South Korean news outlets. The comments section of the articles were filled with Koreans' messages of apology to Filipinos.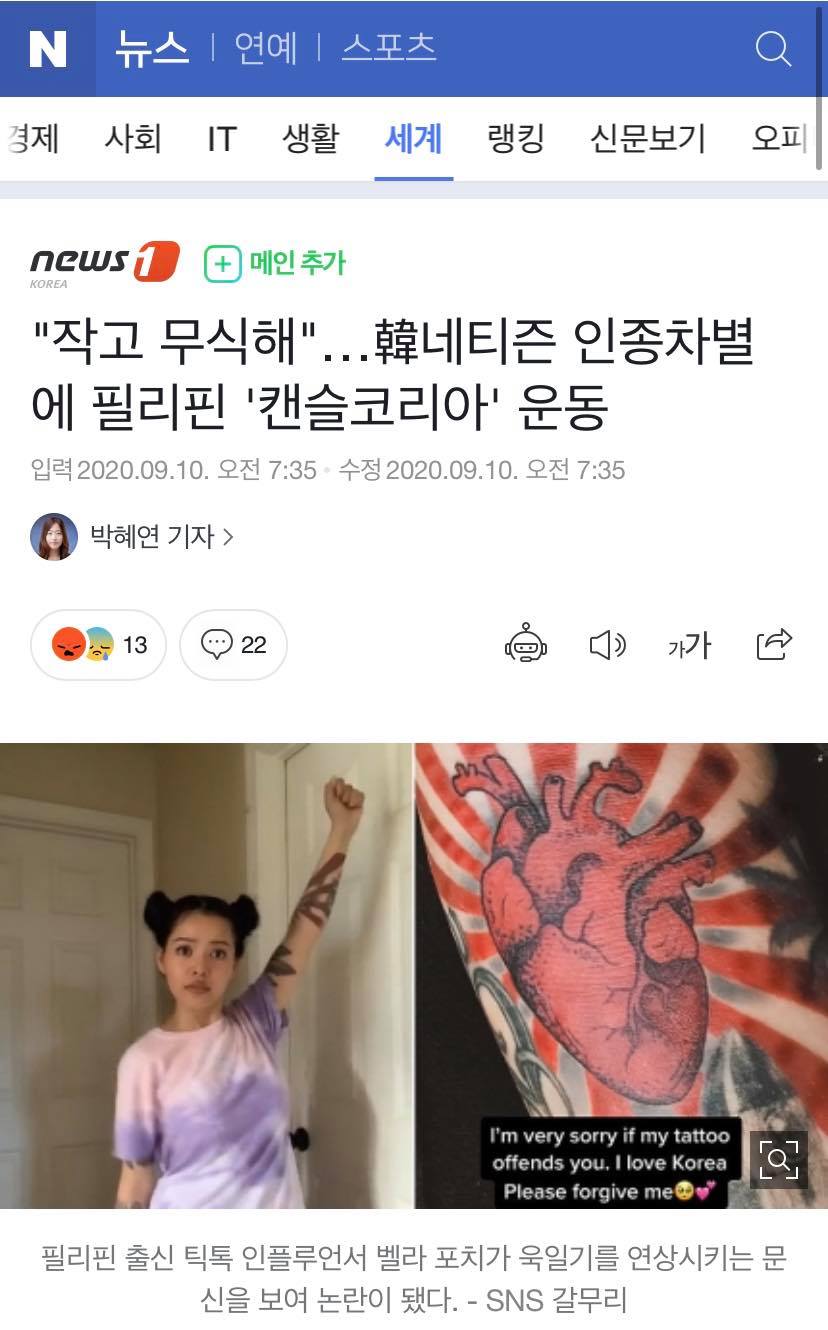 WHY THE RISING SUN FLAG IS OFFENSIVE TO KOREANS
By way of apologizing to Filipinos, Korean Ricky Park, in a video posted last Thursday, September 10, 2020, chided Korean netizens for going off-topic instead of focusing on the real issue.
Ricky said, "The way they bash is totally off-topic. Like, the point is Korean netizens want to tell foreigners that this symbol offends specific people especially Koreans.
"Attacking on this kind of, like, racial discrimination is totally irrelevant. I think they are the ones who's uneducated for focusing on something that is totally off the topic."
South Koreans remain sensitive to the use of the Rising Sun flag, which brings back bad memories of the imperialist expansion of Japan in their country from 1910 to 1945.
Ricky explained this in the same vlog: "I think there are some Koreans who would react very sensitively to this topic, this symbol.
"Since we were kids, we were taught in school that this symbol represents Japanese colonization in Korea.
"That time when many Koreans were mistreated by the Japanese invaders. Of course, I'm a Korean myself and I would feel offended if I see this symbol in public.
"So I can also relate to those Koreans why would they have such an anger."
Ricky added, pleading, "And we are asking a favor to not to use this symbol in public. Personally, I support this idea, too."
"we're sorry"
Several other vloggers and social media influencers from South Korea have likewise issued apologies.
Jessica Lee, a Korean YouTuber with more than 272,000 subscribers, said, "This kind of reaction is unacceptable. It's unacceptable.
"Any form of racial discrimination is unacceptable for me. I'm pretty sure with many of you guys as well.
"To those people who got offended by these comments of some Korean netizens, I would like to apologize from the bottom of my heart.
"I'm very sorry for you guys. I feel very uncomfortable because I also grew up in the Philippines for the same amount of time that I was in Korea.
"And so, I do feel very sorry for you guys. I would like to apologize on behalf of those rude Korean netizens."
Lee Ji Soo, a YouTuber with 14,000 subscribers, said in his vlog: "It's wrong. I also apologize for that. My wish is don't judge that all Koreans hate Philippines. Like me and Jessica, we have good attitude."
Canada-based aspiring singer/songwriter Juh Wan told viewers of his YouTube channel: "Please do not think that it's all Koreans who are talking down on Filipinos...
"Someone talking down on another country and their people is already not a talk.
"It's just out of the conversation. I don't think you should take anything from it because there's really nothing to take from, right? You are just you. They are just them."
Now, Filipinos and Korean netizens are hoping to move forward from this controversy and continue building a strong friendship.
Gusto mo bang lagi kang una sa showbiz news at scoops? Subscribe to our Viber Chatbot here para lagi kang updated, and join our community for more pakulo!