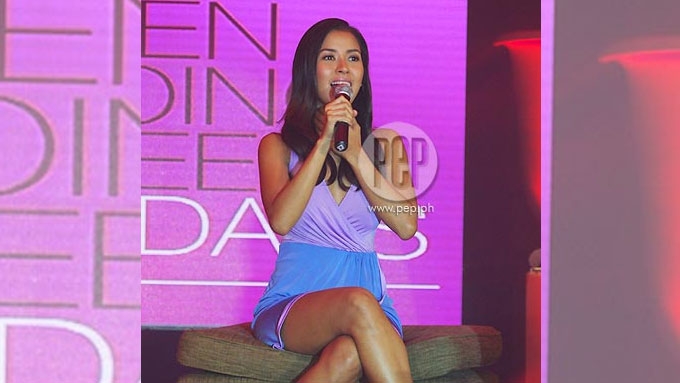 IMAGE Karen A.P. Caliwara
---
Let's do some girl talk.
At the press launch of Bianca Gonzalez as the new endorser of a feminine wash last July 2, women were encouraged to ask questions they seldom discuss even with friends.
The Kapamilya host said, "Like itchiness, di ba, sometimes, even with family, nahihiya kang sabihin."
She was referring to vaginal itching, which can be addressed by becoming "extra hygienic" during red days.
Dr. Laila Reyes, the OB-gynecologist present during the event, underscored, "Technically, feeling clean is hard to maintain.
"You have to have a good feminine hygiene, which includes the changing of sanitary napkins and the use of a good feminine wash to prevent itching and bad odor..."
Speaking of the latter, we usually hear the word "pH" which, according to Wikipedia, is the "measure of the acidity of an aqueous solution."
The doctor added, "Basically, pH is for protection. The normal pH of the vagina is 3.8-4.2, so kapag too alkalinic ang environment, mas prone ka sa infection."
So it's important to wash your intimate area with product that is "non-irritating, pH appropriate, non-drying, and hypoallergenic."
Dr. Laila shared her common advice to patients: "You have to treat your vagina as if you're treating your face."
But that was not to take her words literally and use face powder down there.
Remember the key word: "sensitive."
So Dr. Laila stressed the need to use products that will not destroy the vagina's normal pH.
Bianca further asserted, "And please do not be shy including these topics in your girl talk.
ADVERTISEMENT - CONTINUE READING BELOW
"Feminine hygiene is as important as fashion or your favorite show or even boys.
"Ladies should not be nahihiya."
WHEN TO CONSULT AN OB-GYNE? One learning during the event was consulting a doctor is not only for those who are sexually active.
"It should start as early as the age of 13 to 15 years old. Yung pap smear naman, at the age of 21 years old," Dr. Laila stated.
Another question raised was if there was a correlation between being moody and having a period.
The doctor's explanation: "When you're having your menstruation, you don't feel good because of the cramps, because you're bloated.
"And the high levels of the estrogen in your body kind of makes you irritable, so yes."
In the end, Bianca encouraged women to be more open about these topics.
"It's okay to talk about it. Di ka nag-iisa. Betadays are here with us," she ended.