It is an unfortunate truth that as the technology advances, the evils of society continue to take on different forms to prey on the innocence of children.
With social media connecting people to the world, ill-minded individuals have used this as an advantage to victimize children and exploit them into participating in sexual activities online.
According UK's National Society for the Prevention of Cruelty to Children, online sexual abuse takes form in sending and exchanging "sexually explicit images" of the child victim; engaging in "sexual activities via a webcam or smartphone"; and/or participating in a "sexual conversation by text or online."
Filipino children are not exempted from this kind of exploitation.
In fact, our country has ranked tenth worldwide with "children as young as three months old" falling victims to "livestream sexual abuse" as stated by World Vision Philippines.
The abuse often occurs in the child victim's home and, thus, 17.1% children have been experiencing this act of violence growing up.
With this unforgivable reality taking place in our local settings, World Vision Philippines along with its celebrity ambassadors launched the It take a world to end sexual exploitation campaign on the organization's 60th anniversary.
(L-R) Host and World Vision Ambassador for Disaster Risk and Reduction Marc Nelson; host/DJ and World Vision Ambassador for Child Sponsorship Joyce Pring; actress and World Vision Ambassador for the Youth Jasmine Curtis Smith; host/TV personality and World Vision Ambassador for Health and Nutrition Tin-Tin Bersola-Babao; Miss Global Philippines 2016 and World Vision advocate CJ Hirro; singer/actress and World Vision National Ambassador Tippy dos Santos; actress World Vision Ambassador for Education Bianca Umali; singer/actor World Vision National Ambassador Sam Concepcion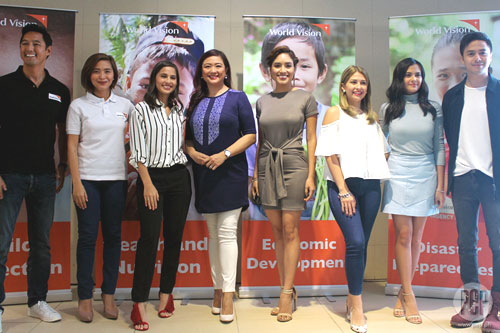 This three-year campaign is the organization's collaborative effort with the Department of Social Welfare and Development, International Justice Mission, Inter-agency Against Trafficking, and other agencies to raise awareness and help prevent sexual exploitation in the Philippines.
It is also an effort to form support programs and rescue operations for the child victims.
MAKING THE COMMITMENT. Sam Concepcion and Tippy dos Santos didn't think twice when they were asked to be a part of this noble cause.
Tippy told PEP.ph (Philippine Entertainment Portal), "It wasn't something I had to think about. When we were invited to join, you know, everybody can do something to help and we were given the opportunity to do something for such a big organization."
Sam echoed her sentiments, "The earlier you became aware of these things, like what's happening out there in the real world, the more you would want to contribute.
"Our family have been a part of World Vision for as long as I could remember, and it was something that was instilled in me at a very young age."
Bianca Umali felt "blessed" and "thankful" to be given a chance to help out the children in need.
"My heart is very, very close to children.
"Love na love ko talaga sila. So kung ano man ang kaya ko gawin para makatulong sa iba, gagawin ko talaga."
Jasmine Curtis has been an active member of the advocacy group since 2008 in Australia.
When she moved to the Philippines, the actress promised herself to keep on sponsoring one child every year.
The star currently sponsors three kids.
For only PHP750 a month, the World Vision website said, "you will help provide children, families, and communities with access to nutritious food, clean water, education, health care, livelihood opportunities, and more."
Jasmine said, "Just knowing so many kids could have the opportunity, but the rest of the world haven't. It's not their fault that they're not directly accessible.
"I wanna be able to provide that for them.
"And to make them feel that we live in a fair community, and people are welcoming, and people are nice and willing to help, so that they could be the same in the future as well."
Miss Global Philippines 2016 CJ Hirro personally wanted her reign to carry more meaning by helping fight against sexual exploitation .
"I've actually met children na victims of sexual abuse.
"There's this case before na, this kid had to shave her hair off, so that she can take care of her brother.
"Kasi they're living in the streets and because she's a girl, she gets sexually-abused by mga older teens, ganyan.
"So imagine at like nine years old, she shaved her hair para mukha siyang boy."
A reality that CJ found heart-wrenching among these sexually-abused children was that the abuse happens at home.
"The most surprising and, I would say, mas tumatama sa puso is that most of them are afraid to to go home kasi the abuses mostly happen at home.
"And you see them, they are very scared to trust people.
"They are very scared of figures na parang parents sa kanila kasi it's those people who actually do it to them.
"It's really scary, and this campaign is very timely."