The other love affair that matters to Jericho Rosales apart from the one he has with wife Kim Jones happens on the road.
Before he became one of the current generation's topnotch actors, Jericho was first and foremost a wanderer.
He loves joy rides, the freedom to go wherever he fancies, the speed, and even the relaxed driving.
At the launch of Wrangler's newest campaign on April 5, in Bonifacio Global City, the 37-year-old actor spoke to PEP.ph (Philippine Entertainment Portal) about his "open road adventures."
"Every day is amazing. Every day is praise worthy. Every day is just so fulfilling, so enriching, so positive, so fresh!"
Jericho prefers riding his motorbike to work every day.
"Funny thing is, even if you just go to a restaurant on a bike, it's something. Kahit short trip lang siya.
"I ride to work. I ride to go to a lot of places.
"Ngayon lang, when I need to bring a lot of things with me, I still try to bring my bike. A lot of bags, ganun.
"Pero kapag, I have a guitar, ganyan, I bring my car na."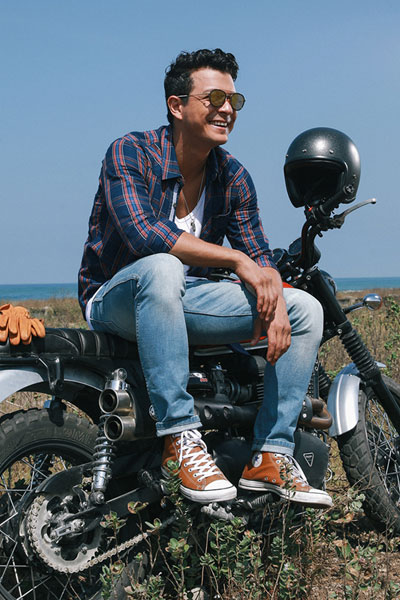 He couldn't recall the exact time he started his road adventures, but it was his late father, Santiago Rosales Jr., who introduced him to it.
"Nag-explore talaga ako, and it became a part of me because of my father."
The sunrise and sunset, the beauty of nature, the people he randomly says hi to or meet on the street—all these keep him grounded.
"Once you start doing it, you wanna stop to rest then you wanna go again.
"Every thing becomes so memorable.
"You become so attached, in touch with every thing, which is good!
"That's how human beings are supposed to live."
Santiago Rosales Jr., 61, succumbed to his battle with cancer last March 2.
Jericho wrote a tribute to his dad, and accompanied it with a photo of him riding his own motorbike.
He wrote, "Papa, I will find this place someday.
"I will replicate this photo of yours with your mighty motorbike.
"I will replicate all the great things you did in life.
"I never got to say how amazing you are and that you are my hero.
"But I will be strong and patient.
"I will rejoice.
"And will always look up because I know that one day we will ride together in Heaven."