How time flies so fast!
On February 8, 2015, Cristine Reyes gave birth to her preterm baby Amarah.
Her daughter with Ali Khatibi only weighed 3.12 pounds then, and was so "fragile."
Fast forward to 2017, their firstborn has grown into a little girl so charming and a social media darling.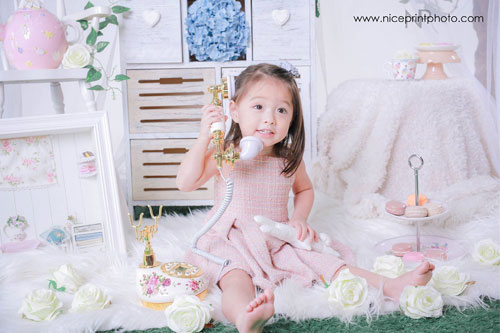 Unlike most celebrity kids, Baby Amarah doesn't have a social media account, but if you want updates about her, Ali and Cristine's feeds have been filled with cute photos of their adorable daughter.
Do you know Baby Amarah enjoys blowing out candles and hearing birthday songs?
She is also very malambing.
Mommy Cristine is her BFF!
We won't be surprised if she will follow in her mom's footsteps. Baby Amarah is very sociable and talented.
She can be a talk show host.
Here's how she says hello, "Hi, people!"
She can also sing.
The Khatibi's little princess seems to like music. Here she is playing with her new drum set.
In case she chooses sports over showbiz, Baby Amarah can get free Jiu Jitsu training from Daddy Ali.
She has yet to get used though whenever she sees her dad fight.
And first things first: studies must be her priority. Right, mommy and daddy?
What do you think, PEPsters?
Is Amarah a mini-me of her Daddy Ali?
Or her Mommy Cristine?
Here's a little something to brighten up your day.