Every person may hold their own concept about mortality, but there's one truth that we can all agree on: Death can strike you at any time.
Making its rounds in social media today, May 25, is a lengthy post from Facebook user Victor Lagana.
On May 23, Victor passed away at the age of 43.
During the final moments of his life, Victor made an effort to pen his final "habilin" and last farewell to his loved ones.
Victor was an account executive of CNN Philippines.
He was married with kids.
He is also survived by three siblings and a father who is nearing his 90s.
He posted his entire will on his Facebook profile, which later became filled with photos from his wake.
The post began, "I may sound morbid saying this but I know the feeling when you already know deep inside of you that your soul starts to detach from your body na.
"So, I made this quick sort of habilins."
Victor first asked his closest friends, whom he called "my Almeris friends," to "take care" of his funeral.
"If I die my Almeris friends will take care of my funeral. San pa sa suki na San Felipe Chapel.
"Along with immediate family pa-cremate you agad ako since alam nyo nman gano ka-infectious ang bacteria na tumalo sakin.
"Lagay nyo na lang ako sa magandang urn. Bawiin na lang sa production design.
"For the pictures pili na lang kayo sa FB ko dami un. Gusto ko ung makikita nila eh yung buhay na ako. Ung urn ko yung di lalagpas sa height ng legal size envelope."
Victor requested for his wake to last three nights, and for his ashes to be brought to Bicol where he would reunite with his mother in her tomb.
He continued, "Basta maayos muna lahat ng dapat maayos dito sa Manila bago umuwi. Post ka na lang Ne sa FB ng interment details ko pag sa Guinobatan na kayo.
"Lahat ng matira sa abuloy ang gamitin nyo sa panggastos."
SAYING GOODBYE. The will turned to a "serious note" when Victor began to say his goodbyes to the people closest to him.
One by one, the 43-year-old gave thanks to every group of people he had encountered in his eventful life.
On top of his list were his three children Nico, Bea, and Sab.
He penned, "Its saddens me to let you all go this suddenly.
"This was not planned but I think its God, simply calling me that my mission on earth ends here. Now!
"How I wish I could still see my kids succeed on their own chosen field. I wish I could personally walk alongside with Nico as he embrace God's calling. Bless me Father Kuys!
"Bea realizing her Korean Trip & gone through all the places she desired to go. Wala ka na kaagaw manuod ng korean novela. Enjoy Be!
"And Sab and I's yearly bonding, accompanying her to the stage and receive her award every year. Go lang ng go nini kong maganda.
"Bear in mind my kids that education is the only treasures we parents can give you that nobody can take away from you.
"Continue to grow as God-fearing children. Continue to soar high. Please be strong and continue to love one another ok?
"And always honor your Mama. A simple I love you to her every night before you go to sleep will do. Please make her happy always for me.
"Promise? Pinky swear?"
Victor then wrote a heartfelt message to his wife, Monic.
"To my wife, I love you so much honey.
"No words can describe how much I love you that even I can't repay all your sacrifices, that you choose to take care of the kids instead of enthrusting them to others.
"I salute you for that because it is shown in every character of our kids.
"Remember the night in the hospital, you asked me when I woke up why I'm smiling. When I close my eyes, Sabi ko nkikita ko kasi yung mga nangyari noon.
"You know nman kung gano na kalala memory gap ko. Pero ung nakikita ko is so surreal kasi prang nagrewind lang yung mga years and it was very detailed prang HD!
"And it happened nung time kung pano tayo ng-meet until naging tayo ulit after ng college.
"Ang sarap prang ayaw ko nga magising eh. Kasi dun lang ako nrerelax at nkakalimutan ko na hirap ako huminga.
"Basta hon wag ka mawalan ng pagasa, andyan pa naman mga kapatid natin, relatives & friends na handang tumulong satin.
"Satin dalawa ikaw ang pinaka-strong.
"Kung gusto mo magasawa ulit go lang mumultuhin ko kayo hahaha.
"Pray ka lang and if you felt a warm hug ako un niyayakap kita.
"I love you so much honey,
"Basta honey andito lang ako for you, i will guide you and the kids.
"See you not real soon need ka pa nila. I love you, i love you forever and ever."
Victor and Monic would have celebrated their 22nd wedding anniversary this August.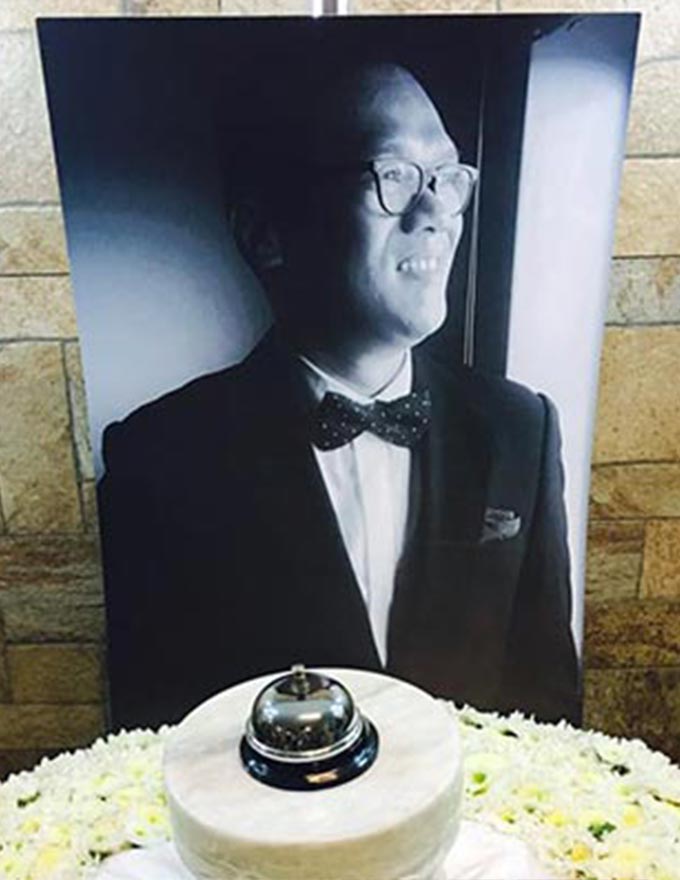 SIGNING OFF. At the end of his will, Victor once again mentioned his "Almeris friends."
They were the people Victor considered as family, the brothers and sisters he relied on "through thick and thin."
"Alex, Ames, Al, Alvin, Shy & Rhea. I love you sisters and bros in different mothers.
"Ito yung set of friends ko that not only acts as your friends but a family, the one that I can rely on through thick and thin and ilang beses na nila napatunayan yan sa group.
"Tuloy pa rin ang tawanan at kainan ha I wish you all the best mga kapatid pati na rin sa inyong kinakapuso [(wala na pala si Jerome at Mamu) hahah] at sa inyong mga pamilya.
"God bless enjoy life to the fullest."
At the end, Victor gave his final farewell to everyone.
"This is Vic, CNN Philippines. Signing off."
Read the full post here: