Veronica "Kitty" Duterte is presently a hot topic among netizens after she fired back at a basher who insulted her family background.
The exchange was triggered by the 13-year-old presidential daughter's selfies taken in Russia, the country recently visited by her dad President Rodrigo Duterte, her mom Honeylet Avanceña, and stepbrother Baste Duterte.
A netizen with the handle name @lesliesocal commented, "taxpayers vacation?"
Kitty's answer showed her palaban side, "The president had important business there. He was working and we went with him. Nagtatrabaho at may suweldo siya. Kapal mo @lesliesocal."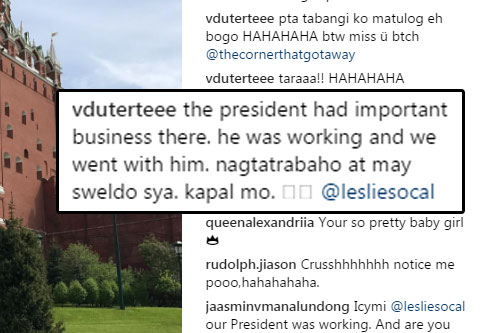 The netizen then called Kitty "illegitimate."
Her retort: "@vduterteee how illegitimate!!! Just say you tag along to see the sight & a little R&R. What's wrong with that explanation & f*#k you too!!! There's no need for the bird, just say it!!! I'm sure your stepsister @indaysaraduterte is loving your post… She should be there instead of YOU, together with her mother instead of the president's mistress!!!!!!!!!!"
Duterte's marriage to Elizabeth Zimmerman—the mother of Paolo, Sarah, and Baste—was annulled in 2000.
Kitty was born in 2004.
The youngest child of the president snapped back, and called the netizen "skank," "pathetic," "insecure loser," and "little twat."
She added, "You know nothing about me and my family's story."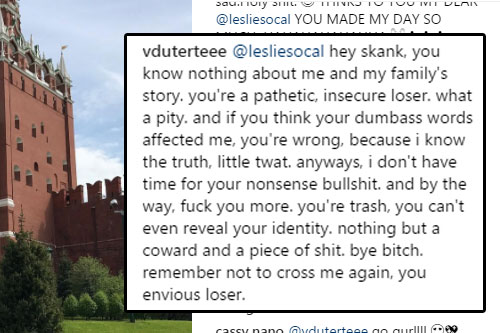 Though a number of her followers reminded Kitty to stay calm, others were surprised about her language.
Some applauded her "you're-wrong-to-mess-with-me" attitude.
But even before this outburst, Kitty has been showing her palaban side in so many other ways.
Look at her astig OOTDs.
She posted this fashionable selfie on May 13.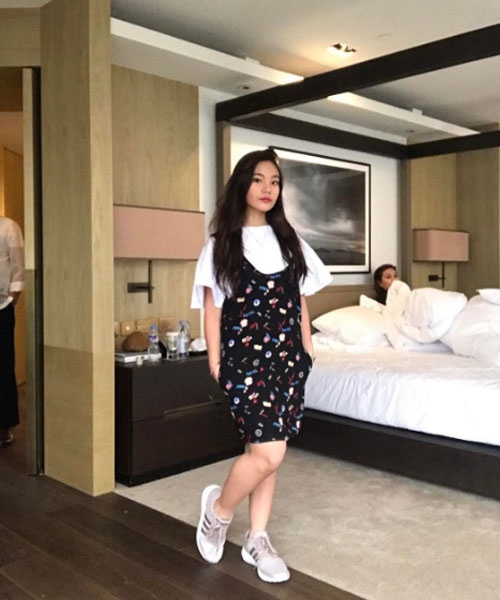 Household chores? Hindi niya uurungan.
This short clip of a younger Kitty went viral in June 2016.
It showed the presidential daughter having fun while doing the laundry.
She is not the meek as a lamb type.
Talking to one of her followers, she said, "batohin ako ng bato, batohin ko sila ng mas malaking bato."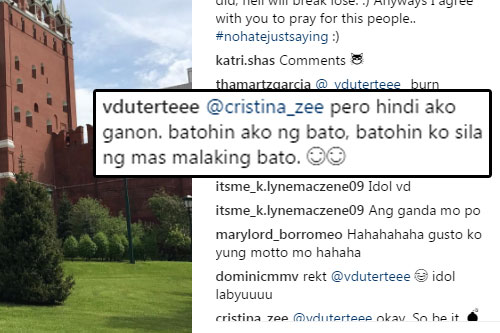 She is easily a strong contender for the title "unofficial queen of Musical.ly."
Musical.ly is a video social app that allows users to upload 15-second videos where they can customize songs and speed plus effects and filters.
It seems like she's a good dancer, too.