Solenn Heussaff's husband Nico Bolzico is slowly easing his way into the local entertainment scene.
The Argentinian businessman-turned-model has charmed Filipino netizens through his funny videos with his wife, which he posts on their official social media accounts.
Solenn officially introduced her husband to the public via a magazine cover last 2014.
Since then, the couple's following has grown consistently, even after they got married.
As of press time, Nico's Instagram account has over 461,000 followers.
He has also bagged endorsements deals of his own, including his latest, which involves a fashion campaign for SM Men.
In a short chat with PEP.ph (Philippine Entertainment Portal) on Saturday, July 1, at the brand's #DenimUnbound fashion show at SM Makati, Nico thanked his wife for the latest milestones that have unfolded since the beginning of their love story.
He said, "My following has been growing since I was featured by Solenn.
"The reason why followers are there is her, so yeah.
"She started posting videos on her blog and my followers went to the roof!"
But of course, Nico admits that having bashers is all "part of the game" of being a public figure.
However, the model/entrepreneur said he doesn't engage any of his bashers.
Instead, he replies to the more positive comments.
He narrated, "Every time post something, it's 99.9% positive and 0.1% negative.
"The negative, I ignore. I'd rather answer to people who give me positive comments.
"They're much more important to me."
NEW HAIRCUT. Meanwhile, Nico also debuted his new haircut at the fashion show.
He was joined by SM Youth ambassadors (L-R) Kyle Perry, Kaila Estrada, Richard Juan, Tommy Esguerra, Janna Tee, Macauly Lofgren, and Erika Kristensen at the runway show.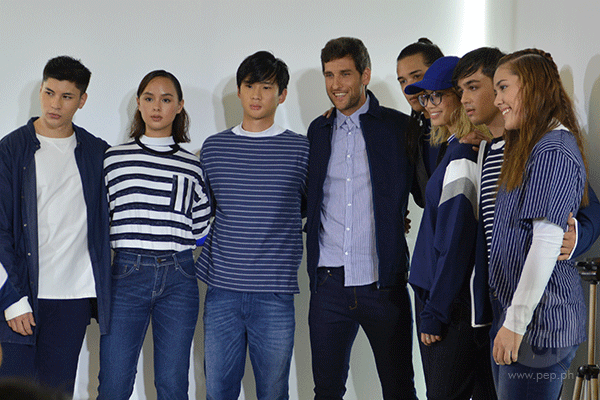 Nico had his haircut last Friday, June 30.
He initially didn't want a short haircut but ended up loving it.
On Instagram, he posted the "inspiration" behind his latest hair style.
His caption reads: "'hat style do you want?' Me: "Nothing special, just not too short coz I ll look like legoman"
"15 min later: "LEGOMAN REBORN ??" Disclaimer: because of my thick Argentine accent and my mouth full of popcorn, the hairdresser understood I wanted short! My fault, not his! The good news is that I really like the haircut now! So thank you so much!
"PS: posting soon #wifezilla reaction when she saw me! #everythingisawesome #lovingitthough #horsefacelevelthehulk"
Nico's haircut had Solenn choking up in a laughing fit.
He posted Solenn's reaction upon seeing his new hairdo on Instagram with the caption: "Last night, @solenn's reaction when she saw my new haircut for the first time! She actually chocked and burped at the same time, first time I see a human doing that!
"Probably I shouldnt post this, but since I live in the dog house most of the time ... The pig noise you hear is my laugh, sorry about that! #notsosorry #actuallyIamverysorry #sheactuallylovedit #wifezillaseries #chockburptechniche #wholetthedogsoutaughaughaugh"
Talking about his personal style, Nico said he's not really into fancy stuff.
He said, "I'm very simple. I've come from a farm, I'm a farmer so I dress very simple.
"I love denim jeans and a white shirt. That's it and some rubber shoes."
Still, the model-businessman believes that the way you dress up is also a reflection of your personality.
Plus, shopping also helps him de-stress.
Nico explained, "I love to buy clothes, but I'm not very fond of trying them on.
"I think the way you dress is the way your personality is.
"So when you buy clothes, it's actually you showing your personality.
"It's a good way to de-stress also and distract your wife, when she's stressed."
Nico also enumerated some of the things you'd probably find inside his closet.
"A good pair of jeans, for sure. A belt, you need a good belt also.
"A perfect white T-shirt. I mean, you can never go wrong with a white shirt.
"You need a good jacket also, if it's denim it would be a good match also.
"And I would say, you need a good pair of rubber shoes," he added.