Miss World Philippines, headed by its new chairman and CEO Arnold Vegafria, officially opens its doors to applicants for the pageant that will happen from August to September.
A press conference was held early today, July 7, at New World Makati Hotel, with the past winners—Gwendolyn Ruais (2011), Queneerich Rehman (2012), Hillarie Parungao (2015), and the reigning Miss World Philippines Catriona Gray—in attendance.
Miss World 2013 Megan Young was tapped as the pageant's consultant.
In an interview with PEP.ph (Philippine Entertainment Portal) and other members of the press, Arnold assured Filipino pageant fans that this year's edition "will be bigger and better in more ways than one."
He added, "And it will be something that will redeem the sense of pride and patriotism as a nation."
The pageant's grand coronation night is slated for September 3, at the SM Mall of Asia Arena.
Miss World 2016 Stephanie del Valle and Mister World 2016 Rohit Khandelwal, along with Miss World Organization chairwoman Julia Morley, will be present.
THE CHANGES. Aside from the Miss World Philippines title, there will be three other crowns up for grabs: the Miss Eco Philippines, Reina Hispano Americana Filipinas, and Miss Multinational Philippines.
The winner of the Miss Eco Philippines will represent the country at the Miss Eco International 2018 pageant to be held in Alexandria, Egypt in April 2018.
Meanwhile, the winner of Reina Hispano Americana Filipinas crown will fly to Sta. Cruz, Bolivia for the international pageant happening this November 2017.
Last but not the least, Miss Multinational Philippines will represent the country at the international pageant happening in New Delhi, India.
Aside from the four titles, the 1st and 2nd Princesses will also be named at the pageant's grand coronation night.
This year's pageant will also unveil a new crown, in which its design will be a collaboration between Miss World 2013 Megan Young and an unnamed Filipino jeweler.
Megan narrated, "I'm not the one designing it, it's more of a collab since I'm consulting with Miss World Philippines so it will go through me.
"So ayun, may collaboration of course with the designer that will be making the crown."
ALV talents Jay-R and Kris Lawrence also composed a new theme song for the pageant.
MISS WORLD PHILIPPINES 2017. The pageant will only pick 30 candidates. Deadline of submission is on July 22.
The press presentation will take place on August 5, at the New World Makati Hotel.
Among the pre-pageant events are the following: grand fashion show, charity gala night, and charity day at the Jose Reyes Memorial Medical Center (JRMMC) in Manila.
Arnold said, "I told them that I really want to help this hospital, and then I called the sponsors to help us to build wards for children with cancer.
Not only the children's ward. I saw also people with AIDS, they're usually those who are underprivileged... So that's another thing na tutulungan namin."
Five events, one of which is the talent competition, can automatically grant the top scorers a spot in the semi-finals.
Catriona gave a tip on what will make a candidate a cut above the rest.
She said, "Looking up to the queens that we've had in the past, we have some amazing women who have empowered others for doing a charity or an advocacy or pursuing something that they believe in. So that for me gives substance to a queen, so that's what I would be looking for in a candidate."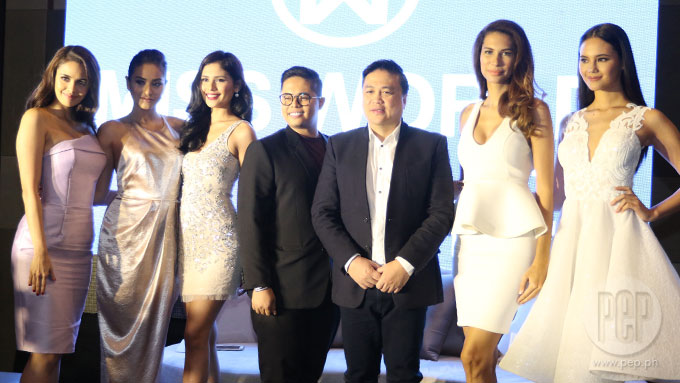 BEAUTY QUEEN MENTORS. The former winners of the Miss World pageant will also take part in the screening process, as well as the training stage of the queen who will join the Miss World pageant in China this November.
Gwen, the first winner of the Miss World Philippines title who bagged first runner up in the Miss World 2011 pageant, related her excitement for having a "bigger family" this year.
"A great change that we have this year is that all past queens are involved in the new pageant, and I really love this.
"And I wanna thank Arnold for that. It's a big family and, as we all know, I was the first Miss World Philippines so when I won, it was just me.
"So there was no one to help me, to tell me what happened before or to guide the way for me.
"So a great thing we have now is that we have a family, we're big sisters, and we can guide and help whoever will join next.
"I'm really looking forward to that and and all of us together to make Miss World even better every year."
Meanwhile, Hillarie hopes that ALV, General Manager Bessie Besana, and the pageant executives will "strengthen our charity works..."
Catriona echoed, "Something that really made it so memorable and so much of a deeper sentiment to me was the work I did with my charity in Tondo, manila.
"And just to let you guys know, the school that I helped raise funds for to renovate and purchase just opened last week for the school year.
"It was such a fulfilling thing to me and it made my heart full, and I also wanna thank you again for your support."
She added, "Miss World Philippines for me is not just a title, it is a platform and to give substance to your title, immersing yourself in charity is something that just made me grow as a person.
"And I hope that future candidates and our future queens will experience that same feeling of success in that manner."