Pia Wurtzbach is continuing her advocacy—to help keep people safe from HIV/AIDS—that she began during her reign as Miss Universe.
Last year, she walked the talk and had her first HIV test in New York City, her home then as the crowned beauty queen.
Now that she's back, she had another HIV screening in front of cameras in connection with her own campaign she calls Progressive Information Awareness project or simply PIA.
Her goal is to broaden awareness of the HIV-AIDs pandemic at the same time bring attention to sexual orientation and gender identity and expression or SOGIE issues.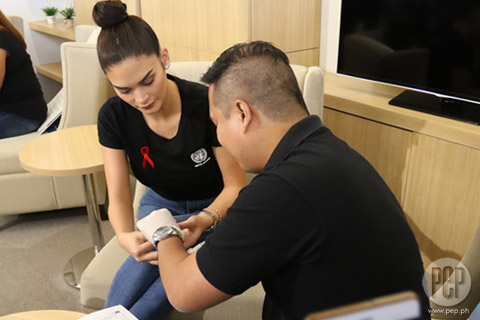 DIFFICULT TASK. According to Pia, the project's action program #Live2LUV is an initiative that will push "an HIV ordinance that prohibits discrimination on the basis of HIV status and SOGIE."
Specifically, it is aiming for an Executive Order or an amendment to RA 8504, otherwise known as the Philippine AIDS Prevention and Control Act of 1988, that will lower the age of HIV testing to 15 years old from 18 years old.
"This will help address the growing prevalence of HIV infection among the youth," she said, aware of the hurdles ahead.
"It is very tricky in the Philippines because we're predominantly a Catholic country and we're conservative.
"That's why it can be quite a challenge to spark awareness on this issue.
"Mahirap talaga… I guess we just have to sensitive, we have to be careful so that we don't offend anybody.
"My advocacy is to promote awareness on HIV.
"My advocacy is to promote love within the family, within your friends, your communities.
"But still be firm with our advocacy kasi this is a problem that's really happening right now.
"If we don't do anything about it, we're gonna be number one in the world… personally, I can only do so much.
"But then, if we have a team like this, we have a group of people who are advocating for the same thing, then we can achieve progress much faster."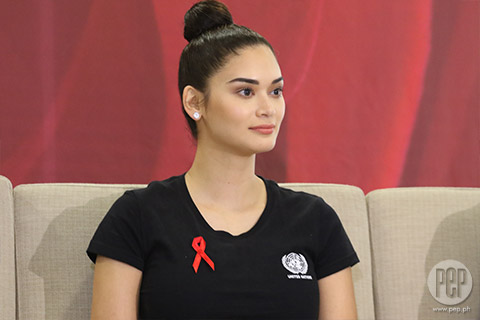 GET TESTED. At the unveiling of the Love Gala, her project as the Goodwill Ambassador for UNAIDS for Asia and the Pacific, Pia called for vigilance in getting oneself tested for the deadly virus.
"Kapag nagsisimula ka na mag-explore, pa-test ka na… that's where it really starts," she said, citing the vulnerability of sexually-active people to HIV.
"Kailangan po talaga regular ang pag-testing, kailangan po talaga natin magpa-test, tayo pong lahat.
"It's free, kung kayo po ay pupunta sa isang testing center tulad ng Love Yourself, wala kayong babayaran.
"And then makukuha na po ninyo yung resulta on the same day.
"Napakaimportante po na malaman natin yung HIV status natin, kung positive ito o negative.
"Do'n lang tayo magkakaroon ng treatment, walang magiging progress kung hindi tayo magsisimula sa testing.
"Napakaimportante po talaga yung testing."
In the same event, Ronivin Pagtakhan, founder of The Love Yourself Inc. that spearheads the Love Yourself Project, an HIV/AIDS awareness campaign, said the spread of the virus in the country is getting worrisome.
He stressed there are only seven countries in Asia and the Pacific with HIV-AIDs incidents increasing as much as 25 percent, and the Philippines is one of them.
"It's not a good thing… sa ibang bansa dito sa Asia, bumababa na," he said, warning that the country should be alerted by the alarming statistics.
According to the HIV/AIDS Surveillance report by the Department of Health's Epidemiology Bureau last May, there were "1,098 newly diagnosed people living with HIV in the Philippines."
But Rovinin (rightmost in photo) pointed out that surveillance in the country is considered "passive."
It means the recorded number of people with HIV may not be exact and in fact may be much higher than the reported cases.
He remarked, "It is a bad thing, why? Kasi meron na talagang epidemic sa Pilipinas."
Nonetheless, Rovinin also expressed optimism that with effective interventions, more cases will be reported, "It's not such a bad thing.
"It also means more and more people are actually getting themselves tested.
"Dapat alamin din natin yung optimistic side of the graph, which is more and more people are getting tested.
"More and more people know their status, thus more and more people get into treatment and will eventually live a normal and healthy life!"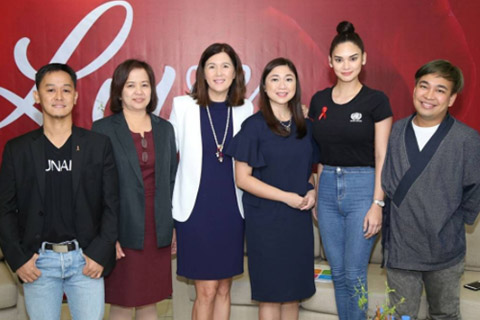 Coinciding with the international celebration of World AIDS Day on December 1 is a special event of Love Gala to be held at the BGC Arts Center in Taguig City.
"Love Gala will be our World AIDS activity," Rovinin announced.
"It has three goals: Number one, to promote public awareness kasi knowledge is very important.
"Pero kailangan din may karugtog siyang call to action… and it all starts with education.
"Pangalawa is to show the world, and the universe, that the Philippines is doing something.
"Meron tayo mga best practices sa Pilipinas na ginagawa.
"Also, there are many thriving community-based organizations here in the Philippines that are unfortunately not all supported, and hopefully we can support more."
For its third goal, Love Gala will honor HIV/AIDS advocates who have been steadfast with their cause through the Ripple Awards.
Rovinin said, "We believe a simple drop would create ripples of positive change and a simple individual, a simple post, a simple act of kindness will create ripples of kindness to everyone."