After a fruitful stint with the Philippine national men's basketball team, Kobe Paras has returned to the U.S. to study and play for the California State University in Northridge.
"My goal is just to, you know, play in college, do my best," Kobe said in an interview with YES! magazine.
Kobe and his older brother Andre, as well as their family home in Pasig City, are featured in the cover story of the magazine's September 2017 issue.
"And then, hopefully, play professional overseas because, ah, mahirap dito sa Philippines, e.
"Full of politics. I mean, everywhere you go, it's full of politics…
"So, if it's Europe, if it's somewhere in Asia, if it's in the NBA, I don't care. I just wanna play in the highest level of basketball.
"But as of now, I'm just focused on representing my country and ang college ko."
That doesn't mean, though, that playing ball is the only thing that Kobe thinks of and can do.
"Basketball is just, like, 25 percent of who I am," he pointed out.
"You know, that's not who I am. That's just what people see me as, just because that's where I first got started getting known."
In fact, the 20-year-old student athlete is determined to have his own fashion line, get into the restaurant business, and put up his own foundation.
PASSION FOR FASHION. "I want my clothes to be up to trends," he said.
"Things like that, you know, 10-year-olds, teenagers, 50-year-olds can wear. Like something na when you see it you're like, 'Wow, I just wanna buy it.'"
Kobe's list of favored designer brands include Gucci, Louis Vuitton, and Versace.
He looks up to Jerry Lorenzo, the founder of the apparel brand Fear of God.
He also admires the fashion style of basketball stars Russell Westbrook and Nick Young, and of hip hop artists Wiz Khalifa and Aesop Rock.
Russell Westbrook
Wiz Khalifa
"When you see them," Kobe said of his fashion pegs, "it's their own personalities. Nothing like everyone would wear."
Kobe's brother Andre and their father Benjie Paras attest to Kobe being a fashionista.
"He just looks nice even if he didn't try," Andre pointed out.
Kobe related that he started developing his fashion sense when he went to the States at 15 years old to pursue his basketball dreams.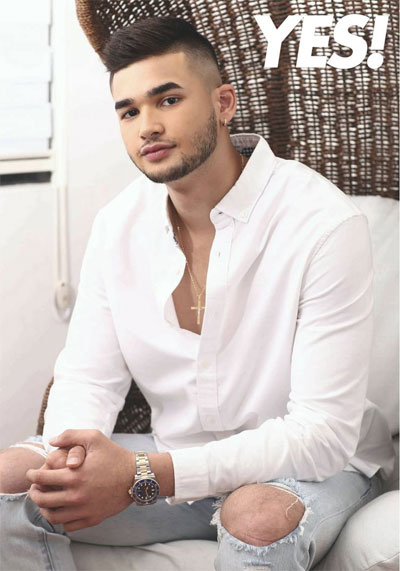 "I just realized that everyone had a different taste in fashion, and I realized na, you know, why can't I do it as well," he explained.
"So I started buying different stuff. I started buying designer stuff, and then I just realized na I'm super passionate about fashion.
"And, like, hopefully that I could be a fashion designer because it's really something I wanna pursue in life."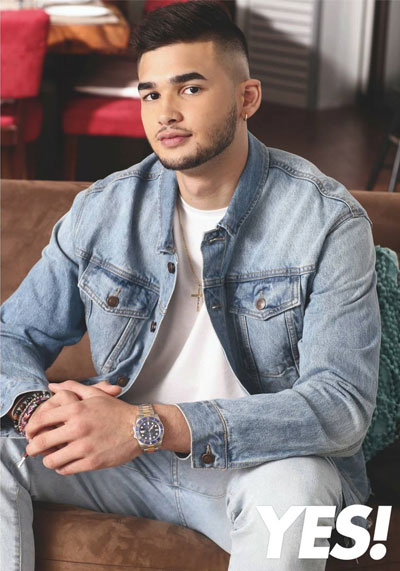 CULINARY BIZ AND CHARITY WORK. Kobe also knows his way around the kitchen, a talent he acquired from his father Benjie.
"Because he was a single parent at one point in our lives," Kobe said of Benjie, who separated from Kobe and Andre's mother, retired actress Jackie Forster, in 2000.
Benjie found love again in Lyxen Diomampo, a former preschool teacher and commercial model, whom he married in 2006.
Kobe recalled how Benjie learned cooking by watching TV shows.
He also gave credit to his stepmom, whom he calls Mommy Ly, and his grandma, who's known to the family as Mommy Ida.
"I love cooking beef salpicao," he replied, when asked about his specialties. "Gawa ng lola ko 'yon, e!
"If I was gonna die today, and I was gonna eat my last meal, that's gonna be it—beef salpicao.
"'Cause it's great. When I eat it, it brings back memories since I was a kid, for some reason.
"It's just that type of food na parang it's so good, and you appreciate it more and more when you eat it."
Kobe also wants to be a chef and to have his own restaurant.
"I'm really ambitious," he admitted. "Ever since I was a kid, like I wanna be an artista, I wanna play basketball.
"I tried being an artista. I wasn't passionate about it, so I forgot being an artista.
"I focused on basketball.
"I fell in love with cooking...So if I can cook for myself, I can cook for a restaurant. So hopefully, you know, it will happen soon."
At the same time, Kobe is set on helping others in need.
"I just wanna give back to the community because without the Filipinos, without the people supporting me, I wouldn't be here," he said.
"So, me, personally I wanna give back. Maybe on a basketball perspective, have camps for kids for free. Have charity for people in need, you know, just a bunch of things.
"And I don't want it to be an annual thing when I'm just gonna give back because there's a disaster.
"I want it to be a regular thing just because, you know, people need to understand that there's still hope in life.
"As much as you're going through adversity, there's so much else in life."