Nanette Medved still turns heads nearly 20 years since she bowed out of showbiz to lead a quite life with her husband, tycoon Chris Po, and their two children.
The svelte and statuesque star of 1990's movies such as Darna and Hiram na Mukha is among the 25 successful and inspiring women chosen by the Filipino clothing line Bayo for its anniversary campaign, Made in the Philippines.
She and the rest of the lineup are honored on September 25, at the Rigodon Ballroom of The Peninsula Manila in Makati City.
Wearing a black tube pantsuit and high heels, she looks stunning with her hair neatly gathered into a bun and her neck adorned with a sparkling diamond necklace.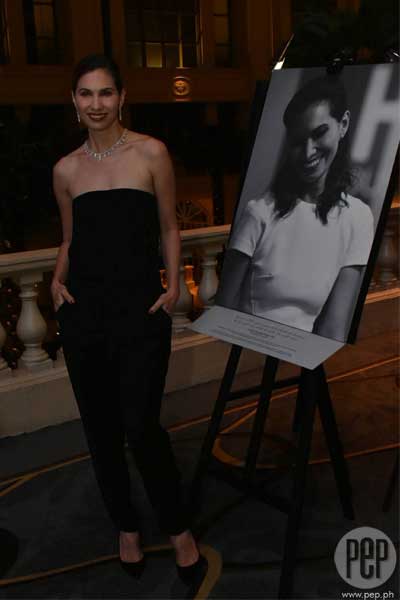 Beyond her beauty, it's her advocacy work that makes people sit up and take notice.
Nanette, who now goes by her married name Medved-Po, is the chairwoman and president of her own company, Generation Hope, which manufactures and sells the Hope in a Bottle brand of purified drinking water.
Sales from Hope in a Bottle go to the non-profit group that she also founded, Friends of Hope, which then uses the money to build public school classrooms across the country.
To date, Generation Hope has sold 10 million bottles and built 37 classrooms that have benefited 9,310 students.
The company has diversified to other products: Hope in a Coconut and Hope in a Shirt.
Hope in a Coconut comes in the form of Vita Coco coconut water, in which five pesos from every pack goes to Filipino coconut farmers.
Hope in a Shirt is a line of T-shits made from 100 percent recycled plastic bottles and designed with artwork by actress and visual artist Solenn Heussaff.
Proceeds from the T-shirt sales are used to build public school classrooms.
Nanette makes the cut in this year's Heroes of Philanthropy, an annual list drawn by the U.S. business magazine Forbes in recognition of charitable works done by men and women in Asia-Pacific region.
At the Bayo event, the actress-turned-philanthropist expresses excitement being with "very accomplished and inspiring women."
Se tells PEP.ph (Philippine Entertainment Portal) and an ABS-CBN reporter, "So it's an honor to be in the lineup."
Her eyes widen in delight when asked for her advice to colleagues in showbiz who would like to give back to the community.
"I absolutely encourage it," she says. "There can't be too many people doing good things."
IN TOUCH WITH SHOWBIZ. If there's one thing Nanette misses about her old profession, it would be her coworkers.
"There's so many lovely people in the business," she points out. "But I still get to see them."
She's also aware that Liza Soberano has been cast as Darna, the iconic role she played in the 1991 movie directed by Joel Lamangan.
"Oh, I'm so happy for her," Nanette says of Liza. "It's a wonderful experience.
"I hope she cherishes every moment because it's such a unique experience. You take a lot from it. So I hope she cherishes it."
Nanette then recalled the time she gave life onscreen to the well-loved Pinay superhero created by komiks legend, Mars Ravelo.
"Back when I was doing it, I did all my own stunts," the former actress recounts. "I went to a camp for stuntmen, and learned all the things needed, including martial arts.
"So it was a good experience. It was really good."
She also gives Liza a few words of wisdom: "Just enjoy every moment. It's such a privilege and unique experience to play Darna, so I just hope she enjoys it.
"It's something that she'll be able to carry for the rest of her life, and be able to say, 'Oh, I played Darna once.' So just enjoy."
Needless to say, Nanette had the time of her life as Darna, and that once-in-a-lifetime movie part has made a big impact on her.
"I took it to heart that there's someone who can do [something] with their position," she remarks.
"It may not be Darna, but anybody in the business, or even outside, if you have a little bit of influence, you can do wonderful things."