Before her stint in Vice Ganda's concert on October 22, Kisses Delavin received a surprise from her "Ate" KC Concepcion.
The Pinoy Big Brother housemate did not reveal what the gift was, but in the note KC's clue was: "Something to keep you company when you get all glammed up."
It was KC's handwritten message that Kisses took a picture of and posted on Instagram.
Here's an excerpt:
"In everything, don't forget WHO you are—continue improving yourself and observing your life, make sure you don't lose yourself while you grow in this industry and work so hard and build a name for yourself.
"I may not have been there from when you entered 'bahay ni kuya' but I was sure there to greet you on the other side when you came out and started your new life!"
The 18-year-old Star Magic talent gushed over it.
In her caption, Kisses exclaimed, "I kept reading this message over and over again.
"And I realized how lucky I am to have people who care.
"Often we dwell on our heartaches and everything we lose that we miss out on all the beautiful things still left in our lives.
"We need not strive for all the world's love and attention to feel loved, just have a few ones that matter is enough."
This wasn't the first time Sharon Cuneta's eldest daughter, KC, surprised Kisses.
Last July 14, KC gave Kisses a huge basket filled with wrapped gifts.
The teen star tweeted, "Got home late from workshop, 'tapos may naghihintay pala na gift sa akin ang ate ko. Thanks so much, ate Kc! Sweet. I [heart emoji] you!"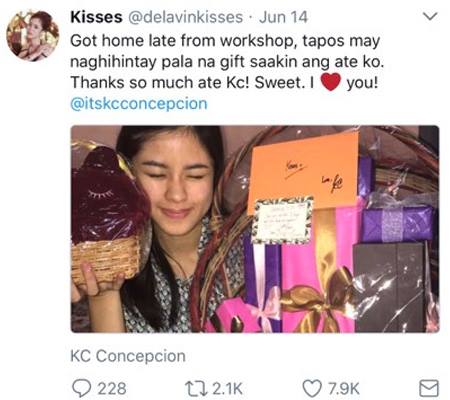 Their closeness began in May, when they worked on a TV commercial for a shampoo brand.
In June 2017, the two watched the Britney Spears Live In Manila.
The 32-year-old celebrity posted on her Instagram account a short clip of them while watching Britney.
KC's caption went: "This girl @kissesdelavin held me while I cried & cried out of sheer admiration for @britneyspears!!!"

They're also fond of late-night drives.
KC wrote, "Oh the life advice we learn while applying lipstick in a moving car... Hear it from me & @kissesdelavin!!!"